NFL Picks Week 3: Picks for All of the Week 3 Games
September 20, 2011
Chris Graythen/Getty Images
It's no surprise that each week in pro football becomes more and more important. With that in mind, NFL fans across the globe make picks for the games each week.
So before Week 3 begins this weekend, here are the picks for each game.
Texans at Saints
It has the feel of a shootout, but both have an improved defense and it really showed in Week 2.
In addition, both are the current favorites in their respective divisions, but with Drew Brees under center, New Orleans has the advantage.
New Orleans 31, Houston 23
Giants at Eagles
Philly is coming off a dramatic loss in Atlanta, while New York got win No. 1 over the St. Louis Rams.
Neither have been overly impressive, but the Eagles simply have too much talent for the Giants to overcome.
Philadelphia 30, New York 17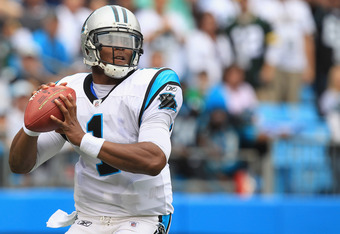 Streeter Lecka/Getty Images
Jaguars at Panthers
After Week 1 the Jags' looked solid, but had a complete turnaround in Week 2 and were demolished by the Jets.
The Panthers continue to play well, but are still 0-2. However, with Cam Newton rolling, Carolina wins the 1995 NFL expansion team bowl.
Carolina 28, Jacksonville 20
Patriots at Bills
Buffalo is the surprise 2-0 team here and QB Ryan Fitzpatrick has proven to be the real deal. As for New England, they are still the standard of the AFC East until someone knocks them off.
Unfortunately for the Bills, they're not their yet, but they will be in a year or two (at most).
New England 42, Buffalo 27
Dolphins at Browns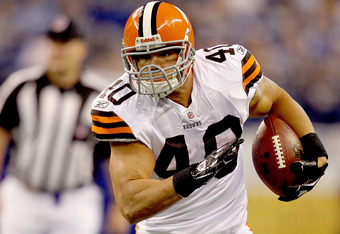 Matthew Stockman/Getty Images
The Dolphins have played two good teams in New England and Houston, but have fallen both times. Cleveland under-performed at home versus Cincy, but bounced back on the road in Indianapolis.
Both need a win here, but the Browns step up defensively on Chad Henne.
Cleveland 24, Miami 21 (OT)
49ers at Bengals
Both are coming off heartbreaking losses, and yet, unimpressive wins in Week 1.
It's a conundrum because San Fran is in the weaker division, but still not finishing games, while the Bengals are in a tougher division, despite being on the rise.
Cincy somewhat relinquishes the memories of Super Bowls XIX and XXIII, and gets the victory at home.
Cincinnati 27, San Francisco 21
Broncos at Titans
It was a big Week 2 win for Tennessee at home over the Ravens. Denver got back to .500 after a win over Cincinnati.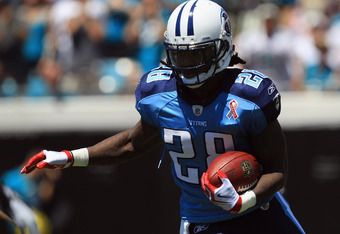 Streeter Lecka/Getty Images
Last season, Denver won in Nashville, but the Titans prove to be gradually improving, while Denver lags back a few steps.
Tennessee 21, Denver 14
Lions at Vikings
This is a big game for both franchises because for Detroit, it's a must win game to really increase their confidence within the division.
As for Minnesota, they've lost two close games, but are playing better than expected.
The Lions, however, take advantage of WR Calvin Johnson against a weak Vikings pass defense.
Detroit 34, Minnesota 20
Ravens at Rams
The Rams have played two formidable NFC opponents in Philly and New York, whereas the Ravens went from 60 to zero in one week after dominating Pittsburgh in Week 1, to a disappointing loss at Tennessee in Week 2.
Baltimore is the better team, and St. Louis is no slouch, but they still are a step or two back.
Nick Laham/Getty Images
Baltimore 26, St. Louis 16
Jets at Raiders
New York at 2-0 has proven to be one of the best teams the AFC has to offer. Oakland dominates their AFC West rivals, but they continue to struggle outside the division.
It's a defensive battle, but the Jets are too much for Oakland's run game and get QB Jason Campbell flustered early on.
New York 17, Oakland 10
Chiefs at Chargers
It's unfortunate for Kansas City that they have lost two of their best players in Eric Berry and Jamaal Charles.
San Diego, on the other hand, continues to underachieve, but does get back on track in Week 3.
San Diego 33, Kansas City 13
Cardinals at Seahawks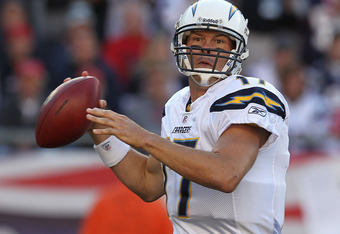 Jim Rogash/Getty Images
Week 3 is a big early season divisional matchup for Arizona if they want to stay ahead of the NFC West pack.
As for Seattle, head coach Pete Carroll and co. need a big win at home, but lack the overall talent to do so.
Arizona 23, Seattle 17
Falcons at Buccaneers
Atlanta is coming off a huge home win over the Philadelphia Eagles, whereas Tampa Bay escaped Minnesota in Week 2.
However, with the Falcons high-flying offense, the Bucs just can't keep up.
Atlanta 30, Tamp Bay 21
Packers at Bears
With safety Nick Collins out for the year, the Packers better hope they aren't hit with the injury bug once again because repeating is harder than winning the first time.
In the Windy City, however, the Bears were exploited by the Saints in Week 2, and really need a win in Week 3 to keep pace with both Green Bay and Detroit.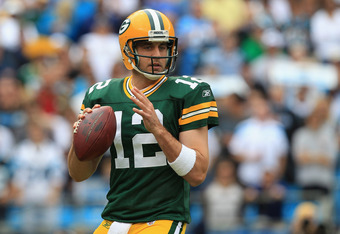 Streeter Lecka/Getty Images
Unfortunately, the cheese-heads have too much and Jay Cutler still has some kinks to work out.
Green Bay 24, Chicago 20
Steelers at Colts
Indianapolis is desperate at 0-2, but Pittsburgh simply has way too much talent.
In addition, Peyton Manning is still out, and the Steelers are out to prove themselves as they still have the bad taste from Week 1 in their mouths.
Pittsburgh 35, Indianapolis 10
Redskins at Cowboys
Arguably the biggest game of the week, Washington comes in 2-0, while Dallas is a fortunate 1-1 after almost losing to San Fran in Week 2.
The Redskins are overachieving, but the Cowboys still continue to underachieve.
In the end, the 'Skins remain alive, while Dallas has some answers to find.
Washington 20, Dallas 17 (OT)
Be sure to check out John on Bleacher Report.
And you can follow him on Twitter @ Sportswriter27.