St. Louis Rams vs. New York Giants: 5 Rams That Disappointed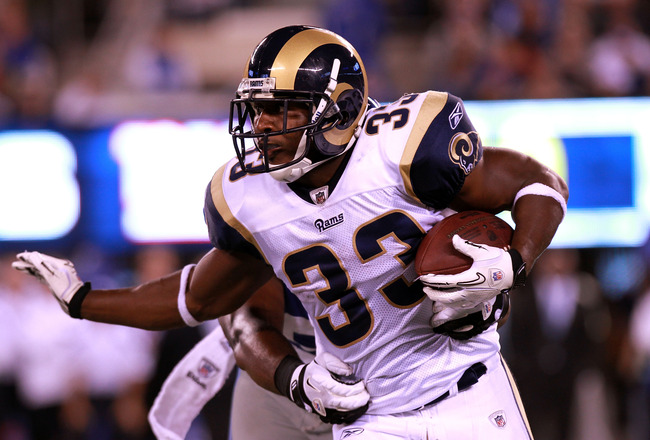 Nick Laham/Getty Images
Two words describe the game between the Rams and the Giants.
Blown opportunities.
St. Louis could have won this game going away in New York if it weren't for all of the missed chances. New York, even with the blown plays by the Rams, kept St. Louis in it until the very end.
Rookie Greg Salas muffed a punt when the Rams would have had a chance to take a 10-0 stronghold on the game. Cadillac Williams made a bonehead play with the Rams driving to take a 13-7 lead.
If it looks like I'm being a bit pessimistic about this game, don't worry, because I will have a follow-up with five players that caught my eye during the loss. With that said, here are five players that failed to meet expectations on Monday Night.
Lance Kendricks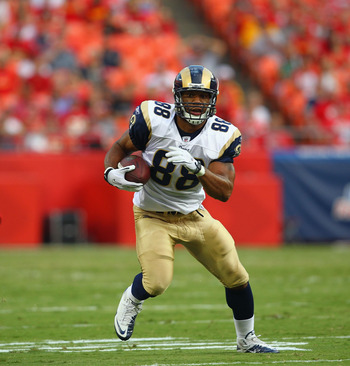 Dilip Vishwanat/Getty Images
I'm offering a $100 reward to whoever can find Lance Kendricks right now. In all seriousness, the abilities that he showed during the preseason have disappeared in the first two weeks of the season.
Kendricks did make a marvelous jump-ball catch for a 27-yard gain, but aside from that, he was nowhere to be found. Sam Bradford looked his way on a couple of occasions, but Kendricks simply couldn't shake his defender. There is no way that linebackers should be able to keep up with a guy with that type of size and athleticism.
It may be too early to say, but I'm in favor of replacing him with Billy Bajema or Illinois Mike when the Rams go with two tight end sets, because they are better blockers. Kendricks is small for a tight end, at 247 pounds, so you can't really expect him to be a dominant blocker in the run game.
Brandon Gibson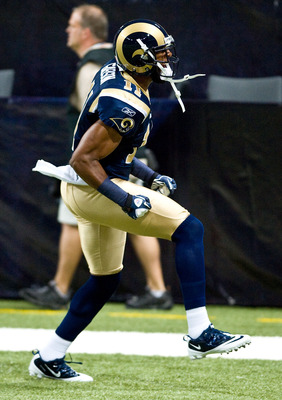 Ed Szczepanski/Getty Images
I don't think this bad game was entirely on Brandon Gibson. In fact, he was having a very good game, then completely disappeared in the second half.
Brandon Gibson was actually reliable in this game. He didn't drop a pass and ran very good routes, making him a great target to throw to. Just when I started to think that maybe Gibson was the answer to the wide receiver woes, he disappeared.
Gibson disappeared in this game because he was hardly in the game in the second half. When watching the game, I found myself wondering, "Why is Greg Salas on the field instead of Brandon Gibson?" It was clear the Mike Sims-Walker stepped up big in this game, but why wouldn't it be him and Gibson on the field?
Maybe you're just as dumbfounded as me, but I can't pin Gibson's disappointment on him right now.
Cadillac Williams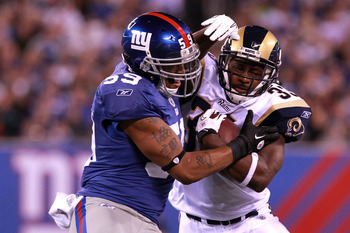 Nick Laham/Getty Images
To his credit, Cadillac Williams may have been a little over-hyped this week.
Either way, 2.8 yards a carry doesn't cut it in the NFL.
Before I go on to criticize Cadillac, we all need to give him a round of applause for his outstanding job in the passing game. He was masterful in blitz pickups, and was there whenever Sam Bradford needed to dump off the ball. Williams showed that ability in Tampa, and it has clearly carried over into St. Louis.
Now for the bad news.
Cadillac had no success running the football whatsoever. Many people will pin it on the offensive line, but a majority of the problem was on Cadillac. In the NFL, you are expected to make tacklers miss. I'm not sure if he was able to do that once all night.
I can say from personal experience that since the time I was a kid playing little league football, we were taught if the ball hits the ground on a flanker quick pass, fall on the ball. So how is it that professional running back Cadillac Williams just stands there and watches as the Giants pick it up for a touchdown?
Who knows. It just didn't seem to be his night.
Justin King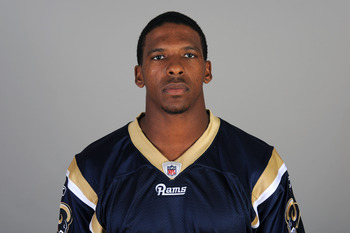 Handout/Getty Images
Look it's a bird! No, it's a plane!
Actually, it's Hakeem Nicks toasting Justin King yet again.
Justin King had every chance to prove himself worthy of the starting job opposite Bradley Fletcher, and he struck out just about every time. Covering Hakeem Nicks is a tough task, but Fletcher made it look a lot easier than King did. On top of that, he let 35-year-old Brandon Stokley, who was never known as a speed guy, get behind him in coverage. Even though the penalty appeared to be on Stokley, King shouldn't have been in such bad position.
What's worse about King's night is that 36-year-old Al Harris stepped in and performed eons better. It does not bode well for St. Louis if their current starting corner is getting outplayed by a 36-year-old coming off of two season-ending injuries.
Greg Salas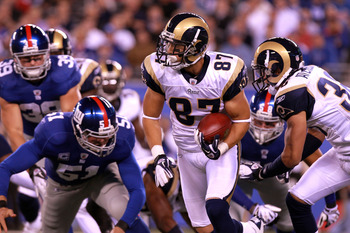 Nick Laham/Getty Images
I don't want to put him on here because he is a rookie that was thrown into the spotlight, but Greg Salas's mistakes were just too large to overlook.
The Rams were up 3-0 and about to receive the ball around midfield on the road against the New York Giants, and Greg Salas muffed the punt. That fumble completely turned the tide of the game and led to a Giants score.
Down 7-3, the Rams have the ball in the red zone on 3rd-and-5. Sam Bradford throws the ball out to Greg Salas, and it's dropped. It was a very tough catch for Salas, but it was one that the Rams needed badly.
Towards the end of the game, when St. Louis was clinging to a thread of hope, Salas drops a wide open pass that seals the game for the New York Giants.
Josh McDaniels, if you're still in favor of playing Greg Salas over Brandon Gibson, you need to check into a mental hospital.
Keep Reading

St. Louis Rams: Like this team?