Miami Dolphins' Woes Continue as Texans Drop Miami to 0-2
September 19, 2011
Marc Serota/Getty Images
After two discouraging performance, the Miami Dolphins have started the season 0-2 and are two games behind the other three teams in the division.
I have to admit, I did not believe the Bills had passed the Dolphins heading into 2011, but I think there is no some cause for concern that Miami may be the worst team in the division.
This will almost certainly result in some major changes for the Dolphins in the offseason. Head coach Tony Sparano's seat is probably hotter than any other's  in the NFL.
He simply cannot afford to lose many more games if he wants to keep his job.
I'll talk more about the Miami's long term prospects at the end, but for now, here are my observations from the Dolphins' loss to the Texans in Week 2. 
Offense  
Chad Henne's stat line was a lot uglier than it was in the opener, but I hardly see him as the major problem in this game. I think his pass protection let him down immensely and the play-calling was iffy at times as well.
In all, I thought he made some good throws and nice plays with his feet for the second straight week. It will certainly be interesting to see how he does this year now that we've seen two very different performances, but both with some of the same positives.
I never understood how down people in the national media and fantasy world had been on Daniel Thomas. I was extremely impressed with the way he ran in his NFL debut.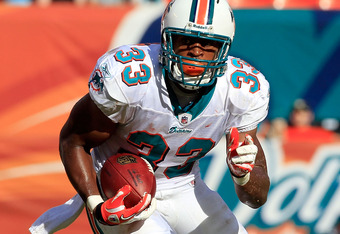 Sam Greenwood/Getty Images
Aside from his lone fumble that came on a perfect helmet-on-ball hit, he ran incredibly well with great burst, balance and instincts.
Considering how unimpressive Reggie Bush has been between the tackles in two games, I think it's quite obvious that Thomas should carry the load inside if healthy.
The Dolphins didn't have many opportunities thanks some horrendous pass protection, but I thought the Dolphins' top three receivers all did very well.
Brandon Marshall used his strength to out-muscle defenders and make some nice catches. He also had an incredible push into the end zone against former Dolphins first-rounder Jason Allen.
Brian Hartline made an incredible toe-tapping catch on the sideline and Davone Bess had a great catch and run.  
Clyde Gates, on the other hand, continued to show his youth and really needs to improve his concentration and route-running.
A week after a pretty strong performance, Anthony Fasano was a non-factor in the passing game. He did block well though and we've gotten used to this kind of up and down production from him.
The offense didn't really allow the ball to be spread around much. Plain and simple, the pass protection was abysmal in this one.
Jake Long gave up a sack for the second straight week and it's fair to wonder if he's still not 100 percent or if missing all the practice time before the season hurt him.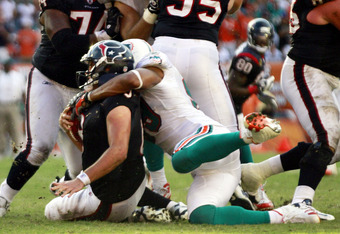 Marc Serota/Getty Images
He's still the unit's best player by far and should be fine, but he hasn't been quite as good as we're used to seeing.
Marc Colombo was terrible once again, allowing Henne's arm to be hit which resulted in an interception deep in Miami territory.
It's truly baffling the Dolphins did not address the right side, instead assuming Colombo would be able to handle it while Vernon Carey would just fill the void inside.
More than anything else, I fear this unit is going to kill the Dolphins' offense this season.
However, the offensive line did improve its run blocking a bit and opened up some holes for Thomas. I still wasn't overly impressed with them though, and I'd almost say Thomas did what he did without much help. 
Defense
I thought the defensive line held up a bit better this week against a good Texans line. They got some pressure on Matt Schaub and stuffed the run pretty well early on.
That said, they still aren't playing up to their talent level and once again appeared to be worn out long before the game was over. They won't face many lines better than this, but I'd really like to see this group be as dominant as they have been the last few years.
Aside from single sacks by Cameron Wake and Jason Taylor, the Dolphins once again did not get enough pressure on the quarterback.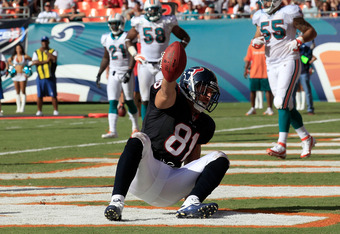 Sam Greenwood/Getty Images
Schaub has a good line and is obviously running an elite offense, but this defense just isn't going to go if the team can't create pressure and potentially force turnovers.
Taylor showed he still has his old burst and we all know what Wake is capable of so I can't really peg the problem right now.
The inside linebackers looked a little better against the run this week, but the injury to Karlos Dansby clearly hurt. Marvin Mitchell was just not good enough and it makes me question again why A.J. Edds was let go.
The group once again struggled to cover opposing tight ends, something that's been an issue for years now.
The Dolphins' boundary corners once again were the brightest spots of the secondary, as both Vontae Davis and Sean Smith made some nice plays, not allowing much to the Texans' top receivers.
Davis' second injury in as many weeks once again killed the defense though which says something about the team's depth.
The Dolphins simply shouldn't be in a position where Nolan Carroll is on Andre Johnson after one injury.
Speaking of Carroll, he looked like a goat on Johnson's long touchdown grab, but we have to realize that Reshad Jones blew the double coverage and there's no way of knowing what would have happened on the play if Carroll's teammate had played it correctly.
Jones has made a few mistakes in the first two weeks and hasn't done all that well aside from his nice sack on a blitz against Schaub.
I hardly think Chris Clemons is the answer, but he might be the safest guy at free safety right now.    
Yeremiah Bell struggled in coverage which has never been his strong suit anyway. His age and declining athleticism are clearly catching up with him.
Entering the final year of his deal at age 34 next season with a $4.3 million salary, this may very well be Bell's last season in Miami. 
Special Teams
Blocked kicks aren't always the kicker's fault, but a chip shot should never be blocked because it doesn't need to be a line drive shot. Dan Carpenter certainly had a rough day yesterday and it will be interesting to see how he rebounds.
I might as well copy and paste this sentence every week, because Brandon Fields is simply phenomenal. While the rest of the team might be faltering, Fields is consistently doing his job at an elite level.
He downed two of his three punts inside the 20 and was able to boot the ball from deep in Miami territory to the other team's 20, negating a field position advantage for Houston. He's the team MVP right now.  
Clyde Gates obviously has blazing speed, but that's about all I've seen on returns thus far. His balance and instincts haven't looked great but it's still early.  
Jason Trusnik had another holding penalty in this one. He's a good coverage guy, but he can't afford to cause these kinds of penalties. 
Conclusion
The good news is I thought Chad Henne did some nice things for the second straight week even though it didn't show in the box score.
I'd like to see some more shots at the middle of the field but in general I'm happy with how he's played so far. I also like how Daniel Thomas ran and how the receivers played.
On defense, I was happy with the starting corners when they were healthy. On the other side of the coin, the offensive line continues to be a huge problem.
I don't see how it can possibly be fixed this year, which leads me to believe it's going to hold the offense back and really hurt the Dolphins' chances of winning games.
It's fair to wonder how this unit is constantly regressing under a head coach with experience as a line coach. How ironic it would be if the offensive line is Sparano's undoing?
The defense has its share of problems too. The coverage from the backup corners, safeties and linebackers continue to be an issue. T
he defensive line will probably be solid, but the pass rush is going to once again kill the Dolphins' chances at turnovers and big plays.
While this game certainly wasn't as ugly as the season opener against New England, it wasn't all that encouraging either.
The Dolphins have played two good teams so far and we should get a better idea of where they are at when the schedule starts to become more favorable.
If this team is at least average, they should beat Cleveland this week. If they don't, we could be in for a very long and bumpy ride, followed by a lot of changes in 2012.