Arizona Cardinals: Pass Defense Continues To Be Major Issue
September 19, 2011
Patrick Smith/Getty Images
You could easily make an argument that Arizona would be a shoe-in to win the NFC West if their pass defense were better. 
Their offense is already, after two games, the most dangerous in the division. 
The biggest problem, and really the only reason they are 1-1 and not 2-0, is the pass defense. 
Week 1? I get it. The defense is still adjusting. Against a rookie QB? Well, that's not great, but look what Newton did against Green Bay. So it wasn't all Arizona's secondary. 
I also understand that the Cardinals, due to injury, have had to start two corners who hadn't started a game before Week 1. Not much they could do about that. 
They do, however, have a solid one-two punch at safety, so there's no excuse why Kerry Rhodes and Adrian Wilson are playing so poorly.
I also understand they are adjusting to yet another defensive coordinator. I think we all knew it would take time. And I understand that the pass rush has been nonexistent, leaving the secondary out to dry. I also know that the secondary deserves a small slice of credit after two picks this week. 
But it was Rex Grossman. 
Rex. Grossman.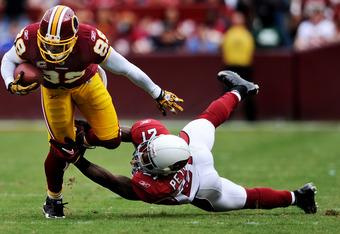 Patrick Smith/Getty Images
There is no excuse for that in Week 2. 
As I said, the secondary needed time, but time isn't a great commodity in the NFL. 
I'd be a little more sympathetic if the Cards faced two really good offenses, like the Packers and Patriots for example. 
They did not. Redskins and Panthers fans may disagree with me, but I don't see either team making the playoffs, despite a great start by Washington. 
Either way, the pass defense needs to improve. 
Need proof? After all, all I've said so far is purely putting two and two together mixed in with opinion. 
Okay. I'll give you numbers. 
(I didn't research these...Mike Sando on ESPN.com did.)
The Cardinals have allowed 477 and 455 yards in their first two games, 686 through the air and 246 yards on the ground.
That's 343 yards allowed through the air per game. That's terrible.
As for total yards, only 14 teams in 70 years have allowed that many yards in two games according to Pro Football Reference.
These two totals also exceed all but two totals allowed by last year's terrible team and defense.
Puts things in perspective, right?
There is some good news, however:
1. It can't get much worse.
2. The Cardinals haven't allowed a ton of points.
3. The defense is still making plays.
But let's put it this way: If Arizona allows the Seattle Seahawks to roll up and down the field next week, Ray Horton really needs to be fired after three games.
There's no excuse for that, especially as bad as the Seahawks offense is.
Some suggestions?
I'm really at a loss, unless they can add a sudden pass rush, or pick up a star corner.
My only real suggestion is start O'Brien Schofield and bench Joey Porter. Play Sam Acho and Stewart Bradley more. Try to get some pass rush.
I think Patrick Peterson will improve, and I hope A.J. Jefferson does. Although I'm not opposed to starting Richard Marshall right now.
We'll see next week at Seattle. It's gonna be a long week for Cards fans though.