Minnesota Vikings: Fans To Blame Senator Koch and Rep. Zellers With Move to L.A.
September 19, 2011
Hannah Foslien/Getty Images
If you are a Minnesota Vikings fan like me and are keeping up with Minnesota state politics, you know the problem in getting a stadium does not stem from a lack of fan support or inadequate ownership, but rather from inept, unprofessional so-called leadership from the Minnesota legislature.
Led by Senate Majority leader Amy Koch (pronounced "Coke") and House Majority leader Kurt Zellers, this is the same political body that stood by and allowed the state to go into a government shutdown late in the summer all because of their refusal to work across party lines and compromise.
Both unapologetic right-wing ideologues, neither answer their emails as I've emailed both of them in the past only to learn later I've wasted my time. Since emailing them is useless, I include their contact information linked above. Call them and let them know how wrong they are and what a mistake to the economy and culture of the state losing the team would bring.
Read any forum concerning the Vikings situation and my sentiments will soon be met with similar experiences from other fans and anonymous users. The fact remains neither leader has any clue and refuses to address an issue that they simply want to go away, even if that means the team leaving the state all together.
So I've turned to Bleacher Report in order to raise awareness of the situation they refuse to address. Maybe this is the first you are hearing of these two inept politicians. If that is the case, it shouldn't be surprising that neither supported the recently built Target Field as they are 100 percent defiant on the use of public funding for a stadium, never mind the fact that this is common practice across the sporting world regardless of market.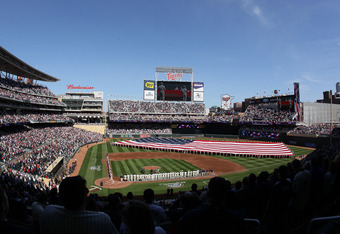 Elsa/Getty Images
Forget the fact that Target Field opened in 2010 to rave reviews and is constantly considered the best in all of Major League Baseball.
No, these two conservative ideologues stand fast on a refusal to raise taxes, never mind the fact jobs would be brought to the state in the form of construction jobs and the jobs they would keep in the state should the team continue to operate there.
They refuse to raise taxes instead, claiming the state doesn't have the $300 million necessary in state contributions. What's worse, they offer little to no real ideas with Rep. Zellers recently saying (and its not clear if its nonchalant or not) that they could fund the stadium through a literal brick-by-brick fan purchase.
How arrogant, I say!
Next, both these overmatched and inexperienced leaders support a county-wide referendum that stadium supporters and the Vikings themselves openly admit would likely kill the entire deal and expedite their move to L.A., the relocation option of choice.
Neither Zellers, from Maple Grove in Hennepin County, and Koch, from Buffalo, in Wright County or their constituients would be subject to any sales tax increase, so why exactly do they support it so vehemently?
I am on record of predicting a 70 percent failure for a proposed November 2012 ballot measure.  The problem isn't just the inevitability, but the timing as the Vikings lease expires February 1, 2012, allowing them to exit the state in Cleveland Browns-1995 "dead of night" like fashion.
The Vikings complied and the politicos lied? Or is it, never even tried?
The Vikings were told in their 15 years quest to find a local partner to help defer costs. After years of struggles and near-deals, they finally did in the form of Ramsey County, where an Arden Hills project is being discussed. At $350 million, this county-wide 0.5 percent sales tax on yet-to-be-determined goods would raise approximately 33 percent of the $1.057 billion project.
A 0.5 percent tax on $100 in Ramsey county=50 cents, so lets cut the crap here. This is all political and anti-stadium driven.
It is my belief based on the plans revealed to the public as to what the Vikings have in mind: Vikings Hall of Fame, cinema and a tailgaiting atmosphere in a new Vikings stadium that would rival only Dallas and "Jerry World" in terms of beauty and presige. Basically, "Dallas North." This is why I'd like to see it come to fruition.
Next, they were asked to pay their fare share of the stadium. At $420 million or roughly 40 percent, the team contribution would be the third-highest single-contribution in league history.
Still, it doesn't appear to be good enough as there are now discussions to scuttle the Ramsey contribution via a referendum vote not to be determined by the state legislature, but by some redundant, unnecessary, bureaucratic commission called the Ramsey County Charter Commission.  Its hyperlinked so you can contact them and tell them to oppose any referendum which would cause our team to move. http://www.co.ramsey.mn.us/NR/rdonlyres/D75BABDF-F80D-4336-B0B5-499B250C7BD6/25125/Roster2011updated082911.pdf
Over the next few weeks, this commission will meet amidst public hearings and should they have enough "Yes" votes, the referendum, which will kill the deal, will become reality. But the question is, how was it allowed to get this far (a possible vote) and why is this new Charter Commission (the only such one in the state) even needed when the Ramsey County Board of Commissioners basically do the same thing and did not favor such a referendum? On top of that, they'd been working with the Vikings on the Arden Hills project site for years and were making progress and now if this vote goes through, all that for nothing?
The Vikings are simply asking to have no referendum, as was the case with the Minnesota Twins and University of Minnesota Golden Gophers, both of whom recently got stadiums without such a vote.
Even if the referendum is somehow magically avoided to which I have my doubts, there is still the matter of Zellers saying the state simply doesn't have the money to cover the state's $300 million share. He doesn't offer any real ideas, nor does he appear willing to compromise. Accept its fate, his attitude screams, and he really only seems to answer questions on the matter when forced as was the case last week when he said this.
Bad economy + end of lease + inept leadership = the perfect storm for a move?
The Vikings have never had a more popular, helpful, aggressive, and passionate owner in Zygi Wilf who wants to see the project through in Minnesota despite the fact he's a New Jersey native.
Every year the team spends up to the cap, and keeps their own players, evidenced most recently with extensions to All-Pro running back Adrian Peterson and local linebacker Chad Greenway, an Iowa grad and South Dakota native.
Wilf gives us a chance to win every year and thus he should be rewarded with a stadium that shows how much we care. By refusing to deal with him it gives the impression he is a bad guy when in reality he is not and has been exceeding expectations while the politicians take him for a ride.
One of these weeks, I predict this November, Mr. Wilf is going to make an Art Modell 1995-like announcement that one of the NFL's 50-year-old franchises will soon be relocating to another region, this time at the Coliseum until Farmer's Field opens in L.A. two years later.
Some day soon we are going to wake up to "Sports Center:" (Breaking News: "The NFL Returns to Los Angeles." Joining us now is ESPN NFL Insider Adam Schefter. Adam, what can you tell us?")
I've often said that if a historic move like this happens, it's going to be Baltimore Colts-like "in the dead of night." As of right now, there are no real rumors of the Vikings moving. The following piece illustrates my concern. In fact, most of the hysteria concerns the San Diego Chargers out of their own California media. 
I've said to friends ESPN says nothing unlike the rumors of Phoenix Coyotes, Montreal Expos, Atlanta Thrashers, or Sacramento Kings moving for years. The only people that seem to think the Vikings are moving are Vikings fans themselves.
Well that could very well soon change.
We all know L.A. actually wants two teams: one by 2012 and another perhaps by 2016. My only hope is the Chargers whose lease also runs out in 2012 and whose prospects of a new stadium appear eerily similarly dim, lose a lot this year demoralizing their base and causing weekly blackouts which would result in apathy and lost revenue. Next, the same goes for the Jacksonville Jaguars for similar reasons.
It just appears after 15 years of negotiations and legislative battles, it will soon be over thanks to the above perfect storm. I hold little hope based on who is in charge and these hints they keep dropping. Both Zellers and Koch are using a possible referendum to take a passionate issue out of their hands and leave it cowardly in the hands of the voters on which to blame. How pathetic.
The Vikings also have an ally in the Governor's Mansion in Democrat Mark Dayton who while he alters his tune to whichever crowd he's talking, I believe in my heart really wants to help as he's constantly said and done all the right things, as there is only so much he can do minus raising the money. Please recognize NFL fans that it will not be fan apathy that caused the team to leave next year nor ownership, but clueless state legislative leaders.
In the end the Vikings have three of the four necessary pillars:
A Governor who will sign any bill given to him saying over and over "Get me a bill. Get this deal done."
A local partner in Ramsey County on which to raise 33 percent or $350M of the funds
As great an owner as anyone could ask
The only thing they lack are the votes to seal the final $300M in state taxes and it appears, wouldn't-you-know-it, in the end the team will soon move over a $300M shortfall.
A good friend of mine who as a Ohio native-Cleveland Browns fan, who witnessed the 1995 relocation, recently explained to me, "If the state doesn't have the money, then it's over. I'm sorry." While that may be true, just remember the names who made that possible and vote them out of office when they come up for re-election.
They are simply too arrogant to know any better. As I've told them repeatedly in emails, we can expect a 100 percent flip in 2013 to Democratic control at the state level thanks to them, as they are under-estimating the power and popularity the team has. I don't blame the voters, and I hope this comes to reality for they deserve it, as they brought it on themselves and have no one else to blame.
Los Angeles waited 16+ years for a move, how many will Minnesota wait?
Los Angeles, the second-largest market in the United States, hasn't had a professional football team since 1995, when they lost both the Rams and Raiders.
How many will it take for Minneapolis-St. Paul, the 14th-largest market, to wait? 30? That's my prediction—if they get one at all, that is. Furthermore, we all know the next time that is, it will be twice as expensive—probably $1 billion or more for an expansion fee or sale, and $1.5 billion to build a state-of the-art stadium. If Minnesota won't spend the money now, why would they in 2035?
You can only tell these people "You don't know what you've got 'till its gone" so many times, for they just don't care. If this is some sort of political ploy and they are only messing with our emotions (I have my doubts as LA isn't making progress on Farmer's Field just to sit around and wait forever), then shame on them for hyping up nothing.
Don't think it can't happen? Ask the original Cleveland Browns, a 50-year-old franchise themselves upon their relocation. Ask the Houston Oilers, Baltimore Colts or Rams and Raiders themselves. Ask the Minnesota North Stars, who relocated to Dallas in the NHL.
Yes, all these markets eventually got NFL teams again, but they cannot expand forever and franchises are more popular and profitable than ever before. Eventually the music is going to stop and there won't be enough to go around and Minnesota will be shut out.
If the Vikings leave the state, then I hope the Buffalo Bills move to Toronto, the Chargers to LA as the second team come 2016, the Jaguars to San Diego and St. Louis to either Portland or Las Vegas for all I care. Tradition be damned.
But lost in all this, and the real travesty, are the generations of Minnesotans and future Minnesota-born children who will be slowly converted to (former rival) Green Bay Packer fans as they will now be broadcast as the local affiliate.
That alone is the real crime, as Wisconsinites laugh at their team's sudden rise in popularity and value all at the expense of their former neighbors. Its bad enough they already won the Super Bowl and look to have a dynasty budding, but the Brewers could win the World Series this year and the Badgers are the best team in the Big Ten.
Soon they may have the very hearts, minds, and souls of millions more fans thanks in large part to Minnesota's inept, clueless and apathetic state legislature.
Information from the Minneapolis Star Tribune, St. Paul Pioneer Press, Grand Forks Herald, Minnesota Public Radio Vote Tracker website, L.A Times, and the Minnesota House and Senate legislative website contributed to the content of this article.