San Diego Chargers: Why the New England Patriots' Loss Was Good for the Bolts
September 20, 2011
Jim Rogash/Getty Images
This past Sunday had Chargers' fans—once again—with their face in their hands as they watched the Chargers squander another road win against another AFC power house.
As we sat on our respective couches, bar stools and Love Sacs after the game, the Chargers' collective fanbase wondered if they would ever get to see the Chargers move past the turnover-prone, mentally-weak team that they have proven to be over the last five years.
All the talent in the world means nothing if a team—coaches included—cannot come into a game with a plan. They need a set of actions that allows them to stray away from mental lapses. The Chargers were unable to do that this on Sunday against a very good New England Patriots team.
But guess what? It's week 2, and the Chargers (still 1-1, atop the AFC West) have learned some valuable lessons from this loss that will be advantageous to them down the stretch:
The Patriots Game Plan for the Chargers
I know it, you know it, we all know it. This will not be the last time we see the Patriots in the 2011-2012 NFL season.
Both the Chargers and the Patriots are the class of their division, and they will most likely meet again in the playoffs. The Chargers should look back at this game as simply a learning experience upon which they can expand when they face Brady and the Pats again.
On offense, they learned that shutting down Antonio Gates is first on the Bill Belichick to-do list. After watching film, they will devise some easy ways to get Gates the ball the next time around.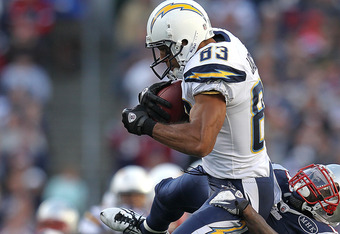 Jim Rogash/Getty Images
On defense, the Chargers learned that if they do not get to Brady, he will light them up down the field (I, like many Charger fans, thought this was pretty obvious entering the game).
Both of these points will be great places to start when game-planning against the Patriots. 
Height and Speed Kills the Patriots Defense
Strength-wise, the Patriots match up very well against the Chargers.
Vince Wilfork and Albert Haynesworth in the middle really shut down the power-running game with Tolbert (nine carries for 10 yards, 1.1 YPC). He found himself going east and west all game, ultimately resulting in the game-ending fumble forced by Jerod Mayo.
This, and Antonio Gates, was the only part of the Chargers offense that the Patriots could shut down. Vincent Jackson and Malcom Floyd (before he left early with an injury) had their way going over the top of the small New England cornerbacks.
Also, Ryan Mathews found it easy to slice through the Patriots defense with his elusive speed and side-to-side agility. Mathews will definitely be a focus of the next game if they are to meet again.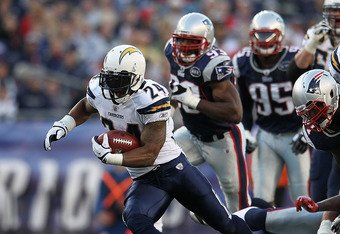 Jim Rogash/Getty Images
What It Is Like To Lose
Losing to an elite team like the Patriots in Week 2 is less deflating than you would think to these Chargers players.
As a fan, I understand your frustration, but these players are going to realize in film what could have been. It won't be that bitter taste in their mouth, like after a playoff loss, but, rather, a fire that will have them pumped up for next week's game and other games to come.
The Chargers know how good they are—they don't need media personnel showering them with love and candy.
This team is very internalized (A.J. Smith and Norv Turner make sure of that) in the sense that the leadership within the Chargers' organization is respected and not a lot leaks out. That's why you never hear something bad about the Chargers in the tabloids—they just don't allow that stuff out and deal with winning and losing from within.
The Chargers let one get away. There is no doubt about that. 
But there is, like after most losses, a silver lining.
Vincent Jackson (after a quiet Week 1) caught 10 passes to the tune of 172 yards. Philip Rivers still threw for over 375 yards. Malcom Floyd showed elite athleticism the few plays he was in, averaging just less than 30 yards per catch. Ryan Mathews proved that he could be the featured back, carrying the ball 12 times for 5.3 YPC and catching seven passes for 62 yards.
Oh, and if you watched the trenches closely like I did, you have to be astounded by the performance Antonio Garay put on.
He dominated the line of scrimmage on every play—forcing double-teams that ended with him still 3-5 yards in the backfield on passing and running plays. This man is going to the pro bowl.
These quotes by Philip Rivers say it all:
"We're not going to hang our heads and pout and gripe about it. We've got to go. There's nothing that you look at and go, 'Oh man, this is going to be rough for a while if we can't get some of this fixed. It's just who we are. I'm not a big stats guy, but you look at the stats row-by-row and it's almost identical every single category except four turnovers to zero".
When asked what the attitude of the Chargers' players during film sessions, Philip responded, "Excited. Excited about what we could be."
This loss was just a bump in the road.