Fantasy Football Waiver Wire: James Starks and 4 Players You Have To Grab Now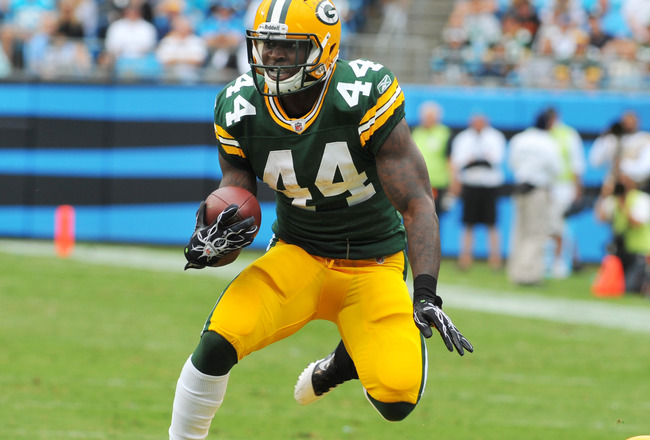 Al Messerschmidt/Getty Images
With only the Monday night game remaining in Week 2, many are looking ahead to Week 3 of the NFL season.
By now you've probably have a few guys on your team that are causing you to rip your hair out. You may have a few guys that have gone down to injuries already.
Nevertheless, almost every team will have holes in their rosters at this point of the season.
Now is the time to start looking at the waiver wire for those season-changing players. The guys that no one expected to do anything this year, and they turn in to a core piece of a championship run.
Here are five guys that you should be looking to grab in any of your leagues.
James Starks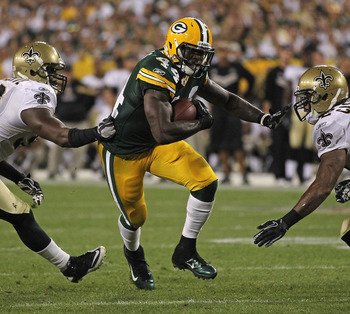 Jonathan Daniel/Getty Images
James Starks should have been under consideration last week as a great pick up for fantasy teams.
However, with a 85-yard performance on nine carries along with an additional 30 yards on three catches, you should be scrambling to get him on your roster.
When Ryan Grant went down last season many believed that the Packers were in serious trouble. Well we know now that was clearly not the case.
James Starks was a huge performer for the Packers in the playoffs and has continued to impress in the early weeks of the season.
Grant has struggled to get going, and it looks like the carries will continue to lean in Starks favor.
Green Bay has one of the best offenses in the league, so there is no excuse to pass up on the guy that could be the starting running back.
Eric Decker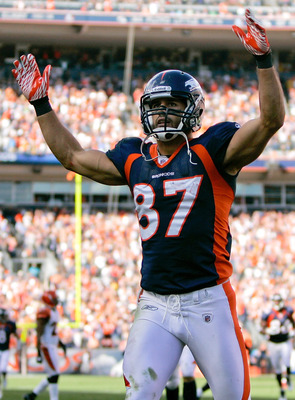 Justin Edmonds/Getty Images
The relatively unknown commodity Eric Decker has stepped in to the starting wide receiver role in Denver.
Decker was able to pull down five catches for 113 yards and two touchdowns in a victory over the Bengals this weekend. With Eddie Royal out, you should expect Decker to continue to get looks.
Now the Broncos don't have the most powerful passing game in the league. To be blunt, they aren't very good at all.
However, they will need to throw the ball as they will often be chasing teams from behind. They are going to let Kyle Orton, maybe eventually Tim Tebow, throw the ball over the field because they have no choice.
Decker has shown that he can handle getting the touches.
If you need a second or third receiver to round out your squad, don't hesitate to take a shot on a guy who will get plenty of looks.
Rex Grossman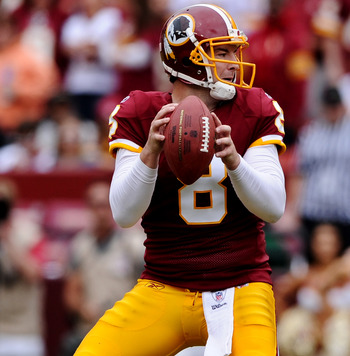 Patrick Smith/Getty Images
Football is a crazy sport isn't it?
Rex Grossman is once again a viable fantasy football option. He put up 291 yards and two touchdowns in a victory over the Arizona Cardinals yesterday.
That gives him 596 yards and four touchdowns after two games. While he did throw two interceptions yesterday, it is clear that Grossman is going to have the chance to put up numbers.
The Redskins are letting him drop back and fire it all over the field. This can be dangerous for those leagues that give negative points for interceptions, but if yours doesn't then Rex should be under consideration.
Rex Grossman is not Tom Brady. He isn't going to dazzle you.
However, if you are in need of a change at quarterback don't forget about Rex. It may not be pretty, but the numbers will be there.
Dustin Keller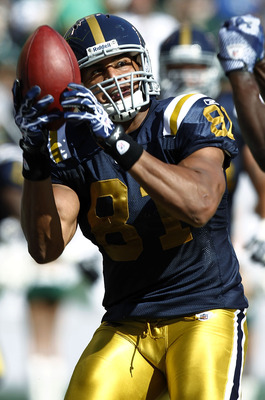 Jeff Zelevansky/Getty Images
Dustin Keller has been a borderline starting fantasy tight end since being a Jet.
Keller has become some sort of a safety valve for quarterback Mark Sanchez. He continues to get looks all over the field, but most importantly he is getting looks near the endzone.
He has 162 yards and two touchdowns over the first two games of the season.
You can bet that Sanchez will continue to look his way as the season goes on.
Tight end can be a very tough position to find consistency at. It appears that Keller is establishing himself as a go to option in the Jets option.
If you missed out on the elite options in your draft, roll the dice on Keller.
David Nelson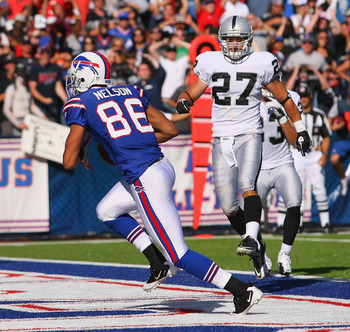 Rick Stewart/Getty Images
I know a Buffalo Bill finishing off this list may be a strange sight, but David Nelson is worth taking a shot at.
It is clear that the Buffalo Bills are going to let Ryan Fitzpatrick drop back and throw the ball. While the Bills didn't dominate the Raiders like they did the Chiefs the week before, Fitzpatrick still threw for 264 yards and three touchdowns.
Nelson led the team in targets in that game as well. Now with Roscoe Parrish out for the long term with an ankle injury, the opportunities are going to keep coming for Nelson.
He has great size and if Fitzpatrick continues to find success in the passing game than he will have some serious fantasy value.
The Bills take on the Patriots in Week 3. Expect them to be down early and having to throw to catch up.
Nelson may just be the main target for those passes.
Keep Reading