Oakland Athletics and Billy Beane in the Final Analysis
September 19, 2011
Justin Sullivan/Getty Images
Moneyball opens in theatres on Friday and everyone in baseball is anticipating the picture. Rumor has it Brad Pitt could get nominated for Golden Globe or an Oscar. While the movie reviewing community may be excited, the baseball community has a different buzz.
The Athletics haven't finished within 10 games of the division lead since 2006, and have had only one season with 80 or more wins.
Some people blame the book itself, but it is likely other teams would have caught on to his strategies either way. Sabermetrics have exploded in the past decade, and that happened independent of Moneyball. In the scant five years since they have seen the post-season, nearly half of the teams have hired a general manager that practices that style.
Key Statistics
Team Payroll: 66.5 million (21st)
Lineup: 9.0
Rotation: 14.6
Bullpen: 6.6
Composite: 10.1
Analysis Score: +10.9
Lineup
It's hard to question the success of someone with this kind of analysis score, but all of the smarts in the world don't matter if you don't win baseball games.
In that fateful draft in the book, they had seven first-round picks. Joe Blanton was the most successful Athletic (currently a Phillie) while Nick Swisher was the most successful overall. He enjoyed his success with the White Sox and Yankees.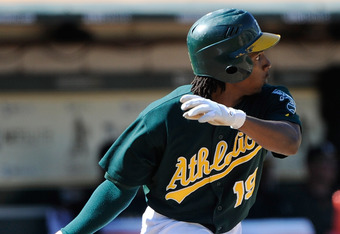 Thearon W. Henderson/Getty Images
There are other names you've heard of independent of the book (Mark Teahen) but none of them made any All-Star teams as Athletics. Look through the first 10 rounds and you see some players that made it, but they didn't make it as Athletics.
To put it simply, they have not drafted well by and large. Billy Beane is adept at picking up players off of the scrap heap, but it takes stars to win and those stars have to come from the draft.
Rotation
Beane has always been good at constructing a pitching staff, and his attention to defense definitely helps. Gio Gonzalez is as solid as they come. Brandon McCarthy was a solid pickup for him as well. Trevor Cahill has faded down the stretch, but he was effective for most of the year. Guillermo Moscoso has had a brilliant rookie campaign as well. This leaves only Rich Harden in the disappointment department.
You get the idea that Beane is holding out hope for a fifth starter to come along. That could be Brett Anderson when he recovers from surgery. It could be Dallas Braden as well. Still, if an ineffective Rich Harden is the worst thing going on in your rotation, then you are better off than most teams.
Bullpen
Teams that understand the market understand how to build bullpens. Some teams blow their wad on a closer, but the smarter ones know it is much more effective to have a decent, inexpensive closer and two or three solid guys to back them up.
Brian Fuentes can be called decent to be sure, but he was supplanted by Andrew Bailey. Add in the likes of Grant Balfour, Brad Ziegler and Craig Breslow and you have the deepest bullpen in the American League.
Analysis Score: +10.9 (3rd)
Final Analysis
This is a good ranking for Beane, but as we have seen, the godfather of sabermetrics in the beltway has some holes.
In short, scouts do matter, and they matter most in the amateur draft. No computer program can beat seeing a player with your own eyes and seeing what kind of competition he is against. Teams have determined that a balance between traditional scouting and performance scouting is what matters. There is a balance between high school talent and college talent.
Finally, there is a talent between high ceiling tools players and players that may not have the high end tools, but somehow perform. Billy Beane must find that balance.