NFL Predictions Week 3: Pittsburgh Steelers Take Advantage of the Colts at Indy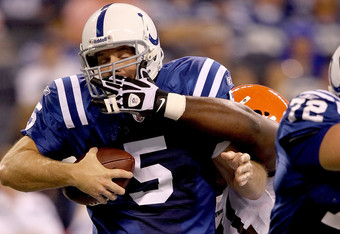 Matthew Stockman/Getty Images
Indianapolis Colts vs. Pittsburgh Steelers
Colts: 0-2, Steelers: 1-1
There is significance within the Colts organization that makes you go, "Hmmm, I wonder if Kerry Collins understands that he is not still in retirement playing against the old men whose Glory Days are far behind them."
His performance against the Cleveland Browns Sunday afternoon was not as embarrassing as he had been against the Houston Texans in Week 1.
But, there is no spark in his step that would give his teammates anything more than false confidence or camera-only defenses of his talents.
Sure, the team bulks up in the eyes of the media as they are questioned constantly about the indefinite loss of their primary quarterback and the sinking of a franchise by the hand of a single-player disappearance.
However, what goes on behind closed doors may be much different.
There is only so much disappointment a man in such a competitive sport can take, with football handing out the most agonizing defeats to the most predominant, testosterone-charged Alpha males in the country.
Egos are bound to get bruised and if the Colts do not pick themselves up soon we may begin to see more than the crunching pressure of the pocket breaking down this team's offense.
It is a sad occurrence, yet entertaining just as well.
Football provides a parity that I am afraid the NBA sometimes refuses, which makes a team crawling back into their fans' hearts far more interesting than watching someone stand on top of their league for years and years on end. Once in a while, the little guy is supposed to feel the brief taste of glory while the Head Guy In Charge holds back tears in defeat.
OK, maybe the little guy reference is a bit dramatic in comparison to where the Colts have fallen. But, you must admit, it has scripted the first four chapters of a Cinderella story. Waiting to emerge is a Prince, or an offensive game changer that is willing to take charge while the rest of the franchise is in duress.
Indy does not have time to figure everything out within a week and prepare for the Pittsburgh Steelers as well.
Staying with the game plan is the most viable option for Indy's offense as they get ready to face the likes of Big Ben, Troy Polamalu, James Harrison and the offensive receivers that spread all over the field to provide challenges for any secondary.
But, let's not be so quick to put the Steelers on the fast track either. Even though they seemingly recovered from being punched in the face and kneed where the sun does not shine by every Ravens' defensive player in Week 1 with a win against the Seattle Seahawks, 24-0, Pittsburgh has taken a step back from last season.
Whether it is because the Steelers have the oldest defensive squad in the league, or because Big Ben seems to have had a misstep or two in that Week 1 game, but some losses cannot be wiped from your mind.
The Week 1 meeting between the Baltimore Ravens and the Pittsburgh Steelers was simply preparing us for the Mayweather vs. Ortiz fight happening during the weekend. Some way, somehow, the Steelers were still attempting to greet and share pleasantries with the Ravens, while they were quietly calculating and awaiting the refs signal.
As soon as the snap was made, Baltimore two-pieced Pitt directly in the mouth and the Steelers could do nothing but hobble around trying to regain composure and mass produce strength in their body to recover quickly enough to stand on their own two feet.
Both of these teams improved since Week 1, as fans should expect them to, but predicting a game where both teams have not had the most reliable statistics in the past two weeks is going to be tough cookie. Therefore, we must resort to general knowledge of each team. Point blank, Indianapolis is without Peyton Manning and is not built to play from behind.
The Pittsburgh Steelers have a tough LB-sized QB, and solid receiving corps and a defense that will rip your head clear off of your shoulders.
Result: Pittsburgh takes advantage of Indianapolis in more ways than one to come out of the contest with a 34-13 win over the Colts.
Kerry Collins throws two INT, including a pick-six.
This article is
What is the duplicate article?
Why is this article offensive?
Where is this article plagiarized from?
Why is this article poorly edited?

Indianapolis Colts: Like this team?