Raiders vs. Bills: Six Second Half Adjustment Bills Should Make
September 18, 2011
Rick Stewart/Getty Images
At the half, the Oakland Raiders are leading the Buffalo Bills 21-3. After a scoreless first quarter, the Raiders exploded for 21 second quarter points. The Bills drove the ball down to the Raiders 21 to end the half, but the Raiders blocked a 39-yard field goal attempt by Rian Lindell, to leave the score at 21-3.
What adjustments do the Bills need to make in the second half?
1) Be Less Predictable on First Down
The Bills had not scored during their first three drives. Of their first six plays they ran on first down, five of them were running plays, with only pass. They scored on the fourth drive because they started mixing up the plays, throwing the ball on first down and being less predictable.
2) Take More Chances on Defense
Raiders quarterback Jason Campbell has thrown for 127 yards in the first half, and has not been hurried enough by the Bills pass rush. They will need to start using more blitz schemes to put some pressure on Campbell.
For the Bills to come back in this game, they need to create some turnovers. However it happens isn't as important as making it happen.
3) Continue to key on Darren McFadden
McFadden has gained 51 yards on 12 rushes and has caught three passes for 34 yards. All of McFadden's catches have been on screen passes, so the Bills need to be more aware of where McFadden is, keying him at all times. They still have extra men that can blitz Campbell, but what they are doing now is not working.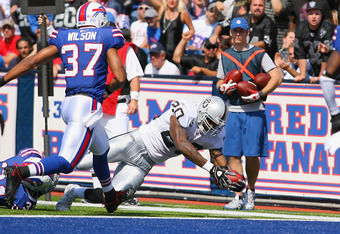 Rick Stewart/Getty Images
4) Focus on getting the ball to Steve Johnson
The Raiders have used rookie defensive back Demarcus Van Dyke to cover Johnson. The Bills need to take advantage of the rookie covering Johnson whenever they see that match-up. At the half, Johnson only has two catches for 27 yards. They need to use their best weapons more than they are doing now.
5) Play Composed Football
Until the final drive, it was the Bills' team that was getting hit with penalty flags, three of them, compared to only one for the Raiders. The Raiders finally got him with a major penalty in the final drive, but they are playing a much more composed game than they did on the Monday Night contest. Wide receiver Donald Jones had a key penalty that killed the Bills first promising drive due to a crack back block.
6) Chan Gailey will need to do more gambling
The Bills had a fourth and one at the Raiders seven-yard line, but they settled for a field goal. If they have a similar choice in the second half, they will have no choice but to go for it.
Those are the second half adjustments as I see them. Do Bills fans see any other needed adjustments?