Kansas City Royals: Let It Be Known, Royals Fans Are Not a Myth
September 17, 2011
Jamie Squire/Getty Images
Two summers ago I met an avid baseball fan who told me that Royals fans were a myth.
Who would support at team that hasn't had a winning season since 2003?
Who would buy a superstar's jersey knowing that greats like Carlos Beltran (Giants) and Zach Greinke (Brewers) rarely stay in Kansas City?
Does anyone ever believe the team when they claim that they will get better in the proverbial "next year"?
Well, at the Royals game I attended—a matchup against floundering Twins to see who would be placed in the AL Central cellar—there were an announced 25,253 in attendance.
Usually the stadium would be packed with Twins fans; however, because of the team's rough season only a few Minnesotans made the seven-hour drive down I-35 to Kauffman Stadium.
It was an honest 20,000-plus people there and many were decked out in Royals gear.
Yes – with the $35 dollar New Era KC hats.
Yes – with Hosmer, Moustakas and Francoeur uniforms.
Yes – with shirts that said "1985 World Series Champions" (a victory that came in Game 7 against the crosstown rival St. Louis Cardinals).
This isn't like the "announced" 18,617 average who attend Marlins games (SI reported a head count of 347 at a game) or the 29,185 average who "attend" Braves games (58.7 percent paid, pitiful for a historically-significant team that's considered a playoff contender).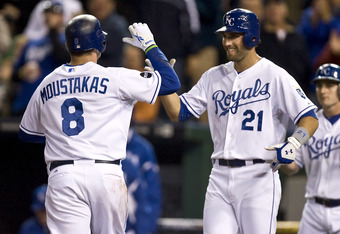 Ed Zurga/Getty Images
These fans were there.
They applauded when their ace, 34-year-old Bruce Chen, retired the last 12 batters he faced in an eight inning shutout.
There was palpable anticipation as the crowd followed home runs hit by Mike Moustakas and Alex Gordon into the seats.
They laughed when the kiss cam was placed on Twins players Anthony Swarzak and Trevor Plouffe (Swarzak gave Plouffe a faux come on look).
They were engaged (the fans, that is).
The question arisen is: why?
Why spend $9 on beer when you can get a twelve-pack for $3 more at the local liquor store?
Why drive to a stadium that is placed 15 minutes outside of the city?
Why spend your hard-earned money on a perennial loser?
It is a proud city.
Kansas City, located in Missouri and Kansas, is a beautiful city.
Nearby Overland Park, Kansas, where I stayed, was named among Yahoo!'s 10 best American cities to grow up in and Business Week claimed it was one of the best places to raise your kids.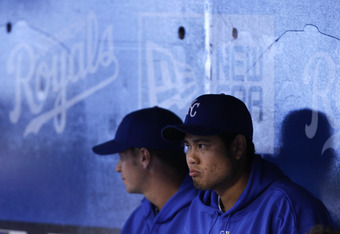 Ed Zurga/Getty Images
More pertinent, however, may be the team itself.
In Ken Burns' critically-acclaimed documentary on the history of baseball (simply called Baseball), experts discuss the Mets inception in 1960.
At the time the Yankees were a dynasty with Roger Maris, Mickey Mantle and Co., but the Mets, a god-awful expansion team, were outdrawing their New York counterparts.
One expert, the late Stephen Jay Gould (a New Yorker), put it simply—we identify more with losers.
I cover the Twins. It is in my best interest to see the Royals lose.
In fact, I'm kinda embarrassed that my team might finish behind KC in the AL Central.
However, this season has a silver lining for me. It separated the real fans from the fair-weather supporters.
Most games I covered were sellouts. Attendance never dipped below 36,000.
All over Minnesota I saw Twins hats, Twins shirts, Twins bumper stickers.
We all want to see them win. We want 1987 and 1991 again.
However, we don't discard them because they are losing.
As for the Royals: it would be fun to see them win.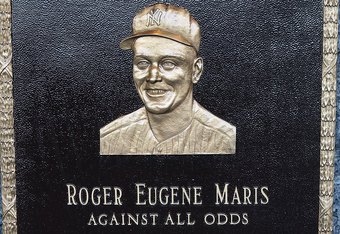 Jim McIsaac/Getty Images
It would be great to see the Cards-Royals and A's-Royals rivalries renewed.
It would be interesting to see them sweep big-market teams like the Yankees, Red Sox and Angels again.
It would be fun to see Twins-Royals become a hot ticket.
However, for the time being, they're still a losing team.
But, let me set the record straight:
Royals fans are not a myth.
Tom Schreier covers hockey and baseball for Bleacher Report. Follow him @tschreier3.