Chicago Bears Are in Need of Personality, Emotional Leadership and Charisma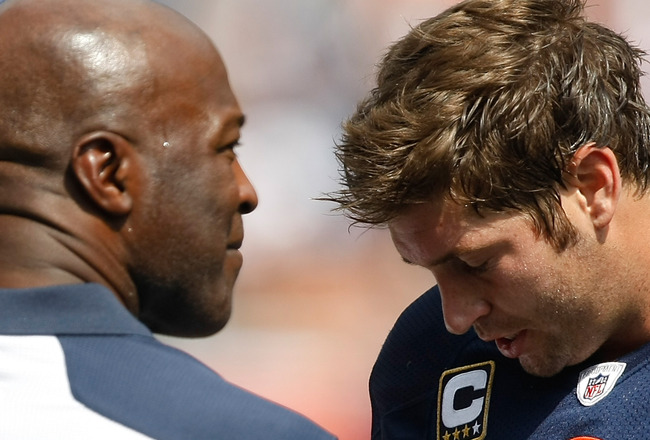 Stoic worked well for Tom Landry, but he had Roger Staubach
Scott Boehm/Getty Images
When Jay Cutler and Mike Martz came to Chicago, we thought we were in for a huge fireworks show on the lake front. Black and blue was going to evolve into a prism of colorful aerial entertainment. We weren't sure that we were going to embrace this shift from rugged tradition.
Chicago Bears football has always had a hard-nosed identity, been fairly straight-forward; full of hard, gritty determination coupled with the unforgiving weather of Chicago .
Martz, we thought, was going to bring a sissy St. Louis smurf show to Chitown. Well, for better or worse, it really hasn't panned out that way. In fact, the Bears have become even more mundane and inhibited in their collective team character.
On the field, Chicago has evolved into a one-of-a-kind conservative screen pass team. They don't have a wide receiver in the top 40 and didn't have one last year. And Devin Hester/special teams play has been watered down with the NFL kickoff rule change.
Here is a bit on our "heart-and-soul" leadership—Lovie Smith, Mike Martz, Jay Cutler and Brian Urlacher:
Lovie, God love him, is the ultimate gentleman in an era of "edge." Lets just say he doesn't have a snowball's chance with Sandra Bullock. She's got her eye on Rex Ryan. What we wouldn't give for Lovie to wake up and slam a clip board over Jay Cutler's head gear.
Why does our quarterback have to be such a freaking tool? Did he grow up idolizing Jeff George at all?
On the other hand, we like our middle linebacker to be a little bit rowdy. Urlacher, we can get with him. We don't blame Latch for our lack of spirit, but he's not a go-to guy for some spark.
Coach Ditka had his faults, but he had some presence
Mike Powell/Getty Images
And Martz, he must be under Lovie's thumb. There is no greatest-show-high-wire-act here.
Hey, our most gifted receiver, Devin Aromashodu , was dog-housed and deported for lack of fundamentals.
Mr. Excitement Earl Bennett is a solid, conforming systems guy; lets make him our lead wide out.
Can Robbie Gould get a neck tattoo or something?
The best we can do for drama in the Windy City is Lance Briggs beating his chest, sniffing around for more scratch and begging for a little love. Go get three tackles, then pop off.
Slap me upside the head with an Old Style beer can, but I think this team needs Brett Favre. What of the days of Mike Ditka spitting into the microphone, never finishing a sentence, and entering the Metrodome on roller skates?
Buddy Ryan ruffling feathers and Jim McMahon wearing Rozelle head bands.
Expect the Chicago defense to be geared up this weekend.
Jonathan Daniel/Getty Images
The Fridge becoming a red zone cult hero.
Hampton and McMichael barking up a storm.
The Sack Man Richard Dent rhyming with Bent on the Superbowl Shuffle.
Fencik and Plank laying the wood at every chance.
The greatest football player of all time, Walter Payton, got somewhat overshadowed by an abundance of life-of-the-party types.
We had the sizzle and the steak. Now we're lucky if Cowboy cast off/wannabe diva Roy Williams gives us a nerdy signature salute in the end zone. Get that drone a Sharpie.
Don't get me wrong, I'm stoked that we man-handled Atlanta, and we have a good shot to take it to New Orleans and get some sorely needed road cred. I'm just not sure we can ever win a Super Bowl absent some demonstrative and passionate leadership.
Football is the mother of emotion-driven games. The ever-stoic Tom Landry knew he was boring, so he had his offensive line lift up and down with a dash of showmanship. Belichick has some fire on the field with Tom Brady. Lovie, he is never going to move a meter, and our signal caller is a bona fide ratchet head. I'm becoming more of a Jets fan just writing this piece.
This article is
What is the duplicate article?
Why is this article offensive?
Where is this article plagiarized from?
Why is this article poorly edited?

Chicago Bears: Like this team?