NFL 2011: What We Should Expect from Michael Vick and Others in Week 2
September 16, 2011
Dilip Vishwanat/Getty Images
I'm not sure it's because Cam Newton threw for a rookie record 422 yards, albeit in a losing effort, or if it's the return of Michael Vick to Atlanta that has me jacked for this week, but I can't wait for this Sunday.
We witnessed records breaking all over the place—four QBs airing it out for over 400 yards—Tom Brady actually went for 517 yards, while 14 QBs threw for over 300 yards. A total of 7,842 net passing yards were totaled in the NFL, with Donovan McNabb contributing an eye-popping (for all the wrong reasons) 39 of those yards.
Can this week follow what was an odd, but definitely entertaining opening week in the NFL? I think so. What will we see as an encore though? Let's run it down and find out.
Cam Newton looked like a seasoned vet against an awful Arizona Cardinals defense. It also seemed to me like nobody was covering, or wanted to cover, Steve Smith.
Newton and the Carolina Panthers are facing the defending Super Bowl Champs in the Green Bay Packers this weekend, so we can all relax ourselves because a repeat performance won't happen against that defense.
Newton will make it an exciting game with his feet though. He's going to have no alternative but to run for his life with "The Claymaker" breathing down his neck all day long.
Michael Vick makes his return to Atlanta for the first time as a starter, and he's sure to send a tidal wave of mixed emotions through the Georgia Dome.
Don't be expecting the Atlanta Falcons to welcome Vick with open arms. They're looking to right the ship after a 30-12 thumping by the Chicago Bears.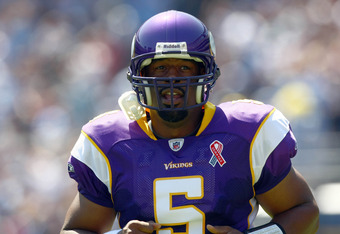 Donald Miralle/Getty Images
Vick is wise enough, at this point in his career, to realize that this trip back to the Dirty South isn't about him. It's simply about winning the game and taking another step towards getting to and winning a Super Bowl.   
What year was Donovan McNabb drafted? 1998? I thought so. I was thinking for a second that he may have been a rookie quarterback this year—what, with the less-than-garbage performance he put together in the second half of last week's Chargers game.
Isn't this the same guy who made it to four consecutive NFC Championship games including a Super Bowl?
I sit here stunned. How does a guy just fall off like that over a span of two years? He's only 34 years old. We're not talking about a 44-year-old Steve DeBerg being the oldest player to start an NFL game at quarterback here.
McNabb and the Vikings can only go up from here. He should get some sort of rhythm going against a Tampa Bay Buccaneers defense that gave up one of those 300-yard games, as well as allowing three passing touchdowns to Matthew Stafford and the Detroit Lions.
With the NFL's very own air-show taking flight right before our eyes, we can't overlook what happened to the Pittsburgh Steelers. The Baltimore Ravens handed the Steelers their worst beating since they got swept 27-0 and 31-7 in 2006 by, you guessed it, the Ravens.
It's one thing to lose to your biggest rival, but to get dog-walked all over the field is something completely different.
The worst thing that could have happened for the Seattle Seahawks is for them to face a Steelers team in the second week of the season, after the bludgeoning they endured at the hands of their nemesis.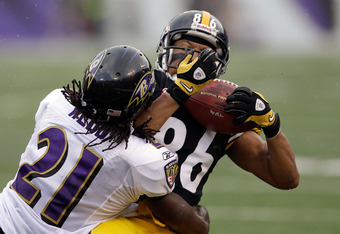 Rob Carr/Getty Images
The Seahawks don't have a shot in this game. Don't be the least bit surprised if Tarvaris Jackson duplicates Donovan McNabb's Week 1 performance.
What can we say about the Buffalo Bills and their performance against the Kansas City Chiefs? A 41-7 throttling of the "Chefs" could be the start of a team that could very well be on the rise this year.
Leading the Bills rise is Harvard's very own Ryan Fitzpatrick. Here's a guy who nobody gives any real respect to at the quarterback position. Yet, he jumps out of the gate to lead the NFL in QB Rating (133.0) and is tied with Brady for the league lead in touchdowns (4).
The future does seem to be brighter than normal for this Bills team, but they will only go as far as Fitzpatrick can take them.
However, what we really should be asking, instead, is what's happening with the Kansas City Chiefs? A team, last year, that had the second-leading rusher in the NFL and a receiver that led the league in TD catches—oh yeah, they also won the AFC West last season.
The Chiefs couldn't seem to get anything going against one of the worst defenses in 2010. Things don't get any easier for the Chiefs as they will face one of the most exciting defensive fronts in recent years in the Detroit Lions.
If the defending AFC West Champs want to get back to where they were last season, they must find a way to turn around this paltry start to the 2011 season.
With everything mentioned here, and I know I didn't cover everything, Week 2 is poised to be everything Week 1 was and more. Enjoy your Sunday Funday! I know I will!
Check out my other articles here.
Get your weekly fantasy football rankings for each position at Out Of My League!