NFL Predictions Week 2: Which Players Will Continue Staking MVP Claim?
September 16, 2011
Mike Ehrmann/Getty Images
Despite only having played one week thus far, there's already discussions brewing about who can win the NFL MVP award.
And after some unbelievable performances last week, there are three very familiar players atop the early season list.
Tom Brady: QB, New England Patriots
Last season Brady won his second NFL MVP award, and rightfully so, as he tossed for 3,900 yards and threw 36 TDs to only four picks in a season that also included a 65.9 completion percentage (second best of his career).
Then on Monday Night Football, Brady kept on rolling and did so by hitting over 500 yards on 32 completions, as well as four TDs (though he did have a bogus pick).
Include the fact that Bill Belichick's defense still can't stop the pass, and Brady will have to maintain another season of stellar play to keep the Patriots contending.
Therefore, expect big numbers from him every week, because if he slips up, New England goes down.
Aaron Rodgers: QB, Green Bay Packers
No surprise here as the most recent Super Bowl MVP hits the NFL MVP list for the first time.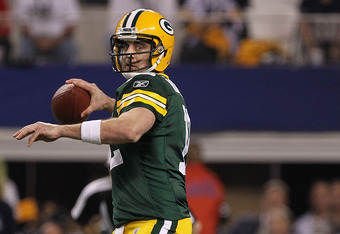 Doug Pensinger/Getty Images
Rodgers would have had a shot at the award in 2010, but he was briefly out due to a concussion, and he actually had a better 2009 season than 2010, as well.
Nonetheless, Rodgers is definitely in the 2011 running, because not only is he more known in the football world, he's just getting better and better.
2008 was his first season as the full-time starter in Green Bay and he compiled more than 4,000 yards, threw 28 TDs and had a 63.6 completion percentage.
That being said, you can expect Rodgers in the NFL MVP discussions for years to come.
Drew Brees: QB, New Orleans Saints
Yes, Brees makes the NFL MVP race a hat-trick of QBs, but in a league that is becoming more and more pass-heavy, it only makes the QB that much more important.
Now with Brees, however, it's close to high risk, high reward, because last season he did throw more than 4,600 yards for 33 TDs, but he also was intercepted 22 times.
For him to best both Brady and Rodgers, not only does he need to cut down on the picks, but the Saints need to establish a running game.
Both Brady and Rodgers have one, and it's effective when used, but New Orleans has solely relied on Brees so much that defenses don't bother to acknowledge the run game against them.
With that in mind, however, that's why RB Mark Ingram was drafted, which will help Brees cut down on picks because the play-action is now relevant.
In turn, don't be surprised if he has his best season yet and outdoes both Brady and Rodgers.
Be sure to check out John on Bleacher Report.
And you can follow him on Twitter @ Sportswriter27.