Why Charlie Weis Was the Only Reason Matt Cassel Was a Serviceable NFL QB
September 16, 2011
Dilip Vishwanat/Getty Images
Matt Cassel improved after throwing 16 touchdowns and 16 interceptions during his first season in Kansas City. Last year, Cassel threw a career high 27 touchdowns and seven interceptions, along with 3,116 passing yards.
Chiefs fans valued Cassel when he came back to help the team defeat the St. Louis Rams after missing a game against the San Diego Chargers due to an appendectomy. Cassel came back and eventually helped the Chiefs win the AFC West for the first time since 2003.
However, things were not always great for Cassel last season. He struggled against the Oakland Raiders in the 2010 season finale, throwing two interceptions and getting sacked five times.
In their short-lived postseason stand, the Chiefs were tossed around by the Baltimore Ravens. No Chiefs player had a worse day than Cassel, who finished with 9-of-18 passing, threw three picks and was sacked three times. He failed to find his Pro Bowl receiver, Dwayne Bowe, who led the league in receiving touchdowns. Cassel is the latest starting quarterback to throw less than 100 yards and have a quarterback rating below 21.0 in the playoffs since the Chicago Bears' Shane Matthews in 2001.
Could the announcement of Charlie Weis's departure have played a role in Cassel struggling? According to 610 Sports Radio's Bob Fescoe, Weis's play-calling privileges were stripped by Todd Haley during the loss to Baltimore. There is a lot of speculation that Haley might have taken over as the play-caller in another game after the club found out that Weis would be leaving them to become the offensive coordinator at the University of Florida at the end of the postseason.
The Chiefs wanted to prove that Cassel could lead this offense and perform well without Weis's assistance in 2011. So far, the Chiefs have been unable to prove that; the meltdown from last season has carried over to this season.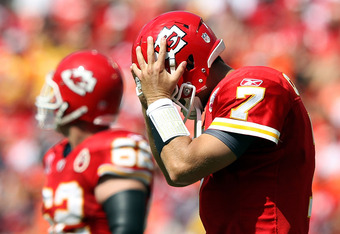 Jamie Squire/Getty Images
Cassel went 22-of-36, throwing for 119 yards, one touchdown and one interception. He was also sacked twice by the Bills in the 41-7 loss.
It is reasonable to ask if Weis was the reason behind Cassel's success in 2010. Since it was reported that the Chiefs were going to lose Weis after the season, Cassel has gone 42-of-87 passing (48.3 percent), throwing for 304 passing yards, one touchdown and six interceptions.
Since Weis left, offensive players for the Chiefs have admitted in numerous interviews with the media that Weis was a huge asset and helped them improve. Without Weis, the Chiefs offense had a fallacious showing in the preseason and started off the regular season on a dreadful note.
Along with having a career high in touchdown passes under Weis, Cassel threw for more touchdowns than any player in franchise history since the league merger.
It is clear that Weis was what the Chiefs needed to help Cassel step up during his second year in Kansas City. Weis also helped Tom Brady (with New England) and Jimmy Clausen (with Notre Dame) find a lot of success individually. Additionally, Neil O'Donnell tied a career high in touchdown passes in a 1997 season with the New York Jets while Weis served as the offensive coordinator.
Without Weis, Cassel is back to what he was in 2009. He is in his third season of his infamous six-year contract worth $63 million and is showing little signs of being worth the money.
Even though everyone is talking about Haley being in the hot seat, fans need to make room for Cassel to join him.
Cassel's lucrative 2010 season was completed against teams with few credentials. If Cassel can't play well against the Bills, imagine how he'll do as the schedule gets more challenging.