Jim Schwartz: Finally, a Coach Detroit Lions Fans Can Embrace
September 16, 2011
Andrew Burton/Getty Images
Ah, New Year's Eve; a time for celebration, reflection over the past year and visualizing the limitless possibilities for the future.  Or, for a young child of Christian faith, basking in the glow of Christmas gifts received and reveling in the week with no school.  Anyway, there I was, a naïve lad kneeling mere inches from the front of my father's wooden-consoled Zenith television.  Corduroy Toughskins and my new Detroit Lions sweatshirt created the ensemble for this momentous occasion. 
The Lions had clawed their way back into the 1983 NFC Divisional Playoff Game with the San Francisco 49ers and were a mere 43-yard field goal away from pulling off a playoff road victory.  No problem, right? 
Eddie Murray, the Lions kicker, had already knocked one in from 54 yards; this was a done deal!  The Lions are going to win their first playoff game since 1957 and my dad and I will celebrate in unison!  The ball's snapped, the kick is away and...NO GOOD!  What?!?!  That can't be!  I ran to my room, crying and pounded my bed with my tiny fists for an hour.  That is how I began my frustrating existence as a Detroit Lions fan.
I always remember Monte Clark, the Lions head coach, standing on the sidelines; hands pressed together and looking upward to the heavens for some divine intervention to ensure victory.  I too would have given all my worldly possessions, at the time, for that ball to sail through the uprights, but it was not meant to be. 
For years, Lions fans have played the role of Charlie Brown while a cavalcade of Lions coaches have come and gone, all perfecting the Lucy yank of the football.  From Clark, to the side-mouth serenades of Darryl Rodgers, to the Big Buck Wayne Fontes and his "Silver Stretch" offense, the Lions have been underwhelming to say the least.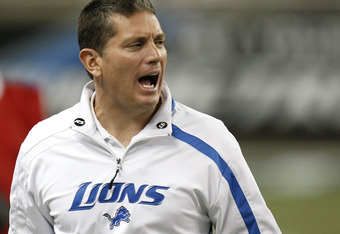 Gregory Shamus/Getty Images
As the century turned, no-nonsense Bobby Ross was given his "bus ticket" out of town and in came the West Coast pedigrees of Marty Mornhinweg and Steve Mariucci. The losing continued and the excuses never changed. 
Recently, the pickaxe, toting Rod Marinelli was shown the door and Jim Schwartz was next in line for ridicule.  Call me crazy, but I think after 30 some years they may have finally gotten it right.
Schwartz cut his teeth under the tutelage of Bill Belichick with the Cleveland Browns.  "Schwartzie," as Belichick referred to him, said in February 2009 to ESPN (h/t mlive.com) that he is "probably the smartest guy" on his NFL coaching tree. If the smartest guy in football is calling your head coach, "the smartest guy," that has to be good. 
Schwartz, an economics graduate from Georgetown, is a cerebral guy with a blue-collar background.  His penchant for statistics, combined with his demanding work ethic, creates the perfect combination for the working class city of Detroit that needs someone to lead the culture change.
After Sunday's road win in Tampa, Schwartz was asked by Lions color commentator Jim Brandstatter if he was happy with the victory.  The rhetorical nature of the question was lost on Schwartz when he said emphatically, "no." 
No?  Road wins in Detroit have been as scarce as English-speaking tech support, yet Schwartz was able to find several teaching opportunities within the victory.  He was infuriated with Gosder Cherilus' unnecessary roughness call with nearly one minute to play, calling it "stupid football." 
This is why he's different.  Past coaches would have patted themselves on the back, lit cigars and told us how difficult it is to win on the road in the NFL.  Schwartz was looking for a blowout and all things be told, he's right; Sunday's game should not have been that close.  With his occasional smirk, you get the feeling he is already several steps ahead of anyone he's speaking with.  This guy plays chess, not checkers and I'm looking forward to his next move.