Vance Worley Provides an Unlikely Lift to Philadelphia Phillies' Superstar Staff
September 15, 2011
Drew Hallowell/Getty Images
The Four Aces. The Phearsome Phoursome. R2C2. Whatever clever moniker you chose to describe the dominant quartet of Phillies starting pitchers, the expectations were all the same. 
Each night, one of them would walk to the mound and shut down the opposing offense, limiting them to a meager supply of opportunities that they could use to break the string of zeros before them. 
And for the first month, all went according to the preseason plan that saw many experts crown the starting staff as the best ever assembled. 
The starters took turns making pitching matchups look impossible, sending endless streams of hitters back to the dugout and throwing deep into their starts. But with a simple string of injury-related and personal problems that kept Roy Oswalt off the mound, the strategy began to waver—along with the team's record.
At the other end of Roy O's struggles was an unproven kid from Northern California who had shown flashes of potential in the latter portion of 2010.
Vance Worley, a third-round pick by the Phillies in 2008, eagerly answered the bell and stabilized the rotation during Oswalt's personal leave due to tornado damage in his hometown. After being relegated to the bullpen upon his return and sent back to the Minors following a poor start in New York, frustration with his uncertain role pushed him to another level. 
Worley earned his way back after three strong starts in Triple-A Lehigh Valley and used his call-up as an opportunity to lead the Phillies in interleague play.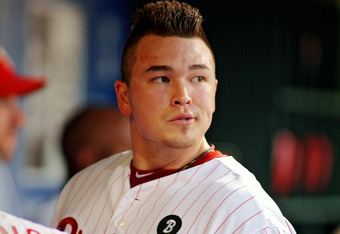 Len Redkoles/Getty Images
The Long Beach State product went 1-0 with a 1.00 ERA in June against American League teams, topped off by a dominating seven-inning outing against the Boston Red Sox. With Oswalt landing on the DL once again due to a sore back coupled with Joe Blanton's long-term injury leave, Worley's spot in the rotation was permanent and more vital than ever.
Known as "the Vanimal" by Phillies faithful, Worley picked up confidence heading into July and further validated his re-call from Triple-A by posting a 4-0 record in July with a stellar 2.04 ERA.  The young starter took pressure off of the aces pitching ahead of him in the rotation and displayed an uncanny ability to record called strikeouts.
Now, 103 Ks into his 2011 campaign, Vance Worley has established himself as a strong candidate for NL Rookie of the Year with a reputation bolstered by an impressive team win streak during his starts. 
From the time of his second call-up on June 18 until his second loss of the season last week against Milwaukee, the Phillies won all 14 of his starts—a record only surpassed by Steve Carlton's mark of 15 set in 1972.
Consistency and poise have allowed the 23-year-old right-hander to take the mound with a swagger unseen in most rookie starters. Compared to Kyle Kendrick's success as a rookie or J.A. Happ's stint as a rising talent, Worley radiates a feeling that he can work all nine frames on any given night. The faith that Philadelphia places in him will make him an asset come October, whether he starts Game 4 or marches in from the bullpen.
His likeability in the City of Brotherly Love goes far beyond what he means to the team on the mound. Interaction with fans and the ability to handle the label of rising star at such a young age makes him an immediate fan favorite in a city that is hard to please. 
Worley regularly chats and answers questions from his growing fanbase on Twitter, making the most of his time on the road by giving supporters an inside look at his changing life. Willing to discuss anything from his love of cars to good workout habits, "@Vanimal_49" has carved a home for himself in Philadelphia.
Worley's impact on the team is much more than what shows on his impressive stat lines at the end of each outing. His unique appearance and emotional play add character to a clubhouse that is already overflowing with colorful personalities. 
As a young player enjoying success, the first-year hurler also serves as an example for other newcomers walking into the clubhouse for the first time, namely Mike Stutes and Michael Schwimmer. 
Still, in any town, results on the field mean much more than the habits away from the diamond—a fact that Worley seems to understand. From challenging his demotion in late May to maintaining a healthy physical routine, the rookie seems determined to drop his anchor at the major league level. 
Learning from the superstar staff he was brought up to relieve would be a great first step.