Seattle Mariners: Should They Seriously Pursue Prince Fielder?
September 16, 2011
Mark Hirsch/Getty Images
Should the Mariners go hard after Prince Fielder? The easy answer is NO. 
He's overrated and not worth the money Scott Boras is going to ask/get for him. 
If we did sign him, he's too big and won't hold up for the length of his contract.
Meanwhile the Mariners are always cursed with big moves...Richie Sexson, Adrian Beltre, Chone Figgins, etc.
Finally, we already have Justin Smoak and Mike Carp to play first and DH next year.
Check and mate. 
And yet...the youth movement the Mariners have put into motion the past few weeks seems to have stalled a bit. 
Perhaps because it's been a long season or the fact that football is back, but over the past week it's been really hard to ignore the Mariners daily strikeout totals as the numbers went from simply bad to downright ridiculous. 
Suddenly Casper Wells is swinging at his shoes after looking like a decent option not too long ago for next year and possibly long-term.  In fact it was only a few weeks ago that everyone advocated the Mariners play the kids to see what we might have in place for next season as the M's rebuild.  With this, one has to assume there will be ups and downs, yet while it's one thing to be dominated by a good pitcher, it's another to make everyone the M's face look like the second coming of Sandy Koufax.  
In terms of what is being done for now, Geoff Baker over at the Seattle Times reports, "M's manager Eric Wedge keeps preaching at these hitters to be more selective in what they swing at and to not miss the hittable stuff. We've seen a fair degree of both take place all season long, but Wedge keeps insisting he's seen signs of progress and that, at some point, it's all going to pay off 'overnight' for some folks."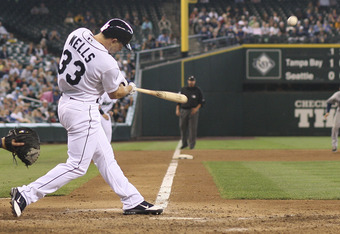 Otto Greule Jr/Getty Images
Patience is a virtue and at this point in the season pointing fingers either at Eric Wedge or hitting coach Chris Chambliss might seem silly, especially given how few hitters the Mariners have developed in recent years predating either of them coming into the organization.  Which begs the question of whether the farm system is to blame for what we have been seeing in recent years.
If measuring against Baker's Moneyball like approach...
"walks-to-at-bats (BB/AB) ratio -- 1:10. You want 10 percent or more.
Then, there is the walks-to-strikeouts (BB/K) ratio. How many walks should you be drawing for every time you whiff? The good hitters try to keep this at 1:2. So, at 50 percent or better.
Finally, you have the one we've all seen discussed this past weekend. The strikeouts-to-at-bats (K/AB) ratio. Generally, the good hitters try to limit this to 1:5. No more than a 20 percent strikeout rate."
...we find that Dustin Ackley is the only hitter amongst the kids scoring within these metrics and he came into the organization a well touted hitting prospect.  Other than him, it's been ages since the farm system produced anyone capable of hitting consistently for either power, average or both.
Whether you believe in advanced metrics or not, we can probably all agree that the basic fundamentals of hitting need to be re-evaluated throughout the entire farm system from the bottom up.  One can only hope that GM Jack Zduriencik has made the changes necessary to help correct this problem.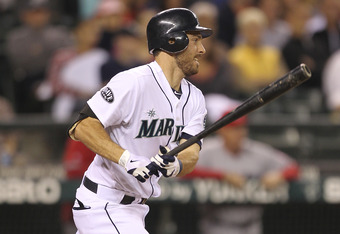 Otto Greule Jr/Getty Images
Speaking of Jack Z, change and offense, do the Mariners need to invest in someone who can really help during this offseason?
At the same time is anyone truly convinced the current crop of hitters are going to make significant strides over the next several seasons?
This week the M's scored their 500th run for the year and will need plenty more in seasons to come if we hope to see this team compete.  At this moment though it's hard to believe that a lineup headlining Ichiro, Ackley and Smoak will inspire much fear in opposing pitchers. 
Wouldn't it be helpful to the young Mariners hitters, especially Ackley and Smoak, in both the short and long-term to have someone who can protect them instead of asking them to shoulder the load starting next season?
In terms of plate discipline, based on the earlier outlined metrics Prince Fielder scores well for his career on BB/AB and K/BB, but falls just a bit short of the desired <20% for K/AB. 
BB/AB: 15.9% (555 / 3,488)
BB/K: 71.8% (555 / 772)
K/AB: 22.1% (772 / 3488)
While these numbers are far from perfect, adding a big name hitter in the cleanup spot could serve as the major building block giving notice to the fans along with the rest of the league that the Mariners mean business. Hopefully it could help break the endless offensive ineptitude that so happens to be paired with solid pitching too. 
Yet, haven't we been here before?  Sign someone who can supposedly hit homers and watch them rot for the next several summers at Safeco.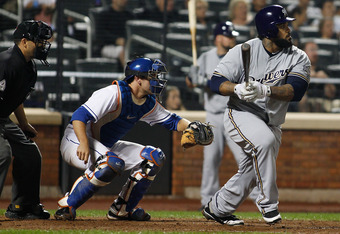 Mike Stobe/Getty Images
Why not stick to the plan and see if this crew can grow without spending a small fortune for one guy?
Even if Ichiro and Franklin Gutierrez bounce back, Ackley and Smoak continue to progress, Miguel Olivo and Brendan Ryan play within reasonable expectations, filling in the pieces with the likes of Mike Carp, Casper Wells, Trayvon Robinson, Kyle Seager, Greg Halman, Carlos Peguero and Michael Saunders doesn't guarantee the M's will gain any meaningful ground in scoring runs, the AL West standings or in the long-term rebuilding process. 
Right now the numbers for these young hitters are mixed at best in showing whether they have the discipline needed to become major league regulars.  Given the Mariners track-record it's difficult to envision any more than one or two of these hitters will be starters in two years time.
Signing Fielder is a risk, but so is anything worth doing.  
Regardless of whoever signs him there are going to be skeptics from coast to coast, but for once the path to signing a big name like Fielder will likely exclude the usual suspects as the Yankees, RedSox and Phillies, already have first base covered while the Mets and Dodgers are broke.  Granted other teams will fill that void, but the Mariners should seriously consider putting themselves in the mix. 
The first step is always the hardest and while the easy answer is NO, the right answer might be YES.