Ugly Denver Broncos Film Study Says Kyle Orton Needs To Put Up or Shut Up
September 14, 2011
Doug Pensinger/Getty Images
The Mile High Controversy was refueled Monday night in very large part (as everyone knows by now) by Kyle Orton's poor play for the Broncos against the Oakland Raiders.  In a moment we'll have a chance to look at some cold-case evidence that Orton could be on the brink in Denver. 
Now, granted it was only one game, but the problem was the Broncos offensive attack was forced back to last year's pass-happy scheme, so there is plenty of blame to go around.  It's bad coaching on the offensive side of the ball that is the primary focus of this article, however it's obvious there are issues with the defense as well.
Put Up or Shut Up, Kyle
Feel for Orton if you will because he was thrown into the firestorm that is the Denver Broncos quarterback position.  He came in exchange for Jay Cutler, who fell out of favor with Josh McDaniels and part of the fanbase.  Add to the fact that Chris Simms was signed as a possible replacement, he showed he was no longer an NFL-caliber starter. 
Brady Quinn and Tim Tebow came next and then the biggest quarterback controversy the city has really ever seen.  It tops Morton, Weiss and Deberg, and Plummer and Cutler—it is its own hurricane of a mess.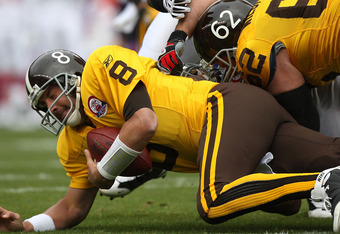 Jed Jacobsohn/Getty Images
If it were possible to dissect all three of the Broncos quarterbacks, they might come up with one great QB.  The problem is each quarterback has issues and it has cost the Broncos dearly that none of them have been able to rise up and claim the position while giving fans a sense of hope.
For instance, Orton finished the Monday night tilt with the rival Raiders 24-of-46 with 304 yards, one TD and one interception.  Conversely. Jason Campbell was 13-of-22 for 105 yards with one touchdown for the Black and Silver.  He had decent stats, but it really does not tell the story.
Every Denver quarterback since John Elway has been compared to Denver's version of "The Great One" or Babe Ruth.  It's sort of ironic that statistically speaking, Orton measures up.  Here's a quick tidbit to show you how stat sheets can deceive us all:  On the all-time NFL passer rating leaders for their careers, John Elway and Kyle Orton are very close.  John Elway ranks 56th (79.9) while Kyle Orton ranks 59th (79.6) and they are only separated by .3 of a percentage point.
Here's another stat—this one, however, holds a stronger view of reality.  This is the QBR rating that is new from ESPN this year.
Kyle Orton's Total QBR rating is 33.0 on a scale of one to 100 following the game with the Oakland Raiders.  The rating also shows that he was in clutch situations that are slightly elevated from the norm.  His rating number is 17 points below the average of 50.   The top three QBR quarterbacks in Week 1 were Ryan Fitzpatrick of Buffalo (91.2), Aaron Rodgers of Green Bay (91.1) and Tom Brady of New England (88.6).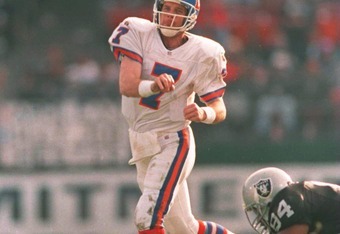 Otto Greule Jr/Getty Images
Orton is really in no man's land due to his poor performance.  What's made it worse is that he was ill-prepared to prove he deserves to be the starting quarterback for the Denver Broncos.  He was the one who said he is the Broncos starter, which implies to the fans that he has some trust to lead this team.  The problem is after all his talk, he could not back it up.
It's not intended to be cruel or an overly harsh criticism of his play but for Orton, it's time to put up or shut up and bring his A-game.  It's clear he didn't have it on Monday night and both Brady Quinn and Tim Tebow are waiting in the wings to get their shot.
Other Notes from Film Study of the Monday Night Game
Keep in mind, as poorly as the Broncos played on Monday night they still only lost the game by three points and the vast majority of their errors during the game are fixable.  The following is a list of eyesores that the Broncos need to fix to make themselves more competitive sooner than later:
For starters, the Raiders had 190 net rushing yards on the ground to a paltry 38 for the Broncos.
There was zero leg drive from the offensive line on the very first run play from scrimmage.  Every offensive lineman took two steps maximum and there was no hole created on Knowshon Moreno's one-yard run.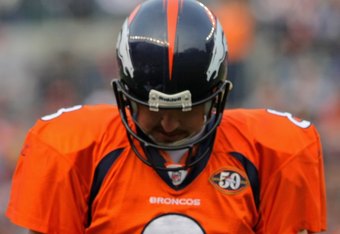 Doug Pensinger/Getty Images
The next play, Moreno gets caught in the middle of a Raider defensive lineman and a linebacker basically rendering his chip block nearly useless.
Two plays later following a 1st down, Orlando Franklin fails to seal the end of the line on a sweep play and Moreno just gets back to the line of scrimmage.
The next play, a sweep to the opposite side, Ryan Clady can't seal his end and Moreno loses about five yards with seven Raiders in the area.  This results in a 3rd-and-15 and an early timeout being called. 

On the 3rd-down play, Kyle Orton hit Willis McGahee underneath but falls well short of the 1st down and the Broncos have to punt.
The defense creates a turnover on the Raiders' first play from scrimmage and recovers the fumble.  The Broncos offense fails to score a touchdown and must settle on a field goal.
On 1st-and-10, the play-action pass misses big.  On 2nd-and-10, the short bubble screen to Dan Fells nets five yards.  On 3rd-and-5, there is pressure, Orton steps up into some of it and throws a horrible incompletion short of the receiver.  The Broncos settle for three points from Matt Prater.
The biggest flaw from the Denver defense was allowing Darren McFadden to get outside.  Time and time again the Broncos could not force McFadden back into the middle of the field and gave up the edge of the defensive front to the Raiders' best runner.  McFadden finished with 150 yards on 22 carries for an average of 6.8 yards per carry, down from last year, but not by much.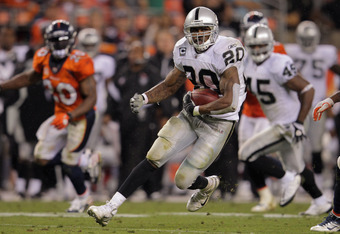 Doug Pensinger/Getty Images
Orton spread the ball around to nine different receivers, however he is still giving a lot away with his eyes; he is projecting to the defense where he's going with the ball too early and too often.   Additionally, he needs to get Decker and Royal involved more; they had a combined five grabs to six for Brandon Lloyd.

The Broncos failed to have good pressure without Elvis Dumervil in the game.  This was due in large part because of a "strain" injury that he is nursing now.  However, I question the timing of the injury and how it occurred.  Elvis looked horrible out there and probably shouldn't have played.
The Broncos' new approach to defense was supposed to create more pressure on the quarterback.  Even without Dumervil in the game, where is it?
These are 12 items that stood out on top of Orton's poor performance.  The Broncos are going through a very challenging transition with the football team that was left in shambles, however for the Orange and Blue to meet the challenge, the "Next Man Up" policy should be replaced by "Put Up or Shut Up."
Follow Chaz's national sports feed and other linked list on Twitter!