Green Bay Packers: What Does Mike Neal's Knee Surgery Mean for Packers?
September 14, 2011
Handout/Getty Images
Green Bay Packers Head Coach Mike McCarthy revealed that DE Mike Neal had surgery on his injured knee and will miss "a significant period of time." The news comes as somewhat of a surprise to Packers fans who thought Neal could be back in time for Sunday's game at Carolina. 
The Packers hope to keep Neal off injured reserve, but a significant injury elsewhere could force the Packers hand. The news is extremely disappointing, as this season was supposed to be a breakout year for Neal.
For the second straight year, Neal is facing an injury that will sideline him. Last season, he was placed on injured reserve after injuring his shoulder in Week 5. 
With Neal out of the lineup, the Packers will rely heavily on Jarius Wynn in the next couple of weeks to fill the void left by Neal. Wynn has come on incredibly strong over the past couple of weeks, including a stunning performance against the New Orleans Saints on opening day.
Before Wynn stepped up, the depth on the defensive line appeared extremely weak with Neal out of action with the sprained knee and backup C.J. Wilson missing time with a concussion. Rookie Lawrence Guy also missed the majority of camp before being placed on injured reserve with a concussion.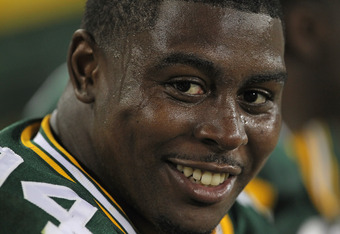 Jonathan Daniel/Getty Images
Wynn's presence has brought stability to a position that is crucial to the Packers' success. The Packers rely heavily on their three defensive linemen to create constant pressure as the basis for many of Defensive Coordinator Dom Capers' blitz packages. 
The Packers should be fine without Neal for the upcoming weeks if Wynn can continue his high level of play. With another injury on the line, the Packers could be in serious trouble and be faced with changing defensive game-plans.
The news of Neal's surgery would have been quite devastating if it was not for the emergence of Wynn. Neal will be missed, but Wynn has flashed his high potential in his limited opportunities. 
If the Packers are able to keep Neal on the active roster, they could receive a huge boost later on in the season with Neal's fresh legs strengthening the unit. Because of Wynn, the Packers will be fine on the defensive line. 
For more on Wynn's progression as a player, check out this article.