Chargers vs. Patriots: TV Schedule, Live Streaming, Radio, Game Time and More
September 14, 2011
Harry How/Getty Images
The Week 2 game between the San Diego Chargers and New England Patriots is going to be one of the best games of the entire NFL season.
These are two of the most high-powered offenses in the league and fans are going to be in for a good old-fashioned shootout.
On the Patriots side, we have a guy who was the unanimous league MVP last year in Tom Brady. He is going to command an offense that only looks to get better after their brilliant 2010 campaign in which they won 14 games.
He will be up against Phillip Rivers, a quarterback in the prime of his career and capable of putting up huge yardage and touchdowns on any given Sunday.
Last season, he oversaw the Chargers No. 1 ranked offense, but the team failed to make the playoffs. You can't blame their defense either, as they were ranked No. 1 as well.
The Chargers simply got unlucky and outplayed at times when it counted most. Let's see if they can reverse their fortunes and get revenge on the Patriots, who beat them 23-20 in San Diego last year.
Where: Gillette Stadium, Foxborough, MA.
When: 4:15 PM EST
Watch: CBS / 717 Direct TV
Live Streaming Audio: NFL.com Audio Pass ($29.99 for year, $27.99 team specific, $9.99 a month)
Listen: SD - XTRA 1360, Sirius XM 93 NE - 98.5 the HUB, Sirius XM 86
Betting Line: Patriots -7, Over/Under 54
What's at Stake?
AFC dominance. I believe the team that wins this will without a doubt be one of the two teams to receive a bye for the first week of the playoffs.
These two teams always play each other tight and getting a win here will be huge. It will set the tone for the rest of their respective seasons.
Chargers Injury Report
K Nate Kaeding – OUT (knee) – Kaeding is done for the year after he took a shot to the leg on the opening kickoff of their first game. Nick Novak has been brought in to replace him.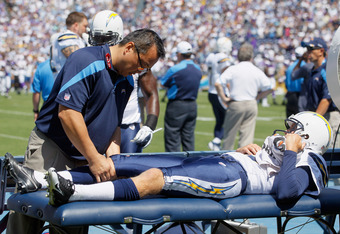 Jeff Gross/Getty Images
RB Mike Tolbert – PROB (knee) – Tolbert suffered a minor knee injury but is going to fully practice and is expected to play.
DL Luis Castillo – OUT (leg) – Castillo has a broken fibula but the team has not put him on IR. He may be able to come back for the last few games of the season.
Patriots Injury Report
C Dan Koppen – OUT (ankle) – Koppen will be out indefinitely with surgery on a bad sprain, small crack in his ankle.
OT Sebastian Vollmer – QST (back) – Vollmer missed the Dolphins game with back problems and may not be back in time for Week 2.
DL Jermaine Cunningham – QST (groin) – Cunningham missed Week 1 as well with an injury and underwhelmed in training camp. I won't be surprised if he is inactive again.
Fantasy: Start 'Em, Sit 'Em, Sleeper
Start 'Em: Phillip Rivers.
Rivers toasted the Patriots last season for 336 yards in the game but could not find the end zone more than once.
The Patriots secondary is even more suspect than it was last year, so look for Rivers to have a monster game against them.
Sit 'Em: BenJarvus Green-Ellis.
Green-Ellis scored a TD last year, but he only managed to total up 24 yards. Danny Woodhead seems like he is going to be getting the majority of snaps this season, so sit The Law Firm if you have a better backup this week.
Sleeper: Patrick Crayton.
He missed Week 1 but could have a big debut against this leaky Pats' secondary. He is one of Rivers' top options after Vincent Jackson.
What They're Saying: Ian Rapoport, the Pats' beat writer for the Boston Herald, found that while Brady and the Pats' offense was praised highly in the media, Bill Belichick was none too happy about it and needed to focus on a bunch of stuff they didn't do well.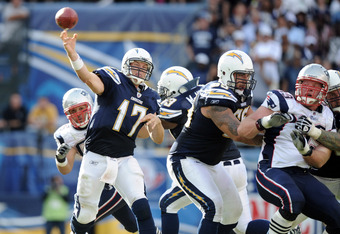 Harry How/Getty Images
"There are a lot of areas," Belichick said. "We had the ball on the 1-yard line ready to score a touchdown and couldn't get a field goal before the half. We really weren't able to close out the game at the end of the game with a couple of first downs that we could have made. We stalled out there after the second quarter"
Kevin Acee, reporting for SignOnSanDiego.com, is saying the team is hoping that Nick Novak has improved in his three years since making an NFL field goal.
Novak was just 19 for 30 in his career in the NFL but was named special teams MVP for converting 15-18, including a league record 54-yarder in the UFL.
Chargers Player to Watch: Ryan Mathews.
Can the Chargers first-round pick have success against the NE run defense? They shut down Reggie Bush, but he is not the same type of back as Mathews.
If Mathews can't prove himself this season, he'll start getting the bust label.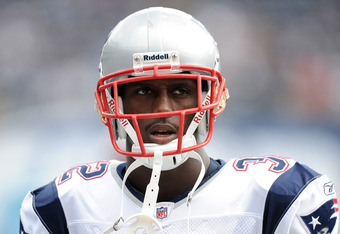 Harry How/Getty Images
Patriots Player to Watch: Tom Brady.
Brady struggled against the Chargers' solid secondary in their outing last year. He was only able to go 19-32 for 159 yards and a TD. These are terrible numbers for Brady, who just went off for 517 yards and 4 TDs.
Key Matchup: Patriots' secondary vs. Chargers' receivers. The Patriots' secondary was the one glaring problem all offseason and proved to be leaky in their first game against the Dolphins. The Chargers receivers are very talented and could exploit this for a big day.
Prediction: Patriots 42 Chargers 35
Check back for more on the NFL world as it comes, and check out Bleacher Report's Football Page to get your fill of the NFL.