Fantasy Football Sleepers/Creepers -Waiver Wire Picks for Week 2
September 14, 2011
Jeff Gross/Getty Images
Here are some thoughts on possible undervalued and overvalued players.
Ryan Mathews, SD RB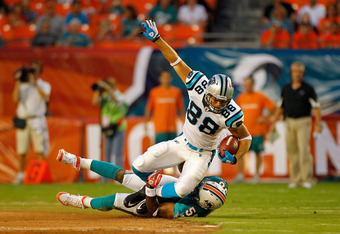 Mike Ehrmann/Getty Images
Maybe it's delusional to believe that Ryan Mathews is still San Diego's best running back, especially after he rudely destroyed many fantasy teams last year. 
Still, it's hard to see Mike Tolbert, a fullback by trade, ending up as the No. 1 back in San Diego. 
This past week, Mathews (11 carries) and Tolbert (12 carries) were almost evenly deployed, and although Mathews was essentially banished from red-zone duty (Tolbert got all six red-zone carries), remember Mathews, who scored five times in the last four games of 2010, also knows his way around the red zone.
Greg Olsen/Jonathan Stewart, CAR TE/RB
Cam Newton was such a showoff this weekend, it will almost be fun to watch the rookie-pounding he will probably get this weekend against the Packers. 
That said, it's encouraging that the Panthers offense will at least be more dynamic than the 2010 version (which was kind of like watching the lawn chess event at the Senior Home Olympics).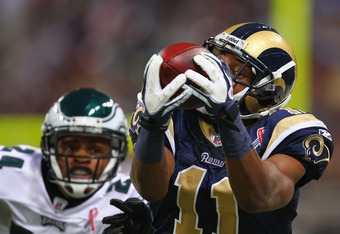 Dilip Vishwanat/Getty Images
This means Greg Olsen (six targets this week) becomes a viable complement to Steve Smith, and Jonathan Stewart becomes a fantasy option if he can stay healthy.
Colt McCoy/Mohammed Massaquoi,QB/WR
Colt McCoy is probably never going to light up the scoreboard like Tom "Fabio" Brady, but he does have the potential to be quietly effective. 
In fact, McCoy is so polite in his modest abilities, you could probably put Grandpa in front of the TV during a Browns game for a casual nap, and when he wakes up in three hours, Colt McCoy will end up having about 225 yards and two TDs. 
It would be nice if McCoy had some better receivers to work with, but for now Mohammed Massaquoi seems like the go-to guy (seven targets, 77 yards this week).
Brandon Gibson/Lance Kendricks, STL WR/TE
Danny Amendola (probably the Rams' most reliable receiver) is out, Mike Sims-Walker is most likely contemplating his next injury and Danario Alexander has already had more knee surgeries than Giuseppe the 75-year-old carpet installer.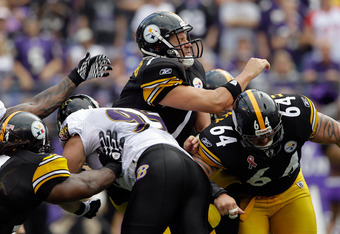 Rob Carr/Getty Images
This probably leaves Brandon Gibson and Lance Kendricks as featured players in Josh Daniels' arial circus, especially if they have to depend on a Carnell Williams-led ground attack for any length of time.
Deji Karim, JAX RB
Perhaps in an effort to avoid pulverizing Maurice Jones-Drew into gold-and-black powder, Jacksonville coach Jack Del Rio will give his star running back a good deal of rest time on Sundays. 
At least that seemed to be the plan this weekend, with Deji Karim buttressing the Jaguar running game with 14 carries in the game against Tennessee. 
Karim ended up with only 33 yards rushing but added three catches for 39 yards and has the type of speed that could translate into some big plays.
Ben Roethlisberger, PIT QB
Yes, Ben Roethlisberger and the Pittsburgh Steelers were alarmingly bad Sunday, but the Baltimore Ravens evidently still know how to play defense, and Roethlisberger did end up with 280 yards and a TD to go along with this three interceptions.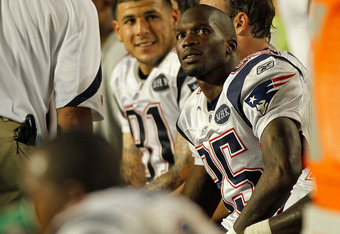 Mike Ehrmann/Getty Images
The good news for the Pittsburgh offense is that they do not meet the Ravens again until Week 9. Between now and Week 9 they face Seattle, Indianapolis, Houston, Tennessee, Jacksonville, Arizona and New England, which is a pretty flimsy schedule against the pass.
LeGarrette Blount, TB RB
We learned a couple things this weekend about the Tampa Bay running game—rumors of Earnest Graham's retirement are false, and evidently "LeGarrette" is French for "big, podgy pile of fantasy-point oblivion."
Blount should rebound this week against Minnesota, as the Bucs are less likely to fall behind in that game. Going forward, Tampa Bay coach Raheem Morris has at least acknowledged his poor play-calling against the Lions.
Morris expressed after the game, "We want to win games with Blount bludgeoning you for 130 yards and being efficient (in the passing game)." Sounds good, let's see if it happens.
Creepers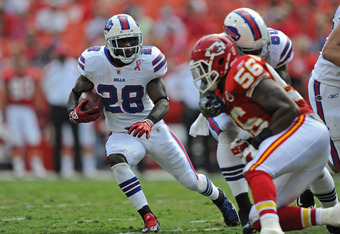 Peter Aiken/Getty Images
Chad Ochocinco, NE WR
How in the world did Tom Brady throw the ball 48 times, end up with 517 yards and only hit Chad Ochocinco for 14 yards? 
In other words, it was literally raining footballs all over the field this past Monday night, and Chad Ochocinco was somehow able to avoid almost all of them!
It was kind of like one of those scenes from a Steven Seagal movie where Seagal confronts a hail of gunfire and somehow remains unscathed so he can assert martial arts justice.  Well—kind of like that, except for the asserting martial arts justice part.
Tarvaris Jackson/Mike Williams, SEA QB/WR
Remember that week when Tarvaris Jackson resembled a legitimate NFL quarterback and you felt confident that he was actually going to contribute something to your fantasy team?
Yeah, me neither. Just drop him to keep big fat Mike Williams company on the waiver wire.
C.J. Spiller, BUF RB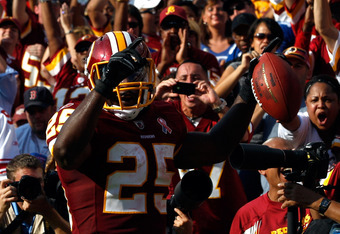 Ronald Martinez/Getty Images
Maybe we got a glimpse of what Spiller is capable of when he finally scampered to the outside and into the end zone for his first NFL touchdown this weekend.
Then again, maybe we'll see the new 2012 Rex and Rob Ryan swimsuit calender at our local bookstores this holiday season. 
Spiller seems like he will remain a niche contributor for the Bills this season as long as Fred Jackson is getting the job done.  Also note that rookie Johnny White received eight carries this past week and may represent the best handcuff for Jackson.
Tim Hightower, WSH RB
Yes, Tim Hightower was the main, and essentially the only guy running the ball for the Redskins this week, probably because Mike Shanahan had convinced himself that Hightower is the new Franco Harris this preseason.
The result was somewhat predictable—in typical, plodding Hightower fashion, he ended up with 72 yards on 25 carries and a 2.8 YPC. 
Nothing against Hightower, who does all the little things well when he is not fumbling the ball, but with Ryan Torain and Roy Helu waiting in the wings, it seems a matter of time before a platoon breaks out in Washington.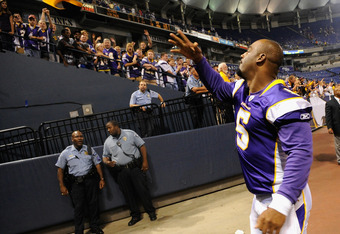 Hannah Foslien/Getty Images
Michael Crabtree, SF WR
Probably the last thing you want to hear from a wide receiver you are depending on in your fantasy lineup, your 11-year-old daughter at the mall or from the donkey you just rented on your Greek island vacation is "My shoes hurt." 
Crabtree evidently is not yet recovered from his July foot surgery, and probably can't be trusted in your fantasy lineup until further notice.
Brian Hartline, MIA WR
Yes, Hartline was targeted seven times, managing to catch four of those targets for 47 yards, and even got in the end zone. 
Even so, Hartline figures to remain third fiddle behind Brandon Marshall and Davone Bess, and he could eventually be surpassed on the depth chart by rookie Edmund Gates, if Miami wants to ever inject their passing game with some kind of speed.
Donovan McNabb, WSH QB
The QB crisis in Minnesota continues as Donovan McNabb bumbles around for 39 yards and a 47 QB rating.  The Vikes probably could have coaxed Daunte Culpepper out of retirement for that kind of disaster. 
Percy Harvin was on the receiving end for seven of those yards, but maybe McNabb's game-plan was to keep Harvin fresh so he could score on that 103-yard kick return.