Raiders vs. Broncos: 5 Reasons Oakland Can Win the AFC West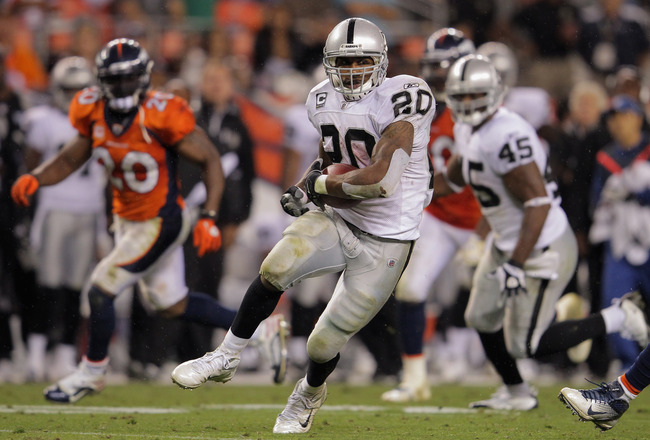 Doug Pensinger/Getty Images
Following a nice 23-20 Monday Night Football victory against AFC West division rival Denver on the road, the Oakland Raiders are off to a solid start in order to take the AFC West title.
Oakland's victory was not pretty, but a win is a win and it was on the road. The passing game was nearly nonexistent as Jason Campbell was only able to pass for 105 yards and a touchdown.
Here are the five reasons the Oakland Raiders can win the AFC West title in 2011 based off the Week 1 victory.
Special Teams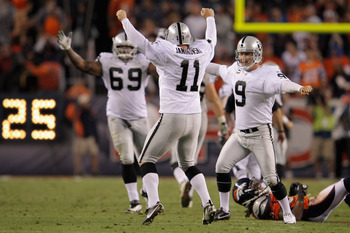 Doug Pensinger/Getty Images
In my opinion, I believe that Sebastian Janikowski is one of the best kickers in the NFL.
He proved just how good he is in Week 1 with a booming 63-yard field goal. That tied an NFL record for the longest field goal in NFL history.
Janikowski is an absolute weapon with a boot, but not enough can be said for punter Shane Lechler.
Lechler had a 77-yard punt near the end of the Raiders-Broncos game that was absolutely booted.
Shane Lechler was No. 2 overall in Week 1 with a total of 349 punting yards.
The Raiders did allow one punt to be returned for a touchdown, but I will let that slide as the turf was slick, and it occurred in Week 1.
Oakland has the best special teams group in the AFC West hands downs.
Jacoby Ford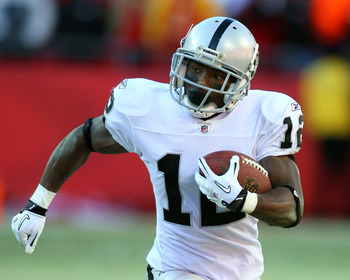 Tim Umphrey/Getty Images
No, Jacoby Ford did not have a great Week 1 performance.
He ended up with three catches for 22 yards and also lost a fumble. By far a very disappointing start for Ford in Week 1.
Ford will need to be a key piece the Raiders passing game as they lack depth at wide receiver. He has big play written all over him, and the wet field in Denver limited the receiver.
There were people questioning wether or not Ford would play due to a hamstring injury also.
Jacoby Ford did not have a single opportunity to return a kick in Week 1, although he will have plenty of opportunities to do so throughout the season.
Oakland's biggest playmaker behind Darren McFadden has to be Jacoby Ford. Look for Ford to get healthy and get on track as the season progresses.
AFC West Was Less Than Impressive in Week 1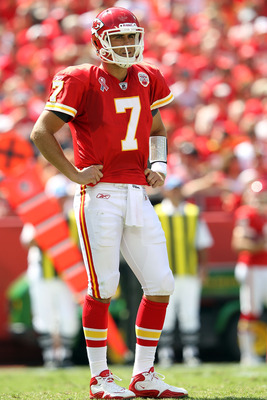 Jamie Squire/Getty Images
Kansas City was the first team from the AFC West to play on Sunday. It was ugly from the beginning when Dexter McCluster fumbled the opening kickoff.
From there it was all downhill for the Chiefs as they lost 41-7 at home to the Bills. A lot of credit should go to the Bills, but the Chiefs simply played horribly.
Not only did the Chiefs get blown out, but they lost stud safety Eric Berry for the season. Berry went to the Pro Bowl in 2010 and will be missed greatly by the Chiefs defense.
The Chargers were the only other team from the AFC West to nab a win in Week 1. It was less than impressive to say the least.
Minnesota returned the opening kickoff for a touchdown, and San Diego kicker Nate Kaeding has been lost for the season.
This is bad news for a team that struggled in 2010 with special teams.
To go along with the Kaeding injury, defensive end Luis Castillo may be lost for the season with a broken leg.
The Chargers are still the toughest challenge in the AFC West as we saw what the Broncos have or don't have to offer in 2011.
Raider's Running Game
Doug Pensinger/Getty Images
I have said in previous articles that the Raider's running game is the key to their success in 2011.
The Raiders were second overall Week 1 in rushing with 190 yards. They only trailed Philadelphia who had 236 rushing yards.
Darren McFadden led the NFL in Week 1 with 150 rushing yards although he failed to reach the end zone. Michael Bush added 30 yards on nine carries as well.
With the struggles in the passing game, the Raiders running game will be a key throughout the entire season.
McFadden staying healthy will be essential although Michael Bush is more than a capable running back.
It took McFadden only 22 carries to reach 150 yards. He absolutely carved the Broncos up in 2010, so his success shouldn't came as a surprise.
The Raiders will lean on the running game in 2011, which finished second overall in 2010 in yards per game.
Raider's Defense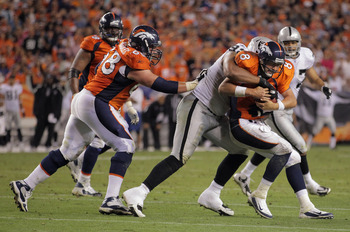 Doug Pensinger/Getty Images
The Raider's defense was what impressed me the most in Week 1.
Five sacks, two fumble recoveries and an interception for the Raiders in Week 1 isn't too shabby. They constantly were in the face of Kyle Orton and forced him to make quick decisions.
Denver fumbled the ball a total of four times and the Raiders had a couple of those slip through their hands.
With a slick field the Raiders did drop a few balls that should have been interceptions. They totaled seven pass deflections to go with their lone interception.
This Raiders front seven was getting love all night from Trent Dilfer and will be a key piece to the Raider's defense going forward.
Keep Reading

Oakland Raiders: Like this team?