Florida Marlins and Michael Hill in the Final Analysis
September 13, 2011
Doug Benc/Getty Images
The Florida Marlins are opening a new stadium and will change their name to the Miami Marlins.
A team name change would be a fresh start for a team that has a disastrous season off the field this year.
On the field, they have been what they have always been. They have some good young players and some good young pitchers, but not enough to keep up in the NL East.
Off the field, it has been nothing short of a disaster. They lost their manager early on and hired someone that has to stay up past his bedtime to finish the game. Fortunately, the games start late enough for Jack McKeon to catch 4:00 dinner at the rest home. We kid because we care.
Their best pitcher is on the shelf and their best position player may be dealt in the offseason. The biggest controversy came when they sent the player ranking third on the team in OPS down to the minors for disputed reasons.
They cited a slump while the rest of the world saw a disagreement over a public appearance. As Fangraphs put it at the time, "The Florida Marlins just optioned their credibility to AAA."
Key Statistics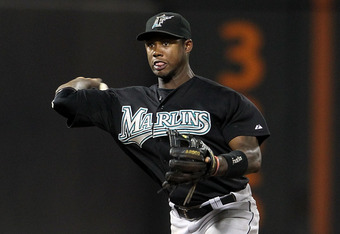 Nick Laham/Getty Images
Team Payroll: 56.9 million (24th)
Lineup: 21.4
Rotation: 12.5
Bullpen: 22.4
Composite Ranking: 18.8
Analysis Score: +5.2
Lineup
Over the past five years, the Marlins and the Brewers have traded last place in fielding back and forth. 2011 has been slightly better in that department, but they still aren't good.
What's more, Larry Beinfest (team president) and Michael Hill (general manager) compounded that when they acquired John Buck to catch and stuck Chris Coghlan in center field.
I suppose when you play on the cheap you have to cut corners somewhere, but fielding wouldn't seem like the wisest place to do it.
Hanley Ramirez was supposed to be the cornerstone piece moving into the new stadium, but he has had a miserable 2011 and is now out for the season.
Some have questioned his dedication and effort. Both questions are damning for someone who is supposed to be a team leader. His situation will be an interesting one to watch over the offseason.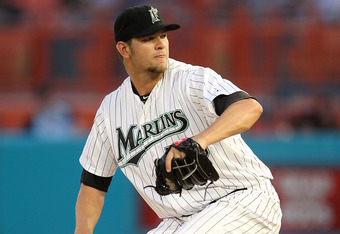 Mike Ehrmann/Getty Images
Rotation
This was supposed to be the strength of the team—and it still is, in some respects.
Javier Vazquez became the pitcher everyone expected him to be, but it happened a little too late. Chris Volstad and Ricky Nolasco are decent enough.
The key to the season was Josh Johnson. In the past two years he has been one of the top three or four pitchers in the National League. He spent most of 2011 on the shelf.
The management team can't be blamed for that one. They can only hope he will return to health in 2012.
Bullpen
This is a unit that really doesn't have a good history.
Leo Nunez is the closer despite having a lackluster track record. He has been decent enough, but this is a unit without any defining members moving forward. Edward Mujica has a sub-3.00 ERA this year, but he doesn't appear to be a dominant reliever over the long haul.
Randy Choate has a 1.83 ERA, and he is 35 years old. The Marlins need to develop some power arms before it's too late.
Response to Crisis
The Marlins were silent during the trade deadline, and that had to disappoint everyone involved. Someone would have paid an inflated price for Leo Nunez or Randy Choate, at least.
They did pick up Mike Cameron to play center field, and although he still has it defensively, he is lost as a hitter. He has already been released.
Analysis Score: +5.2 (8th)
Final Analysis
This is not a top ten organization right now. There is no way a top ten organization would have done the bush-league things this organization did this year.
Larry Beinfest has always been known for building up the team, but they are like an Etch A Sketch that gets erased every couple of years.
Beinfest and Hill are going to have to make some hard choices with Hanley Ramirez and some others.