Daniel Snyder: Why Washington Redskins Fans Will Eventually Love Him
September 13, 2011
A. Messerschmidt/Getty Images
Daniel Snyder. The worst owner in the NFL. The money grubbing narcissist with a heart of purest black. He is also the man who will earn a Lombardi trophy and, ultimately, the love of the Washington Redskins faithful.
In 1999, a 34-year-old Snyder bought the already hapless Washington franchise and, as the deal closed, he ran outside to call his father and tell him the great news. Then he tried to buy a Super Bowl. When that didn't work, he charged admission to spring training, sold out-of-date peanuts, hawked beer in the bathrooms and banned signs from the stands.
Oh yeah, he also sued a grandmother.
As a result, Snyder is uniquely loathed as an NFL owner nationwide. He is hated for both somehow ruining the Washington Redskins while simultaneously separating the fans from their hard-earned money. But as is so often the case in professional sports, one Super Bowl victory and the story will start to change.
Become the dominant team in the NFC East for five years or so, and history will be rewritten. It's easier than you think, especially since most of Snyder's bad press is just so much garbage to begin with.
Oh don't get me wrong—Snyder deserves to be held accountable for much of what happened, but he is just one person. It took a whole team to trash the Redskins legacy over the last 12 years.
Let's be honest, there is no way to defend the overspending on mediocre talent from 1999 to 2009. No, we cannot excuse the acquisitions of players like Bruce Smith and Deion Sanders. There is no excuse for Deon in a Skins uniform. Ever. For any reason.
Unless maybe you really believe that Snyder is a true fan who wants to win and win now at any price.
But you know what? I do believe that. He went about it with the impatience of a man used to getting what he wanted right now, but his heart as a Redskins fan was in the right place. I believe Snyder didn't understand running a football team, and that he surrounded himself with idiots and sycophants.
That didn't mean he wasn't trying. That didn't stop thousands of fans believing he was doing great in the offseason. We went nuts year after year over the big names signed, declaring ourselves preseason Super Bowl champions every year (a title taken from us this year by the Philadelphia Eagles).
But be honest with yourself. Snyder's sin wasn't in trying to win now at the expense of the future. It wasn't rotating coaches faster than most teams rotate their practice jerseys. It was that after all that he did, he failed to win a Super Bowl. So for the last several seasons we have been angrily reaping the rewards of a win-now philosophy without any success to show for it.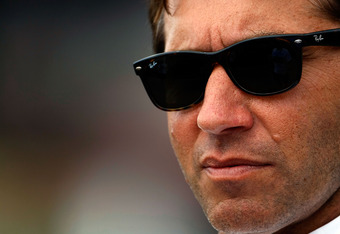 Win McNamee/Getty Images
Daniel Snyder took a bad team and kept it bad, but along the way he learned what it took to be an owner of an NFL team. And the Redskins are finally rebuilding in truth. Snyder made many mistakes in his early ownership, but for the last several years he has been learning and improving as an owner, though nobody is noticing yet.
I ask you all, what has Snyder done wrong lately? Is his heart really that black? He isn't a Jerry Jones or an Al Davis. He doesn't rule his team with an iron fist. He doesn't assume his way is the right way anymore. He has divested himself of the "yes men." In fact, almost everyone who knows him well speaks very highly of his character.
This change in personnel will also result in a better managed stadium experience. One thing Snyder is still working at is a thick skin, but that too will come in time. His dismissal of the lawsuit against the Washington City Paper is a good start.
And while we are on the subject of Snyder the man, let's clear the air about a few things. I'm no more happy about prices and costs relating to seeing a live game than you are, but it's tough all over.
Most of what is done at Fed Ex Field happens everywhere else. The paragon of class that is New England sue their season tickets holders who default, and I'm not aware of a single stadium that allows outside food. I can't even bring in food to my local minor league baseball diamond. Cowboys stadium charges more for parking than I spend in gasoline to get there from Austin to watch the Redskins play once a year.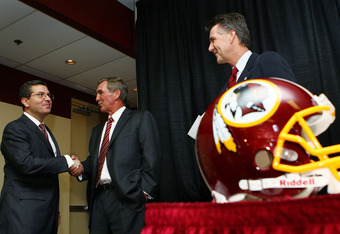 Win McNamee/Getty Images
These are examples of how the press and the fans crucify Snyder for owning a losing franchise. One Super Bowl appearance and ninety percent of this press will just go away. But seriously, don't buy beer in the bathroom.
In 2010, Snyder did exactly what the fans have been screaming for him to do since 2000. He hired a proven coach and GM and gave them total control of the team. Oh yeah—he also kept that checkbook open, but let his GM and coach write the checks to deserving players. My goodness, what a perfectly responsible thing to do!
This year looks like we may actually turn the corner and become relevant in the NFC East again. It's too early to drink that Kool-Aid just yet, but a Week 1 win against a division rival sure feels nice.
So here's what we can believe. Daniel Snyder isn't a naïve, inexperienced owner any more. Also, he isn't surrounded by people like Vinny Cerrato anymore. He is slowly restoring the soul of what was once a glorious franchise. He has learned patience. He might just have a heart of gold— burgundy and gold.
In three more years we might even have a team capable of bringing him that Lombardi Trophy.
Daniel Snyder is only 45 years old. He has all the money an owner needs and isn't afraid to use it. He now has the staff to implement a long term plan. Once he has finished learning this viable blueprint for building success he'll be able to watch his team return to dominance for a very, very long time.
Mark my words, 10 years from now people all over America will be wishing Daniel Snyder owned their football team, and no one will care that it costs $10 to watch spring training.