Week 2 Fantasy Football Start 'Em, Sit 'Em: 3 Injury Replacements Ready to Star
September 13, 2011
Jeff Curry/Getty Images
We're only one week into the NFL season and we already have some fantasy football studs down with injuries. Teams that owned those players will have trouble replacing all of their production, but there are several quality players that can be plugged into those holes.
The following are three players ready to star for your fantasy team should you need an injury fill-in.
Cadillac Williams, St. Louis Rams
At this point, it looks like all but a guarantee that Steven Jackson will miss at least next week's game against the New York Giants. Over the last couple of seasons, Jackson has been as close to a sure thing as you can get at running back, but Cadillac Williams isn't a bad second option.
Williams has been an every-down back before, so you know he won't be overwhelmed with his new role. His big-play ability leaves a little to be desired, but he is the type of runner that can give you good total yardage if the Rams make it a priority to get him involved in the offense.
Williams might be worth an extended look if Jackson's injury lingers. As far as backup running backs go, Cadillac Williams is about as good as it gets.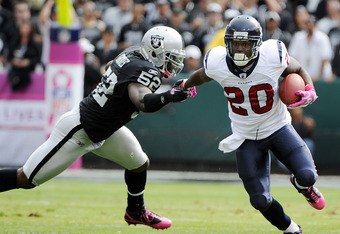 Thearon W, Henderson/Getty Images
Steve Slaton, Houston Texans
The Texans' running back situation has gone from one of the deepest in the league to one of the thinnest.
Arian Foster missed the opener and may miss this week's game with a tender hamstring. Backup Derrick Ward tweaked his ankle and left the game against the Colts early.
Even if one or both of those guys make it back for this week's game against the Dolphins, Slaton is a safe player to sign, especially if you don't necessarily need him to start.
Hamstring and ankle injuries can linger, and you don't want to end up hanging on injury reports every week until the last minute to find out if your guys are ready to go.
Ted Ginn Jr., San Francisco 49ers
Michael Crabtree left Sunday's game against the Seahawks with soreness in his left foot. That usually wouldn't be cause for concern, but this is the same foot that Crabtree had previously broken.
Even if Crabtree hadn't gotten hurt, Ginn had worked his way into the fantasy conversation anyway. His two return touchdowns last week made fantasy owners take notice of him.
X-rays on Crabtree's foot were negative and he very well may play this week, but there's still a concern.
Ginn is still the same inconsistent receiver he has always been, but he is also incredibly dangerous if he sees the field often enough.