NFL Predictions Week 2: 3 Games That Are Locks to End in Upsets
September 13, 2011
Jonathan Daniel/Getty Images
Week 1 of the NFL season gave us several surprising upsets. Few expected the 49ers, Redskins and Bears to be victorious in their respective openers.
Week 2 promises to give much of the same.
Favorites in the upcoming slate of games shouldn't be lulled into a sense of security just because they have more film on the opponent and more practice time with their teammates.
The following are three games that will continue the string of upsets.
Chicago over New Orleans
The Bears were a playoff team last season, but many viewed them as paper tigers. Their offensive line woes haven't been addressed and some have suggested that Jay Cutler isn't the answer at quarterback.
After Week 1, many are changing their tune.
The Bears dismantled the Falcons, an NFC favorite, by the score of 30-12. The Saints, on the other hand, lost a hard-fought game against the Packers.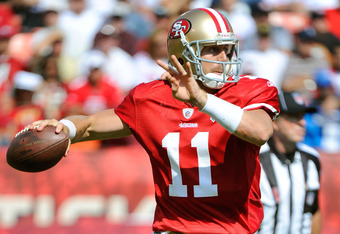 Thearon W. Henderson/Getty Images
Their offense, a group that looked so out of sorts in the preseason, came alive to score 34 points, but the defense was suspect. Expect Cutler, Matt Forte and the rest of the Bears offense to pick up where they left off this past week. 
San Francisco over Dallas
If you had told me that I would be picking the 49ers as an upset favorite in Week 2 of the season, I would have called you crazy.
That is, however, exactly what I'm doing.
In their season-opening win over Seattle, the 49ers looked like a confident team ready to prove to the football world that they are being disrespected.
The Cowboys took it to the Jets on Sunday night, but they folded up like a cheap tent when it mattered most. Quarterback Tony Romo was scapegoated for the loss, but the collapse was a team effort.
The hangover from that crushing loss will pour over into Week 2 when the 49ers catch the Cowboys by surprise.
St. Louis over New York Giants
Both teams will be desperate for a win coming off Week 1 losses, but only one team can get it.
That team will be the St. Louis Rams.
Few will expect the Rams to be ready to pull the upset with the loss of Steven Jackson, but the Rams will prove that they are more than just a one-sided team in 2011. Cadillac Williams will run the ball well and Sam Bradford will respond to the challenge of leading his team to a surprise victory.
The Giants laid a stinker in their Week 1 loss to the Redskins, but that is more than an isolated event. Despite what he says about himself, Eli Manning is little more than an average quarterback, and the defense, outside of the defensive line, isn't very good.