Nate Kaeding Injury: 3 Kickers San Diego Chargers Should Target as Replacements
September 12, 2011
Doug Pensinger/Getty Images
The Chargers' special teams unit went from bad to worse when Nate Kaeding succumbed to a torn ACL just moments into San Diego's 24-17 win over the Minnesota Vikings on Sunday.
The eighth-year kicker will miss the rest of the season after injuring his knee while attempting to tackle Vikings receiver Percy Harvin on the opening kickoff, which Harvin returned 103 yards for a touchdown. Punter Mike Scifres took over the Bolts' kicking duties in Kaeding's absence, nailing all three of his PAT attempts and even connecting on a 40-yard field goal to tie the game at 17 apiece in the fourth quarter.
Despite Scifres' success, Chargers head coach Norv Turner will bring in a host of kickers this week to fill in for Kaeding this season. As for who Turner and GM AJ Smith should sign, here are three quality kickers who can help San Diego's sorry special teams right away.
Nick Novak
 Right now, the most obvious choice to replace Kaeding is Nick Novak. The one-time kicker for the Arizona Cardinals, the Washington Redskins and the Kansas City Chiefs has already been mentioned as one of a handful of candidates who will be brought in to compete for the job this week.
Novak has been in and out of the NFL throughout his career and was with the Chargers in training camp prior to the 2010 season. The team attempted to sign him during the season but was rebuked by the Florida Tuskers of the UFL, with whom Novak signed after being cut loose. He was most recently seen in camp with the New York Jets but was waived at the end of August when Nick Folk won the gig with Gang Green.
Novak's NFL statistics are anything but spectacular—19-of-30 on field attempts in his career, good for 63.3 percent. That being said, Novak still has a cannon for a leg, which he showed off in his UFL debut when he nailed a league-record 54-yard field goal against the Las Vegas Locomotives.
Shayne Graham
 Should the Chargers decide to opt for someone with more recent and relevant NFL experience, they would do well to look at Shayne Graham. The 11-year veteran out of Virginia Tech suited up for the New England Patriots and the New York Giants last season after spending seven seasons in Cincinnati. He last suited up with the Washington Redskins and the Dallas Cowboys in their respective training camps this summer.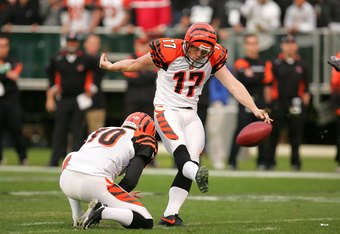 Ezra Shaw/Getty Images
Graham's leg is an accurate one, having nailed 86 percent of his attempts over career, including 85 makes of 40 yards or more. The former Pro Bowler hasn't hit less than 80 percent of his field goals in a given year since 2002, as a sophomore with the Carolina Panthers.
Joe Nedney
 Now, if the Chargers don't mind bringing in a (much) older kicker, then Joe Nedney would fit in as a quality replacement for Kaeding.
The 15-year kicker was booted from camp by the 49ers in late July after six seasons in San Francisco. Nedney, a native of San Jose, has played for seven teams over his lengthy NFL career, putting through his field goal attempts at a clip of 80.3 percent all the while. That success rate has gone up considerably since his return to his home state of California, with an 86.6 percent conversion rate on field goals with the Niners.
---
LIFE HURTS. THIS INJURY UPDATE BROUGHT TO YOU BY DICKIES.