San Francisco 49ers: 5 Reasons of Hope for NFC West Title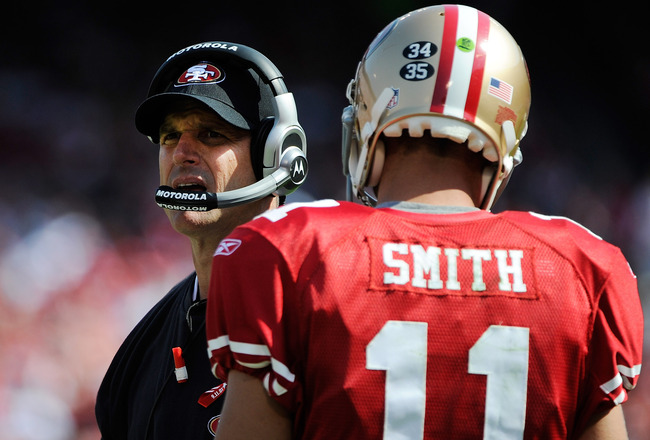 Thearon W. Henderson/Getty Images
Some of the numbers that came out of the San Francisco 49ers 2011 opener against the Seattle Seahawks suggested very little had changed. Total offense squeaked by the 200-yard mark. Third-down struggles (1-for-12) continued. Only one pass completion went longer than 20 yards.
But then, there are these other numbers: 33-17. The Niners won, and they did it in a way that leads one to assume that the coaching staff and the team are still trying to figure out what it can and cannot do. Of course, this is SOP—standard operating procedure—for NFL teams in their first game, especially one that has a new coaching staff and had limited offseason time together.
The game will be remembered for Ted Ginn's two TD returns. But it is important to remember that the Niners had earned a lead and never gave it up. Ginn's returns didn't give, they secured the victory.
From that perspective, the play of Alex Smith at quarterback proved Jim Harbaugh's faith in the seven-year vet out of Utah, and that's why the 49ers have five reasons why they have strong chances to secure the NFC West title.
"Zero and One"
Ezra Shaw/Getty Images
That's the Seahawks' record. And it was particularly painful in that it came against a division rival, the first tiebreaker if the teams finish with the same records.
One big reason why the Niners are 1-0 is that they went "zero and one." They gave up zero sacks and there was only one hurry on Alex Smith. Granted, those two stats came out of an offense seemingly built from plays drawn up by Woody Hayes from his early days at Ohio State, but it worked.
Consider what Smith didn't do that happened so often in the past—struggling to find open receivers who had scattered well down the field, he'd fire a key interception. Or he would scramble trying to find more time and get hit from behind.
Look at what we saw with Smith this time—steady feet in the pocket, head moving quickly in his progressions and the ball coming out with authority. Granted, some of the pass plays went for losses, but at least there seemed to be a definite sense of what the play was intended to do. That is a sign that the Niners as a team understand their limitations.
That came out in more stats: Smith completed 15-of-20 passes (good!) but gained only 124 yards for a middling 6.3 yards per attempt (ehh). But there were no interceptions (good!).
It wasn't a record day, but it didn't have to be. Getting a win was more important for the team, for Harbaugh and for Smith.
Looking Ahead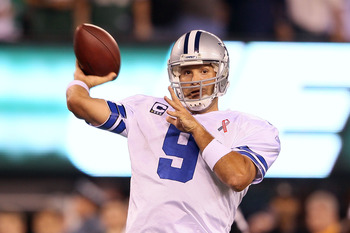 Elsa/Getty Images
It's the oldest cliché in sport—play 'em one at a time. But we look ahead anyway. The Niners host a beat-up Dallas team, led by Tony Romo (pictured) that has three injured cornerbacks as of Monday and is coming off a devastating loss in New York. The Cowboys have to travel again to go against a defense that appears to be one of the best in the conference.
Then the 49ers travel to Cincinnati, which, despite a win over Cleveland, appears to be one of the weaker teams in the league. Improved play, a little luck and SF could be 3-0. As for the rest of the division, consider:
There's little doubt that Seattle has a long ways to go with Tarvaris Jackson at quarterback. When forced to move, his accuracy goes way down.
Meanwhile, the Rams, who many picked as the NFC West favorite, suffered injuries to Danny Amendola and Steven Jackson and perhaps quarterback Sam Bradford. They certainly could be 0-3.
Arizona's opening win over Carolina is worth a nod, except the Cardinal gave up plenty of yardage against a rookie quarterback in his first NFL start. That's a rarity, to say the least. Most raw rookies—even Heisman Trophy winners—usually find themselves shell-shocked and shaking after their first game. Cam Newton proved otherwise.
Credit Newton, but also credit an Arizona defense that apparently has some issues.
Happy Red Zone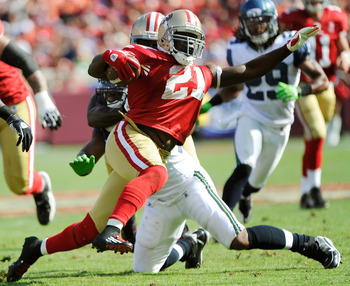 Thearon W. Henderson/Getty Images
The 49ers went 1-for-3 in the red zone on Sunday. That they had 1st-and-goal early in the fourth quarter and couldn't score recalls a Singletary-like offense seemingly bent on a Cro-Magnon approach to the game.
That's the negative side. Here's the positive: The Niners drove inside Seattle's 20 three times. They did it with a ball-control offense built around the run and short passes. And that's worth noting because it shortened the game.
The negative side is that SF was out-gained by a small margin (219-209), ran fewer plays (52) than Seattle (64), struggled on 3rd down (1-for-12 compared to Seattle's 5-for-15). There was a positive: The Niners still had the ball two more minutes than Seattle.
It means that the Niners won a game they should have won in the way they need to win games—minimize mistakes, let the defense control and methodically work the running game.
Two Examples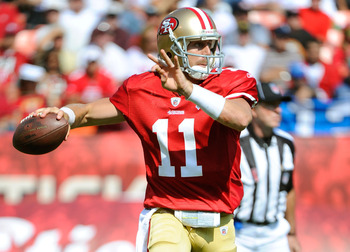 Thearon W. Henderson/Getty Images
There are two key plays in the fourth quarter that had nothing to do with Ted Ginn Jr.
First came at the 13:30 mark, 3rd-and-3 from the SF 34. Smith fired a laser beam to Braylon Edwards for seven yards, and Edwards added another five for a 12-yard, 1st-down gain.
Smith's release had plenty of zing to beat the coverage of Earl Thomas. It accurately hit Edwards on his left shoulder, away from the defender. It was a play that may not be remembered 15 games from now, but it was a play the Niners ran and ran in training camp. Its execution came at a crucial time and led to a 15-play drive that ate 9:01 off the clock.
The second came two plays later: Smith sent a pass up the right sideline to Josh Morgan, who caught it between the roll-up corner and the deep safety—the big sideline hole in Cover 2 schemes.
Again, the ball came out with authority and was precisely targeted. These are throws that quarterbacks have to make. Smith made them. They are solid examples of an improved Smith who seems to be much calmer and confident under Harbaugh.
Just a Win?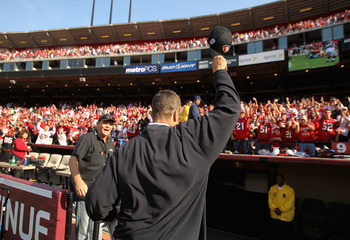 Ezra Shaw/Getty Images
There were so many things that could have gone wrong—like having a 16-0 lead and nearly blowing it. Like having an offense recreate dull memories of 2010, 2009 and 2008. Like there's no reason to believe that this 49er team is improved.
But a victory erases all that. Look what they didn't do: They didn't turn the ball over and they limited Seattle's offense to one big gain, a 55-yard TD pass that came, I believe, on a blown coverage on Seattle's second TD (NaVorro Bowman?). Take out that play and the Seahawks net per pass play is less than three yards per attempt.
It all points to Harbaugh. He didn't have a flashy offensive game plan but a steady, sure one that kept his quarterback well protected. He expected his defense to dominate, and for the most part it did. Seattle's Marshawn Lynch finished with just 33 yards on 13 carries, and out of Seattle's 62 plays only five went for more than 10 yards.
It was more than a win. It might have been somewhat boring—save for the two Ginn returns—and it might have been way too reminiscent of a Mike Singletary offense. But this time the Niners won in a game they were supposed to win.
That's a start, and now comes Dallas. The 49ers have a little more confidence, and it appears that Harbaugh has a good grasp of this team. That's the last reason why the 49ers can have high hopes for an NFC West title.
Keep Reading

San Francisco 49ers: Like this team?