Jet-Setting Jerry Jones Contributes to Dallas Cowboys' Heart-Breaking Loss
September 12, 2011
Elsa/Getty Images
Now that the 10th anniversary of 9/11 is done and we are no longer "all New Yorkers," the good Texans can get back to being bitter about their team losing a game they were supposed to lose, but never should have lost.
Your Dallas Cowboys once again began an NFL season with a near-miss.
According to Tony Dungy, Rodney Harrison and Tyrannosaurus Rex Ryan, the Cowboys were supposed to lose to the New York Jets and lose big. None of them saw what was coming, because what was coming was a better team than Team Green. A better offense. A better coaching staff. A better game plan. A better quarterback...
Well, wait. Check that. The quarterback thing: Let me retract that. More talented? Yes. Better? Not so much.
So, who to blame?
Tony Romo is an obvious choice. First, he fumbles on the goal line, trying to make more out of a play than was there. This at a time when a field goal would have done just fine. Then, after the defense made a valiant stand to get him the ball and an opportunity to win the game in the waning minutes, he hit a wide open Darelle Revis right between the numbers.
This will have many saying, "Same ol' same ol'."
Or, "See? Romo sucks!"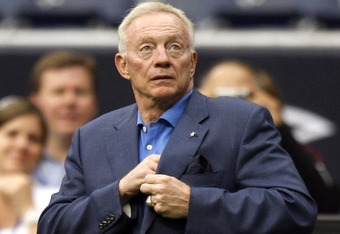 Bob Levey/Getty Images
We could blame the punt team or its coach, Joe DeCamillis. NFL teams are not supposed to give up a blocked punt to someone charging right up the gut.
A militant few will blame Jason Garrett just because he is redheaded or something like that. Those people I pay no attention to because they obviously do not know great coaching material when they see it.
I am going to go ahead and let my favorite punching bag share some of the blame. You know him as the man with the common name and the uncommon ability to turn the simplest communication into utter nonsense.
I am talking about the man whose commitment to winning has nothing to do with anything but his own ego. I am talking about the man that punked Tom Landry. I am talking about the only man in the history of the world to run off a coach immediately after his team won back-to-back championships.
I am talking about the man who found a way to stroke his ego and keep himself in the national spotlight without winning anything but the vote of the citizens of Arlington, Texas.
This man allowed his team's archenemy, the Philadelphia Eagles, to swoop in and steal the free-agent cornerback his team so desperately needed. This man pinches pennies on personnel from his magnificent billion-dollar edifice. This man was content to enter the 2011 NFL season dangerously thin at cornerback.
This man has a mortgage to pay.
This man had us all watching a kid named McCann do his dead-level best to cover Plaxico Burress.
Blame whomever you like. I say Jerry Jones is as much to blame as Tony Romo and the punt team.