He's Not Cam-Era Shy: Week 2 Fantasy Football Waiver Wire Gems
September 12, 2011
Christian Petersen/Getty Images
Week 1 of the NFL season always brings surprises, along with a few nightmares.  Anyone who got a little too cute this week and gave RB Ray Rice a seat on the pine will be kicking themselves for the next couple of weeks.
With each passing week of the NFL season, situations become clearer.  Sometimes it's due to performance, other times due to injury.  Either way, fantasy general managers must look into their crystal balls and make decisions on players that appear ready for a breakout game. 
With that in mind, let's take a look around the league at some players that made an unexpected fantasy impact in Week 1, and a couple of players that you should keep an eye on that have beneficial upcoming matchups.
Quarterbacks
Cam Newton, CAR – The number one overall section of the 2011 draft put on a show against a soft Arizona defense that will struggle in pass coverage all year.  Newton completed 24 of his 37 attempts totaling 422 passing yards and two passing touchdowns.  And if that wasn't enough, Newton picked up 18 additional yards and a bonus touchdown on the ground, calling his own number more than once near the goal line. 
Newton has the arm to make the plays, and he has at least one receiver good enough to make big plays.  But what will really boost Newton in fantasy circles is his ability to pick up the bonus yards and touchdowns with his legs.  With Newton at the helm, the Panthers are no longer a horrible team.  But they're still not a very good team, and will trail in many of their games.  Which, of course, is great for garbage time production because those stats still count.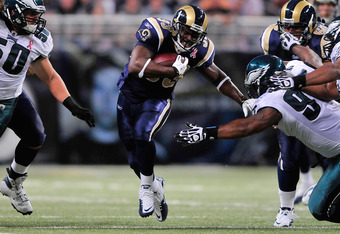 Jeff Curry/Getty Images
The Week 2 matchup with the Green Bay Packers isn't ideal, but you could do worse (see Jackson, Tarvaris QB SEA) trying to replace Peyton Manning's production than a rookie making his second career start.
Ryan Fitzpatrick, BUF – There was a period of time during the 2010 season wherein Fitzpatrick was the best fantasy quarterback on a points per game basis.  Eventually, Fitzpatrick came down to earth just about the time most fantasy general managers had the confidence to start him. 
Kansas City Chiefs' second year Pro Bowl safety Eric Berry did leave the game with a knee injury, but Fitzpatrick's performance can't be tied simply to the absence of a single player.  Fitzpatrick appeared crisp with his throws, and focused his efforts in the short and intermediate passing game, where he thrives. 
Fitzpatrick tossed four touchdowns, leading all Week 1 quarterbacks in that department, and managed zero turnovers in the process.  Fitzpatrick's 208 passing yards weren't spectacular, but the Buffalo Bills got ahead early and it was never really close, so the need to throw was never present.
Over the next four weeks, Buffalo faces off against the Oakland Raiders and New England Patriots at home, then Cincinnati on the road, and back at home to face Philadelphia.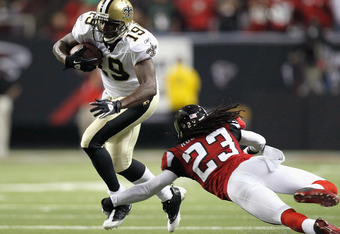 Kevin C. Cox/Getty Images
Rex Grossman, WAS – Of all the names that may find themselves in this column throughout the next 15 weeks, there is probably none less sexy than Rex Grossman.  This isn't Grossman's first rodeo, but it might prove to be his most successful. 
In a matchup against a once ferocious, but, at least temporarily, depleted New York Giants defense, Grossman was able to maintain control of the offense with a solid rushing attack and offensive line in tow. 
Grossman didn't do anything in Week 1 that's going to make many highlight reels, and he probably won't make many highlight plays over the course of the season.  He's a professional quarterback; one that's going to go out and do his job.  He'll have a bad week here or there, but probably not over the next four weeks.
In Week 2, the Redskins face an Arizona team at home that just gave up 422 passing yards to Cam Newton, and in Week 3, the Redskins travel to Dallas to face off against a Cowboys squad that may be without their top three cornerbacks.  Week 4 sees the Redskins traveling to St. Louis to take on a Rams squad that is in the process of upgrading the defense, but has only hit the mediocre point thus far.
Running Backs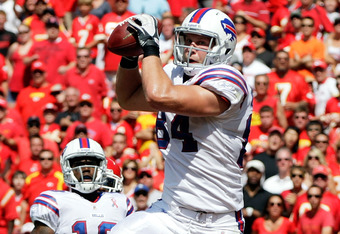 Jamie Squire/Getty Images
Cadillac Williams, STL – If Rams RB Steven Jackson could have stayed healthy, he would have had one of the top five running back performances of Week 1.  As goes history, Jackson couldn't stay healthy, which opened the door for Williams to ground and pound on a weak Philadelphia Eagles defense.
Williams carried the ball 19 times for 91 yards and caught six passes for 49 yards on 10 targets.  Even with all those opportunities, Williams failed to cross the stripe for a score. 
Jackson has battled injuries his entire career, and 2011 appears to be more of the same.  Williams is a must grab for Jackson owners, as the severity of Jackson's thigh injury is still unclear. 
With WR Danny Amendola out for possibly the remainder of the year, whoever is in at running back is going to see an increase in targets and receptions. 
While Williams was able to find success against the Eagles, the upcoming schedule isn't so bright. The New York Giants, Baltimore Ravens, and Washington Redskins comprise opponents for the next three weeks.
Ben Tate, HOU – Tate is owned in less than forty percent of leagues as of Sunday evening, but that number should climb to nearly one hundred percent come Wednesday morning.  Tate rumbled for 116 yards and a score on 24 carries in a system so running back-friendly that even a caveman could do it.
With Houston Texans Head Coach Gary Kubiak non-committal on RB Arian Foster's status for Week 2, Tate owners may find themselves in a must-start situation in a matchup with the Miami Dolphins in Week 2.
Tate owners should not be in a rush to release him back to the waiver wire even after Foster is healthy, as hamstring issues have a tendency to linger.
Darren Sproles, NOS – Sproles is a points per reception (PPR) league special.  He only received two carries on Thursday night, so he isn't going to produce a ton in standard leagues since he won't be returning touchdowns on a weekly basis, and you'll be relying solely on receiving yards for production.
But for those in PPR leagues, Sproles will make a great flex play in weeks that the Saints figure to be airing it out or trailing, but those games won't come on a regular basis.
Dexter McCluster, KC – McCluster was used a ton in preseason action, and that happened to be one of the few things from the preseason that translated over to Week 1 of the regular season.  McCluster is a player to grab in deep leagues as a stash and hope option. 
McCluster made the most of his four carries racking up 42 yards and adding another 25 yards on his five receptions.  As Kansas City adopts yet another new offensive identity, McCluster may supplant RB Thomas Jones as the primary backup to RB Jamaal Charles. 
It's a situation worth monitoring.
Wide Receivers
Devery Henderson, NOS – Henderson was able to grab six of his nine targets on Thursday night for 100 yards and a touchdown.  With Saints WR Marques Colston taking some mandatory time off to heal his cracked collarbone, Henderson will see an increase in opportunities for at least the next few weeks.
In Weeks 3 and 4, the Saints play host to the Houston Texans and then visit the Jacksonville Jaguars.  Both games will feature atrocious secondary play from the Saints opponents, which should allow for Henderson to easily slide into the top 20 wide receivers for those weeks.
Greg Salas, STL – Rams WR Danny Amendola suffered a dislocated elbow and is likely done for a majority of the season, if not the entire season.  The logical replacement is Salas who is a receiver in a similar mold as Amendola. 
Salas should be on the radar of owners in PPR leagues, but he is worth keeping an eye on in standard scoring leagues as well, as the team gets comfortable with new Offensive Coordinator Josh McDaniels' offense. Salas' production may be worth a spot start later in the season.
Nate Burleson, DET – Staring opposite a wide receiver as talented as Calvin Johnson will eventually lead to great things, as was demonstrated repeatedly in the preseason.  Week 1 did not produce the same fireworks we saw in the preseason from Burleson, but he caught all five his targets for 60 yards. 
Burleson is a player that needs to be rostered in most leagues.  Quarterback Matthew Stafford put on a passing clinic against the Tampa Bay Buccaneers, and it's only a matter of time until that production will spill over to Burleson.
Emmanuel Sanders, PIT – Sanders is battling wide receiver Antonio Brown for the third spot on the depth chart.  Of the two, Sanders is more talented and should win the job, if not overtake WR Hines Ward at some point during the season.
Sanders was only targeted three times, but caught two of the passes, one for a touchdown.  In a game where the Steelers are not getting blown out, Sanders will see more targets and increased production.
Tight Ends
Jermaine Gresham, CIN – Gresham will benefit while rookie quarterback Andy Dalton gets acclimated to the NFL.  Even after Dalton settles in a bit, Gresham should continue to produce due to Dalton's less-than-stellar arm strength.
Gresham is a very talented pass catcher, and a matchup problem for most defenses.  The Bengals' offense is predicated on the short pass, which suits Gresham well.  Keep Gresham on your radar for bye week issues and replacement production if the tight end you drafted ends up tanking.
Lance Kendricks, STL – Kendricks is not a must-add, but you should keep an eye on how he is being used in the offense.  With WR Amendola likely missing a large chunk of games, Kendricks may see increased opportunities going forward.
Kendricks did get a case of the dropsies on Sunday, but knowing how effective he was both in the preseason and at the collegiate level, there is no reason to assume that the drops will persist.
Scott Chandler, BUF – There is no need to burn a waiver wire position on Chandler, nor pay a buck to pick him up.  At least not yet.  Chandler did manage to find the end zone twice, but we may have witnessed Scott Chandler's all-time career best moments.
Just wait and see what develops over the next week or two.  If Chandler is continuing to see targets and converting those opportunities into receptions, he might be worth a stash in deep leagues.
Best of luck to you in Week 2.  May your domination continue, or your comeback begin.
For a buffet of fantasy football information, you can follow Nathan on Twitter @NathanWaddell.