Cam Newton and the 5 Most Impressive NFL Week 1 Performances
Christian Petersen/Getty Images
The hype during the buildup to the NFL regular season's opening was proven to be accurate by its players last night.
In what was a weekend full of upsets and explosion, there were plenty of standout stars carrying over from last season and new faces announcing themselves early on.
Here are the five most impressive displays from Week 1 so far.
Matthew Stafford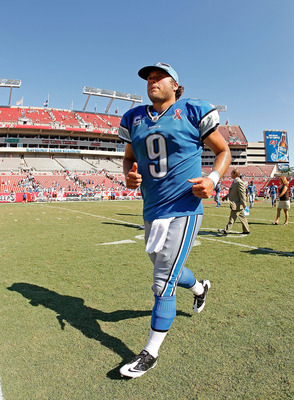 Mike Ehrmann/Getty Images
Statistically, Matthew Stafford had one bad throw this weekend, as he was intercepted by Aqib Talib for a touchdown. However, that interception came on a tipped ball in the flat that was the fault of the receiver.
Without that, Stafford was flawless, as he led the Lions past a good Tampa Bay Buccaneers team.
Stafford threw 305 yards with three touchdowns and completed 24-of-33 passes. What was most notable, however, was the fact that Stafford didn't just rely on Calvin Johnson.
It has been well known for some time now that the Lions' offense has picked up a lot of talented pieces over the years, and Stafford proved that by completing passes to eight different receivers. Johnson obviously led the team with 88 yards and two touchdowns, but Stafford continued his strong relationship with Nate Burleson as he caught five passes for 60 yards.
Ravens Offense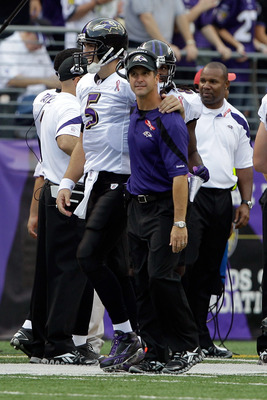 Rob Carr/Getty Images
I was trying to decide who should get on this slide out of the Baltimore Ravens' from their dismantling of the Pittsburgh Steelers this week, but there were just too many great performances.
Joe Flacco may not be an elite quarterback just yet, but he had an elite game, finishing with 224 yards, three touchdowns and no interceptions. Flacco showed off great poise, intelligence, a strong arm and amazing accuracy.
Not to be outdone by his quarterback, Ray Rice made it two of 50 this Sunday. Rice is the only player to rush for over 100 yards against the Steelers' defense in the past 50 games they have played, and he has now done it twice, finishing the game with 149 yards and two touchdowns off of 23 touches (including receptions).
Most of that success was due to the quality of blocking in front of him. New addition Vonta Leach was overwhelmingly good, as he repeatedly destroyed Steelers' linebackers, while Bryant McKinnie looked better than he ever did in Minnesota.
Cam Newton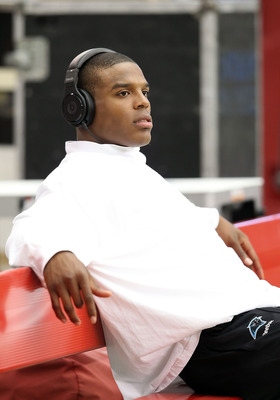 Christian Petersen/Getty Images
The Carolina Panthers just lost out against the Arizona Cardinals in Week 1 of the regular season despite a record-breaking performance from their rookie quarterback.
Not many people were expecting the Panthers to even compete in this game, and those of us that did didn't point to Newton's arm as a way they could.
In the same stadium that he starred in his final college game with Auburn, Newton broke Peyton Manning's debut passing record with 422 yards through the air.
Those 422 yards matched the record high of any rookie ever at any point in their first season. That was a record that was previously held by Matthew Stafford.
Newton was never expected to do this, as many questioned his accuracy coming out of college, but he finished the game 24-of-37 for 422 yards with two touchdowns and one interception.
Newton showed that he has already made a connection with Steve Smith and used his strong arm to hit him deep multiple times leading to 178 receiving yards and two touchdowns for the veteran.
Brandon Gibson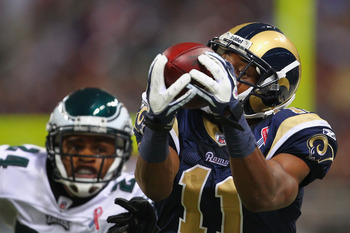 Dilip Vishwanat/Getty Images
Brandon Gibson finished the St. Louis Rams game against the Philadelphia Eagles with only three receptions for 50 yards. However, those three receptions all came against Nnamdi Asomugha.
Gibson showed off some speed and ability to get free, as he repeatedly caused Asomugha problems. It's not incredulous to think that Asomugha may have lost a step over the past three seasons, as many teams never even looked his way to try to capitalize on his play.
The most notable reception came on a go route down the sideline, as Gibson shook free off Asomugha and created separation for a diving reception that landed 31 yards. With a better thrown football, he could have gone the distance.
He almost went the distance later in the game when he also forced Asomugha into a pass interference call in his own endzone as Gibson turned him inside out. Asomugha had no clue where the football was as Gibson spun him around and made him lose his bearings, which led to the celebrated defender grabbing him to prevent the touchdown.
Aaron Rodgers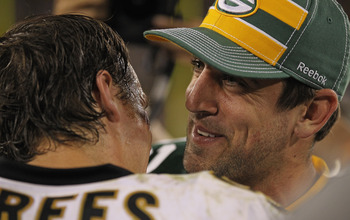 Jonathan Daniel/Getty Images
Even though Cam Newton is a rookie and absolutely mangled the record books on his debut, there is no doubting that Aaron Rodgers had the best performance of the week.
Statistically, Rodgers was good on Thursday night, as he threw for 312 yards and three touchdowns on only 35 attempts. However, stats don't say it all, because he was playing against a very good secondary in the Saints.
The Saints' secondary had good coverage on many of Aaron Rodgers' completions, but he threw such an accurate football—and has such good receivers—that they had no hope of getting near most of them.
Rodgers announced himself as the best candidate for the MVP this season. The simple fact that Drew Brees had an outstanding game and looked average against him was telling to just how well Rodgers played.
Keep Reading