College Football: 10 Franchise-Changing Players in the 2012 NFL Draft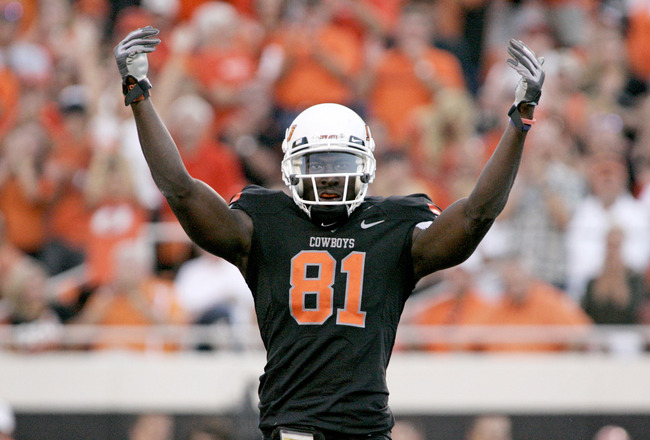 Brett Deering/Getty Images
In each NFL draft, there are, on average, three or four players who are obvious prospects that are close to guaranteed to be successful in the league. Prospects like Patrick Peterson, Calvin Johnson and Adrian Peterson are rare, but outstanding athletes like them, tackles like Joe Thomas, and most importantly quarterbacks are the ones who become future All-Pros.
While it's tough to pinpoint exactly who will be those obvious prospects in this draft, here are the top 10 prospects that have the best chance of reaching that "elite prospect" level in scouting circles.
Note: Underclassmen have asterisks after their names.
10. Quinton Coples, DE, North Carolina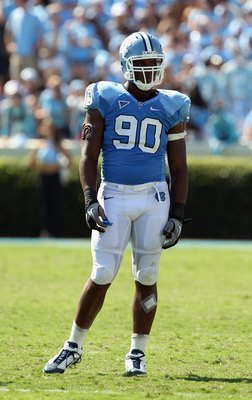 Streeter Lecka/Getty Images
In this draft class, I'm not sure there is a sure-fire pass rusher that will be an immediate impact rusher. It's hard for a defensive end, or a tackle for that matter, to really make a huge impact, because most defensive linemen play off each other and need other good rushers to be successful.
Players like Julius Peppers and Ndamukong Suh, both considered elite prospects and very rare, both had good defensive line talent around them.
Coples is an outstanding rusher who thrived last year with the massive amount of suspensions on the North Carolina football team. Now very much on NFL radars, he may be the best senior defensive prospect in the country.
9. Trent Richardson, RB, Alabama*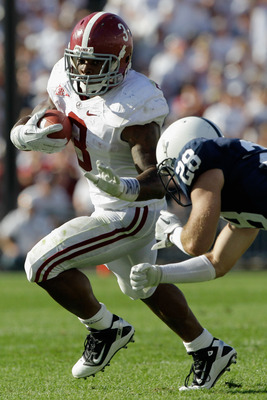 Rob Carr/Getty Images
Richardson isn't at the level of an Adrian Peterson, but he has the ability to step in right away and be an impact, 20-carries-a-game running back. But what separates Richardson from what has become the general second-round starting running back that we've seen is Richardson's ability to break a huge play at any point.
Richardson could be a more explosive version of Mark Ingram and a bit more well-built than another explosive first-rounder, C.J. Spiller. While I don't see him being a feature runner like Chris Johnson, Peterson or Maurice Jones-Drew, it's very possible he could be a high-impact playmaker in the NFL.
8. Kirk Cousins, QB, Michigan State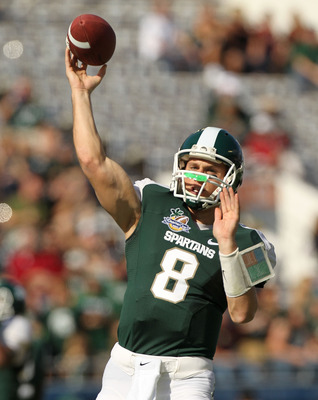 Mike Ehrmann/Getty Images
I am a huge fan of Cousins as a prospect, but that's seemed to turn into the norm now. He's likely not going to be a top-10 quarterback prospect that a team will be sold on as of now, but don't be shocked if he really thrives in some big games this year and elevates himself to the level where NFL teams feel he can be a franchise quarterback.
As of now, he's in the fringes of the first round, thanks to the three underclassmen quarterback prospects that will dominate the first round. Still, he has the talent to be a leader of an organization and, in my eyes, is certainly better of a prospect that last year's fringe first-rounders: Christian Ponder, Andy Dalton and Colin Kaepernick.
7. Vontaze Burfict, LB, Arizona State*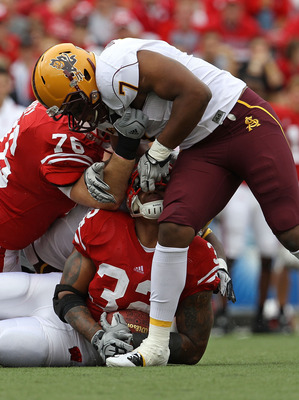 Jonathan Daniel/Getty Images
The most talented linebacker in the country, Burfict has the ability to play a host of positions at the NFL level. Similar to former elite linebacker prospects like Patrick Willis and Jerod Mayo, Burfict has elite NFL talent and just needs to be molded (and maybe reined in a little bit based on character reports) to become an elite NFL linebacker.
As of now, thanks to character questions and some inconsistency, he's in the mid-to-late range of the first round in terms of projections. Regardless of where he ends up, if he can combine his talents with the NFL game, he could be an elite talent.
6. Matt Kalil, OT, USC*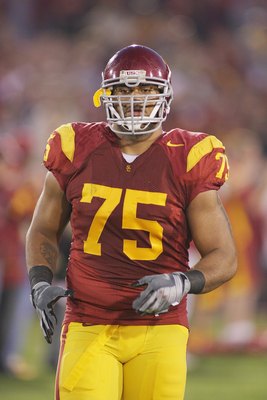 Jeff Golden/Getty Images
As of now, no left tackle prospect has separated themselves as a clear-cut franchise tackle in the mold of Russell Okung and Joe Thomas. However, my favorite to win that title as the first offensive tackle selected is Matt Kalil of USC.
Some still don't see the value of taking a tackle that high in the draft and how much value they can provide. And while they don't have immediate impact, can't produce stats and need other offensive line and quarterback talent to really be showcased, they have the ability to let the play time to progress and the offensive time to develop.
Kalil should be a top-10 pick, especially for a team missing a key tackle like the Bengals, Bills and Titans.
5. Justin Blackmon, WR, Oklahoma State*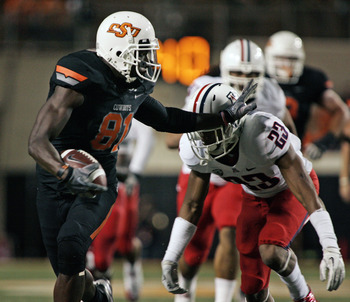 Brett Deering/Getty Images
Explosive returners have the ability to change the momentum of the game. Playmakers like Ted Ginn, Joshua Cribbs, Leon Washington, and most notably Devin Hester. As a third-round returner, Blackmon might be at that level.
But add the fact that he has an No. 1 NFL receiver build, outstanding ball skills, a high ceiling and the production to make NFL teams comfortable drafting him high, and Blackmon could provide outstanding value.
4. Alshon Jeffery, WR, South Carolina*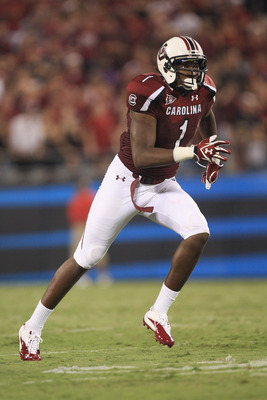 Streeter Lecka/Getty Images
A.J. Green and Julio Jones were considered among the best receivers drafted in the past 10 years. That's quite an impressive comparison for those two, considering the types of talents that have come out of the college ranks in the past few years. However, Alshon Jeffery is not only viewed in the same talent echelon as those two; some scouts feel he's even better.
While Jeffery, like Green, won't completely change an offense in a way a quarterback could, he has the ability to make the quarterback have an easier throwing lane with his size. He can also demand attention and allow for defenses to be more susceptible.
See Larry Fitzgerald and Calvin Johnson as examples of receivers who make the offense better without catching the ball every play.
3. Landry Jones, QB, Oklahoma*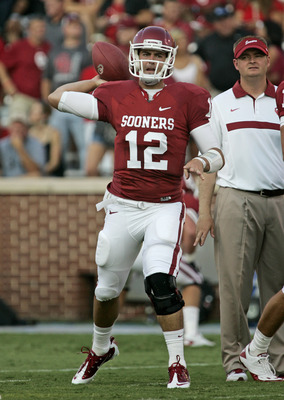 Brett Deering/Getty Images
Finding a franchise playmaker in the draft generally leans toward drafting a quarterback. The first of three potential impact quarterbacks in the draft is Landry Jones of Oklahoma. While I'm not as excited about Jones as some NFL scouts are, he has the size, ball placement and play-reading to be a very good NFL quarterback.
However, how much of a true difference maker he can be is still up in the air.
If he does declare early for the draft, he should be a first-rounder and likely a top-10 pick, depending on which teams are selecting in those areas. Jones could be in a position to be a franchise NFL quarterback.
2. Matt Barkley, QB, USC*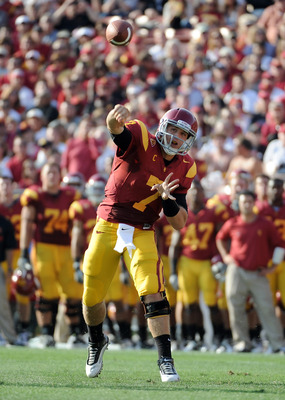 Harry How/Getty Images
While the No. 1 potential playmaker is fairly obvious and viewed as the best prospect in a very long time, Matt Barkley of USC, I feel, is getting shortchanged as far as being an elite prospect compared to Andrew Luck. Barkley is a nimble athlete who could be a better version with a higher ceiling than Mark Sanchez of the Jets.
He doesn't have the NFL size that a No. 1 has, but as far as being a playmaker is concerned, I think Barkley, despite not being able to play in the postseason in college, is destined to play in multiple postseason games at the NFL level.
1. Andrew Luck, QB, Stanford*
Ezra Shaw/Getty Images
The consensus top prospect in the draft (if he declares, which he's said he will), Andrew Luck of Stanford would be considered by far too many as a "bust" if he didn't quickly become one of the NFL best quarterbacks within a few years.
The standards are set very high, but his combination of his size, arm, accuracy, confidence and athletic ability make him an "elite prospect." Luck should be the top draft pick and should develop into a playmaking, potential Super Bowl-winning quarterback in the future.
Keep Reading