Washington Redskins: Three Players Who Will Prove to Be Vital to the Team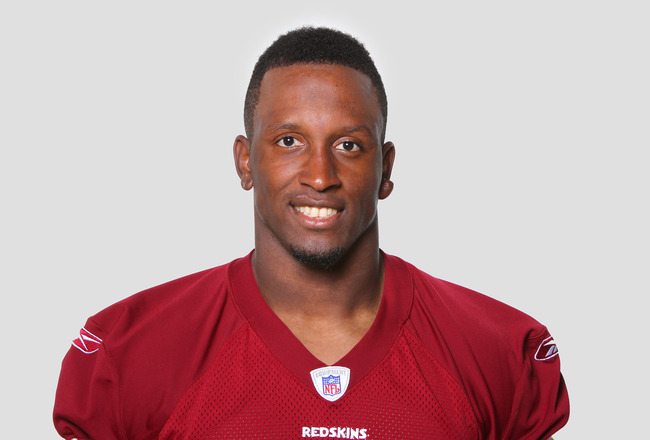 Handout/Getty Images
During yesterday's game against the New York Giants, there were several Redskins players who stood out from the rest. These players will become vital to the success of the team throughout the season whether they are sacking quarterbacks or running the ball through the heart of the opposing teams' defense.
Here are the three players that will become vital to the success of this team.
Ryan Kerrigan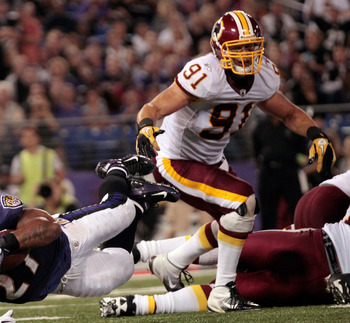 Rob Carr/Getty Images
NFL Experience: 1st Year in NFL
Position: Linebacker
Kerrigan was just drafted out of Purdue last season, and was thrust into the season opener against the Giants.The game against the Giants yesterday was his first regular season game ever. He had an impressive defensive performance, making five tackles and an interception that lead to his first touchdown as a professional.
Yesterday the Redskin's defense looked amazing. They stopped Manning dead in his tracks during the second half and made the Giants look like fools. If Kerrigan can become a great linebacker, who makes sacks every game, he could become one of the Redskins best defensive options.
Fred Davis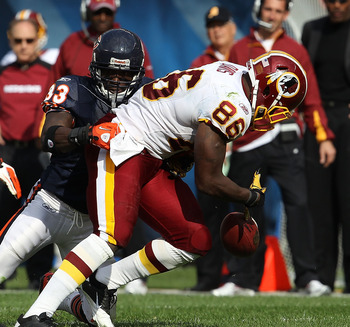 Jonathan Daniel/Getty Images
NFL Experience: 4 Years
Position: Tight End
Fred Davis is probably the best tight end the Redskins currently possess. Some may argue that it is Chris Cooley. The reason that people overlook Davis is that he is always playing in Cooley's shadow. His contributions to the team are often taken for granted and not thought of a second time. Coming off a knee injury, Cooley had to sit out a large portion of yesterday's game. So Davis replaced him wasn't in was able to have a stand out day.
Davis, as a tight end, had 105 receiving yards, which was the most of the entire team. He made some spectacular catches under a great amount of pressure from the Giants' defense. Rex Grossman seemed to have targeted Davis a lot throughout the game. Out of six passes thrown to Davis, he caught five of them.
Davis has great athleticism that was clearly demonstrated in yesterday's game. He also runs great routes that always seem to work.
Rex Grossman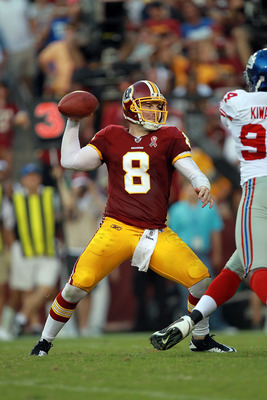 Ronald Martinez/Getty Images
NFL Experience: 9 Years
Position: Quarterback
Rex Grossman was such a phenomenal player in yesterday's match. Not only did he have over 300 yards—for the fourth time in his career—but threw two touchdowns and didn't throw a single interception.
He had his first appearance for the Redskins was when McNabb was injured and had to leave the game. Grossman entered the game and threw an interception that lead to a touchdown. He was ridiculed throughout the rest of the season. After it was decided that Grossman would start in the season opener against the Giants instead of John Beck, he was called the wrong person for the job. However, I think he proved everyone wrong with yesterday's performance.
Grossman has always had a very optimistic view of the Redskins. He has said that he believes that the team can win the NFC East, which is a brave statement since they haven't had a decent team in 20 years. The Redskins need people like Grossman if they are going to have a chance of doing well this season.
Keep Reading

Washington Redskins: Like this team?