Arizona Diamondbacks and Kevin Towers in the Final Analysis
September 9, 2011
Christian Petersen/Getty Images
After a lot of sleepless nights, the analysis research is done and now it is time for the fun part: relaying the results. Kevin Towers has had a lot of fun moments this season with the D-backs. The Padres unceremoniously fired him a few years ago for questionable reasons. While they have not completely gone in the crapper, Towers can argue that he has had the last laugh.
The NL West is all but sewn up and although no one thinks the D-backs will advance once they reach the playoffs, just getting to the playoffs is victory enough. A large part of the turnaround can be put on Towers' emphasis on rebuilding the bullpen. While no one will confuse them with the Giants or Padres pens, they have been good enough to support the starting pitching and lineup.
Key Statistics
2011 Payroll: $53.6 million (25th)
Lineup: 17.6
Rotation: 8.4
Bullpen: 18.4
Composite: 14.8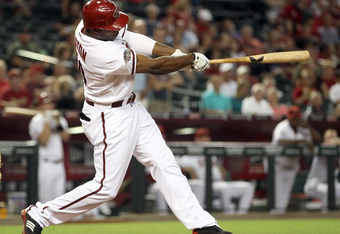 Christian Petersen/Getty Images
Analysis Score: +10.2

Lineup
The key to the 2011 season has been the development of Justin Upton. Like his older brother, Upton was always blessed with awesome tools. Until this year he had not put all of it together.
The 2011 campaign has been a revelation for Upton, as he should finish in the top three or four in the NL MVP race. The rest of the lineup is about the same as it has always been. The major difference has been a move away from players that light up the strikeout boards. Mark Reynolds is gone and replaced by Ryan Roberts.
Paul Goldschmidt has taken over at first base and seems to be the answer there as well. Gerardo Parra has been decent in left field and Miguel Montero is better than Chris Snyder in both phases of the game. Stephen Drew is out for the season, but otherwise this is a decent enough lineup.

Starting Rotation
Daniel Hudson and Ian Kennedy have combined to turn the Diamondbacks into a pitching juggernaught. The team traded for Jason Marquis and then he went down with a broken leg. Still, they have enough young pitching to make it through. Hudson and Kennedy will combine to keep the team respectable against either the Phillies or the Braves in the NLDS.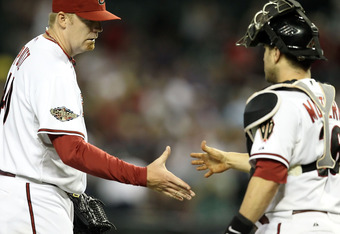 Christian Petersen/Getty Images
Joe Saunders has been solid as a third starter. That was expected, but the performance of Josh Collmenter was very unexpected. Winning teams always have players that come out of nowhere and they usually return to nowhere the next campaign.
Wade Miley replaced Jason Marquis (who replaced Zach Duke) and has performed well (3-1, 3.52). He might be a long-term solution and there are more kids on the way.
The Bullpen
Don't let the pedestrian ranking fool you. First of all, last year's bullpen was not only last but single-handedly blew too many games to count.
Towers brought in J.J. Putz to stabilize the closer's role and he has done so. Towers' modus operandi is taking failed starters and converting them into serviceable relievers. He did this with David Hernandez (3.41 ERA), Micah Owings (3.21), and Joe Paterson (3.09).
Their career numbers will look awful and that is why the D-backs are only 18th in bullpen analysis. The strategy amounts to nothing more than betting on all probabilities at the craps table, but it works.

Response to Crisis
We want to analyze how general managers plan, but that is not their only job. Sometimes even the best plans don't work out for whatever reason. How well do those general managers react to emergency situations?
Usually those are injuries, but sometimes it is ineffectiveness that wasn't allowed for. While there is no official score for responding to crisis, it is the kind of skill that will help us decipher the final rankings.
Towers dealt with several injuries this year and did a good job avoiding pressing the panic button. Stephen Drew went down midway through the season and eventually was replaced with a combination of Willie Bloomquist and John McDonald. Neither cost him a great deal and both are handling the spot reasonably well.
Zach Duke ended up failing as a fifth starter, so Towers picked up Jason Marquis for a song. Marquis then went down with a broken leg, so sometimes the best laid plans of mice and men don't work out. Finally, he beefed up the pen by adding Brad Ziegler for the struggling Brandon Allen. Allen has since recovered, but Ziegler has added needed depth to a bullpen that was still a little thin.

Analysis Score Rank: +10.2 (3rd)
Analysis Synopsis: Third might end up being a little high for Towers, but he should be a top-five general manager given his history in San Diego and current performance in Arizona. He might not be the pure new age general manager so many fans love, but he is very effective at getting bang for his buck.

Please access http://bleacherreport.com/articles/841181-statistical-analysis-which-mlb-teams-do-the-best-job-analyzing-statistics for a comprehensive list of the statistics used to judge these teams.