Washington Redskins: 4 Greatest Plays from Preseason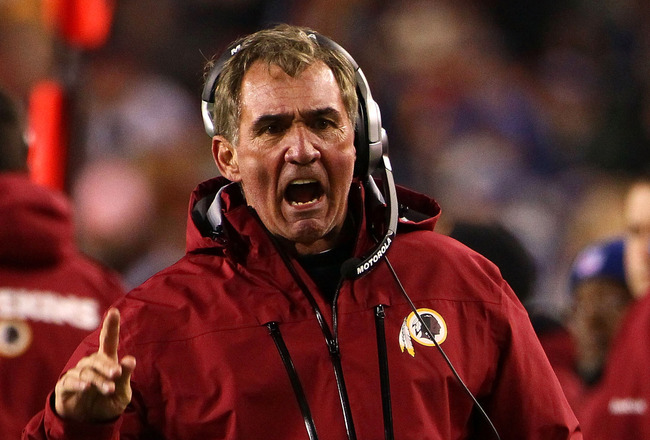 Are you as excited as this guy?
Win McNamee/Getty Images
The Washington Redskins are settling into their second year under Head coach Mike Shanahan. Now, with a new cast of players better suited to the 3-4 defense and the mobile-based offense, we can expect a lot of highlight-worthy clips this season.
Already this preseason, we've had a handful of plays that got the blood pumping and the fans screaming. So before the regular season starts, let's remind ourselves of the kind of plays we can expect this year. Here are the four best plays and one honorable mention from preseason by the Washington Redskins.
Enjoy.
Honorable Mention: Ryan Kerrigan

Ryan Kerrigan shows his motor

Ryan Kerrigan made the highlight reel early with the completion of his first professional sack. His hustle and drive are clearly displayed in the effort he gives to run down his victim.
We can look forward to many more scenes like this throughout the regular season as he continues to learn and improve his skills.
I Call Him "7 of 9": Donte Stallworth

Pulling it in for the win

Please forgive the geeky allusion to Star Trek, but there were so many receivers on the Redskins Roster that some of us were wondering if the gameplan this year was going to be back-lot football (you remember—everybody's a receiver and everybody goes long!).
Donte Stallworth did his best to assert his individuality and his right to be on the team by pulling in this great reception and streaking down the field for the touchdown and giving the Redskins the win.
Tim Hightower: The Rise of a Lead Back

Are we finally going to get back our ground game?

Tim Hightower arrived in Redskins park to compete for a spot on the roster.
Instead, he almost certainly stole the start by posting runs like this one. With his eyes and mobility, look for Hightower to bust plays like this all season long.
DeAngelo Hall: I'm Still Here

Live and die by the big play

All the talk of a revamped defense must have made DeAngelo Hall feel a little unloved.
He made sure to send out notice to his coaches, teammates, and indeed the entire NFL that he was still the man to fear by snagging this pass from Ravens QB Joe Flacco and taking it in for 6.
But what was with the sudden cut inside?
Brandon Banks: The Touchdown Return That Almost Wasn't

Electrifying run

In game four, Brandon Banks was so happy to be healthy and on the field that he lost his spatial awareness and began the celebrations about five yards too soon. I'll spare you all the four-minute review after the play because, after all, the touchdown stood.
He was a lucky, lucky Mr. Banks and it was an awesome, awesome play.
Keep Reading

Washington Redskins: Like this team?