Fantasy Football Week 1 Start 'Em, Sit 'Em: 3 Receivers You Must Sit in Week 1
September 9, 2011
Rob Carr/Getty Images
The toughest decision facing a fantasy owner on a week-to-week basis is often which fringe starters to play and which ones to sit.
The most difficult decisions tend to come at receiver.
More than any other position, a receiver's value is based completely on how often and how well his quarterback is getting the ball to him. You also have to factor in the matchup. If a team has a particularly good pass defense but struggles against the run, expect that receiver's team to focus more on keeping the ball on the ground.
Taking all things into consideration, here are three receivers that you need to sit in Week 1.
Lee Evans, Baltimore Ravens
The top Ravens receiver, Anquan Boldin, is a must-start every week regardless of the matchup. He is Flacco's favorite target and he should give you some production every week.
Evans, on the other hand, is more up in the air.
With the Ravens taking on the Steelers in the first week, points for Ravens receivers will be at a premium. As the best receiving option on the team, Boldin will get his looks, but Evans may not be so lucky.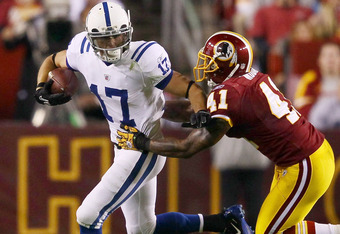 Win McNamee/Getty Images
Evans is a sleeper receiver for the 2011 season, but this game against the Steelers won't allow him to shine. 
Austin Collie, Indianapolis Colts
With Kerry Collins now the quarterback in Indianapolis for the foreseeable future, every Colts receiver will be taken down a notch in the fantasy rankings.
Reggie Wayne will still put up numbers as the top receiving option in Indianapolis, but the other receivers will suffer right along with the quarterback play. 
Collie isn't alone on the Colts offense on this one. Peyton Manning's absence will affect the fantasy value of players like Pierre Garcon and Anthony Gonzalez as well. Only Joseph Addai and the other running backs will stand to gain from Collins being under center.
Mike Sims-Walker, St. Louis Rams
When a team is facing an elite defense, I usually think it's still acceptable to start a team's top receiver because someone has to catch passes.
In this case, you have to sit Sims-Walker against the Eagles.
Sims-Walker is the top receiver in St. Louis, but he isn't so good that you would consider him the type of target that is going to get his numbers against any defense.
Quarterback Sam Bradford will likely have a tough day, and that will affect everyone on that offense, including Mike Sims-Walker.