2011 NFL Predictions: Peyton Manning Injury Shakes Up NFL Season
September 9, 2011
Harry How/Getty Images
With the news that the NFL's iron man, Peyton Manning, is expected to be out for two to three months (or possibly the entire 2011 season), most football writers' predictions are now as worthless as the ink with which they are printed.
A frenzy of free agent signings and cuts in a span of less than a month concluded a long and tumultuous offseason.
Plaxico Burress made his return to the NFL and last reported, yes, Brett Favre has retired. No for real this time, Favre is retired.
Tom Brady cut his hair and the Patriots added Chad Ochocinco while the Bengals are a shell of their playoff selves from just two years ago.
San Diego gets wide receiver Vincent Jackson for an entire season and the Philadelphia Eagles have suddenly overthrown the Green Bay Packers as Super Bowl favorites.
All along the way, football is back, and at least on Sunday and Monday nights, everything seems right again.
As far as how the 2011 season will pan out, here's a crack at it: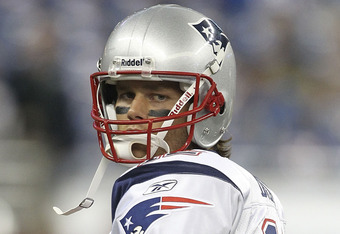 Leon Halip/Getty Images
AFC East
Patriots: Tom Brady and the Pats are retooled and fuming from their embarrassing loss to the Jets at home. Think 2007 Patriots.
Jets: They lose deep threat Braylon Edwards and replace him with well-rested Plaxico Burress.  The Jets will earn a wild card spot and beat the Steelers, avenging their playoff loss from last year.
Bills: With Fitzpatrick at the helm, the Bills have stability at QB. Stevie Johnson should put up solid numbers again, and Buffalo could surprise many with a nice season.
Dolphins: Miami went from the Wild Cat offense, to a former Kansas State Wildcat at running back. Quarterback questions still cause for concern. 
AFC North
Steelers: The Steelers have Big Ben for the entire season and still have one of the best defenses in the NFL. They'll win the division unless injuries derail the team.
Ravens: "Always the bridesmaid, never the bride" may be the new mantra for the Ravens, who will continue to play second fiddle to the Steelers.
Browns: A team on the rise, two questions still remain. Will Peyton Hillis fall victim to the Madden Curse? Can Colt McCoy stay healthy for a full season in one of the toughest divisions in football?
Bengals: Wow, just wow. At least Andy Dalton gets to start his rookie season. 
AFC South
Texans: There's an old saying that goes "where there is chaos, there is opportunity." For the Texans, with Peyton Manning possibly out the entire season, the opportunity to make the playoffs is theirs for the taking. Then again, these are the Houston Texans we are talking about.
Titans: Subtract Vince Young, add a solid former Super Bowl QB to mentor a young rookie QB in Jake Locker and you've got the makings of a solid franchise. The Titans upgraded with Hasselbeck.
Colts: With Peyton out, the Colts are a 6-10 ball club, at best.
Jaguars: Shame on the Jaguars for playing David Garrard the way they did. Maybe if he had a couple of wide receivers to throw to, they wouldn't be an up and down club like they have been under Jack Del Rio.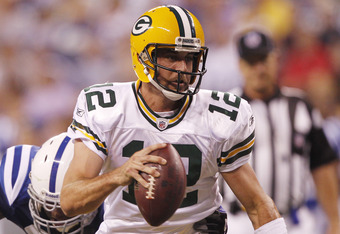 Joe Robbins/Getty Images
AFC West
Chargers: Last season, Philip Rivers was throwing TD passes to guys who, a week earlier, were sitting on their couches at home. This time around, he's got Vincent Jackson from day one. 
Broncos: Denver has an offense. If their defense can come around, they could become this year's Kansas City Chiefs.
Raiders: Oakland has speed, speed and more speed. Now they need to execute their football skills in order for their speed to be worth something.
Chiefs: Last year's Chiefs team wasn't a fluke, it was a result of a team built through the draft and smart acquisitions. The real test will be if they can put together two good consecutive seasons. 
NFC East
Eagles: The Eagles are a playoff team, whether Vick or Vince Young is under center. You can thank Andy Reid for being one of the smartest coaches in the league for putting a team this good together.
Redskins: Every season has one surprise team. The Redskins will be this year's surprise team. Led by Rex Grossman (he did take the Bears to the Super Bowl), Washington is a more complete team than most people will credit them for.
Cowboys: Last year, Super Bowl expectations got to the Cowboys. This year, a poor secondary and lack of offensive firepower will be their undoing. After Austin and Bryant at wide receiver, to whom will Romo throw? 
Giants: Injuries and mental errors destroyed the Giants last season. They should have swept the Eagles but Manning fumbled when he hit the ground and they imploded at the Meadowlands. This year, the Giants lost WR Steve Smith, TE Kevin Boss and have already lost a good chunk of their secondary. 
NFC North
Packers: Ryan Grant is healthy and the Packers didn't lose anything major in the offseason. They will take the division.
Lions: If Matthew Stafford can finally stay healthy, the Lions could upset a lot of teams. Suh should just be awarded defensive player of the year already.
Bears: The Bears were a one year wonder last season. This year, they come back down to Earth.
Vikings: Lack of receivers will hurt the Vikings. 
NFC South
Saints: The NFC South has been in existence for nine years and has had eight different division winners. The Saints make it nine in 10 years.
Falcons: The Falcons will be a playoff team but the key question will be if Michael Turner can carry another heavy workload.
Bucs: Tampa is a team on the rise, but defensively, they are still a couple of drafts and offseason's away to catch up with the talent of their offense.
Panthers: Carolina was the worst team in football last year for a reason, they stunk. Cam Newton however, should be fun to watch.
NFC West
49ers: What? Alex Smith gets another shot? Yes, yes he does. The 49ers are the most talented team in the division and amazingly, Alex Smith is the veteran of the group. If Smith can finally come around, the 49ers will win the division.
Rams: The Rams were a play or two away last year from winning the division. This year, they will need to overcome a more talented 49ers team.
Cardinals: Arizona's trade for Kevin Kolb was a risk they hope will pay off. For Larry Fitzgerald, knowing that his QB can throw it 60 yards downfield is a sight for sore eyes.
Seahawks: How do you explain a team that went from one of the biggest upsets in NFL playoff history to a starting Tavaris Jackson the next season? Pete Carroll will have all season to do such a thing. 
Super Bowl Matchup
Patriots vs. Packers