NFL Power Rankings Week 1: 3 Teams Destined to Tumble After Week 1
September 9, 2011
Jim McIsaac/Getty Images
Ranking teams in the preseason is always a risky proposition. The preseason often gives you very little insight into how well or how poorly a team will play when the regular season hits.
It doesn't take long for the teams that have been overrated to be exposed. In the NFL, no one team is good enough to beat any other if they don't play the game well.
That parity makes Week 1 really interesting.
The following are three teams that won't inspire confidence with their play in Week 1, and in turn, they will find themselves further down the rankings before next week.
Philadelphia Eagles
The Eagles are certainly talented. They have put together a collection of talent that will rival any other team in the league. They might even be the best team in the league.
It's just that there's no way they can live up to all that hype.
It doesn't help that they will be playing a pesky St. Louis Rams team. The Rams have a great core of young talent and there's no doubt that they will love the fact that they have the first shot to expose the Eagles as overrated.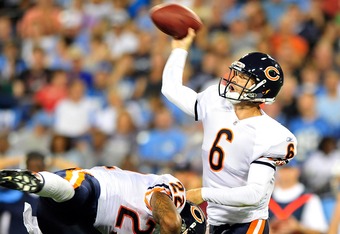 Grant Halverson/Getty Images
I'd still pick the Eagles to win, but they won't be nearly as dominant as they are expected to be.
Chicago Bears
Coming off a playoff appearance, there is hope that the Bears will continue to establish themselves as real contenders in the NFC. In Week 1, though, they will stumble out of the gate.
The Atlanta Falcons will expose the Bears defense, which has been slipping in quality for a few seasons. The Falcons don't have a great pass rush or defensive stars, but with the offensive line woes continuing in Chicago, they will look great.
Dallas Cowboys
With all the talent they have on the roster, the Cowboys are getting the benefit of the doubt with a lot of people. They missed the postseason last year, but there is a lot of hope that they will find themselves back in the picture in 2011.
In Week 1, they will face a motivated New York Jets team.
The Jets will be eager to back up head coach Rex Ryan's prediction that they will be in the Super Bowl. That's to say nothing of the fact that the Jets are just the better team at this point.
Joseph Healy's Week 1 NFL Power Rankings
1. Green Bay Packers
2. New England Patriots
3. Pittsburgh Steelers
4. Philadelphia Eagles
5. New Orleans Saints
6. Atlanta Falcons
7. New York Jets
8. Baltimore Ravens
9. San Diego Chargers
10. Houston Texans
11. Dallas Cowboys
12. New York Giants
13. Tampa Bay Buccaneers
14. Chicago Bears
15. Indianapolis Colts
16. St. Louis Rams
17. Detroit Lions
18. Kansas City Chiefs
19. Jacksonville Jaguars
20. Minnesota Vikings
21. Arizona Cardinals
22. Denver Broncos
23. Tennessee Titans
24. Miami Dolphins
25. Seattle Seahawks
26. Oakland Raiders
27. Cleveland Browns
28. San Francisco 49ers
29. Buffalo Bills
30. Washington Redskins
31. Carolina Panthers
32. Cincinnati Bengals