AFC West 2011 Predictions : A Bolt of Reality Could Come from San Diego Chargers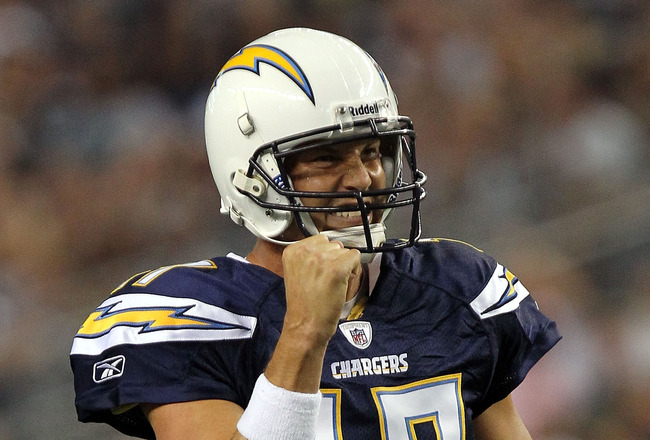 Ronald Martinez/Getty Images
While the AFC West hasn't always been the best division the NFL has to offer, it has frequently been one of the most exciting for various reasons.
Oakland Raiders owner Al Davis is one of the primary reasons. The Hall of Famer has long been a polarizing figure in professional football, and especially the National Football League.
Davis was the commissioner of the American Football League when the success of the AFL forced the bitter NFL to merge the two leagues. As head coach of the Raiders, he coined phrases like, "Just Win Baby!" as he hired players no one else wanted and won consistently with them.
As owner, he has moved the team to Los Angeles and back to Oakland, as he took the NFL to court several times over different disputes. As history always does to a franchise, the Raiders have recently gone through a rough patch of losing.
This has caused some quasi-football fans, which recently included a member of the media best known for calling play-by-play at an Olympic hockey game 31 years ago, to question Davis' sanity and ability to lead his team to winning ways again.
The Raiders biggest rival may be the San Diego Chargers, the team Davis began his pro career with in 1960. San Diego has won the AFC West in five of the last seven years, but fell short of reaching the Super Bowl each time.
The Kansas City Chiefs are the defending champions of the division. This team has been rebuilding after 10 wins over the previous three years before 2010. They return with an improved roster looking to have an even better season.
The Denver Broncos may have the distraction of third-string quarterback Tim Tebow, but it helps in a way. As the media focuses on this fan favorite, the Broncos let their last fan favorite, John Elway, rebuild the team.
Three teams are expected to battle for the division crown in 2011. Kansas City and Oakland are known for being excellent rushing the football, while the Chargers tend to lean on the arm of Philip Rivers.
Maybe no AFC West team is considered amongst the best in the league right now, but this division will most likely have another exciting finish where the division crown is decided in the final week of the 2011 regular season.
1. San Diego Chargers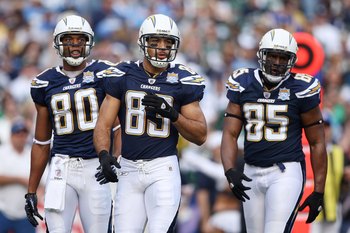 Donald Miralle/Getty Images
How does a team that lead the NFL in offensive yards gained and defensive yards allowed, as well as being ranked second in scoring, finish 9-7 and miss the playoffs? It is done by having journeyman head coach Norv Turner at the helm.
Turner somehow kept his job this year, just like he somehow keeps getting hired after being fired. San Diego is the sixth team he has coached since 2000, and he has been with San Diego since 2007.
San Diego brings back most of the offensive talent that made them so productive in 2010. They did lose defensive coordinator Ron Rivera, now the head coach of the Carolina Panthers. Greg Manusky takes over for a unit that has many changes.
Donald Butler and Takeo Spikes might be the new inside linebackers for the Bolts. Spikes enters his 14th season, and the two-time Pro Bowler is solid. Butler spent his 2010 rookie season injured after being drafted in the third round. Steven Cooper, a Charger for eight years, is in the mix.
Seven-year veteran Travis LaBoy joins San Diego this year and is expected to start at outside linebacker, in spite of missing most of the last two seasons to injury. Bob Sanders, the 2007 NFL Defensive Player of the Year, tries to reignite his career after playing just nine games total in the last three seasons.
If the defense stays healthy and gels, the Chargers will be a dangerous team. They found out last year that Mike Tolbert could do the job at halfback after Ryan Mathews got hurt.
The versatility of their offense will give opponents headaches. San Diego could very well represent the AFC in the Super Bowl. That is if Norv Turner doesn't get in their way once again.
2. Kansas City Chiefs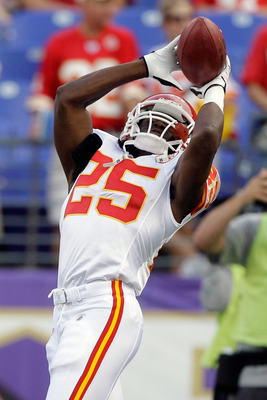 Rob Carr/Getty Images
One of the biggest offseason moves for the defending AFC West champions was the changing of offensive coordinators. Bill Muir, who has NFL experience as both a defensive and offensive coordinator, takes over for Charlie Weiss after Weiss suddenly bolted back to the collegiate ranks.
Muir's first duty is to keep the running game going after losing their five-time Pro Bowl guard Brian Waters. Ownership chose not to pay the 34-year old despite a 2010 Pro Bowl year.
Kansas City will also need to find a way to use 2010 second round pick Dexter McCluster. The tiny running back wasn't used much on offense last year, mainly lining up as a kick returner.
Jonathan Baldwin, the Chiefs top pick this year, has had a tough training camp where his attitude has been questioned. He had just one reception this preseason.
Scott Pioli, Kansas City's general manager, did make some good moves. He signed Steve Breaston, an exciting wide receiver and punt returner. But veteran defensive lineman Kelly Gregg may have been the Chiefs best signing, because the veteran nose tackle has a non-stop motor and knows how to win.
Le'Ron McClain left the Baltimore Ravens, like Gregg, to join the Chiefs. He is a fullback who can block, catch, and be the feature running back if needed. These three veterans are expected to help immensely in 2011.
Kansas City had the top rushing attack in the NFL last year. The defense was average, but this mostly young unit is expected to be better this year.
The Chiefs definitely have the talent to win their division again, and the experience they gained last year will certainly help. The passing game, which was one of the worst in 2010, needs to improve to push this team from division contenders to Super Bowl contenders.
3. Oakland Raiders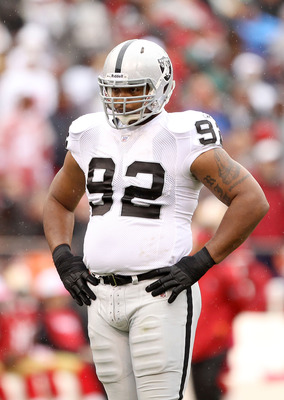 Ezra Shaw/Getty Images
What AFC team has a group of running backs as good as Oakland? The depth of quality at this position might be unmatched throughout the league.
What holds the Raiders back offensively is a young group of wide receivers not playing up to their potential yet. Jason Campbell, who will be playing quarterback in the same system in back-to-back seasons in one of the few times since his high school days, had the youngsters stay at his house this summer as they worked on getting better together.
The results of this sage move will be seen in 2012, but Oakland fans want to see Darrius Heyward-Bey to show why he was the seventh overall selection in the 2009 draft. He has just 35 receptions in his career, and has showed little progress as a player so far.
The offensive line, long a sore spot for Oakland, has seen many changes. The left guard position now has rookie Stefan Wisniewski instead of the departed Robert Gallery. The best move might take a few years to notice.
Oakland hired Raiders legend Steve Wisniewski to coach the unit, a man known for being nasty, tough, and consistent in a career worthy of the Pro Football Hall of Fame. He will mentor this unit, which includes his nephew Stefan, to play the game with the same attitude that he had.
The Raiders run defense has been horrible for many years, but young middle linebacker Rolando McClain is making excellent progress. He is also much better against the pass than advertised.
The pass defense, which was very good on 2010, lost the best cornerback in football, Nnamdi Asomugha, to free agency. They are confident that their anointed starters will do fine, but the reserves are the question when they use extra defensive backs.
Rookie Demarcus Van Dyke will be counted on, but Oakland may not have enough quality depth in their secondary. Joe Porter, who has bounced around the league on practice squads since 2007, will be the other reserve cornerback.
Oakland came close to the playoffs last year, and they expect to get there this season. A great running game can carry a team a long way, but the usual questions of their passing game and run defense may curtail aspirations.
4. Denver Broncos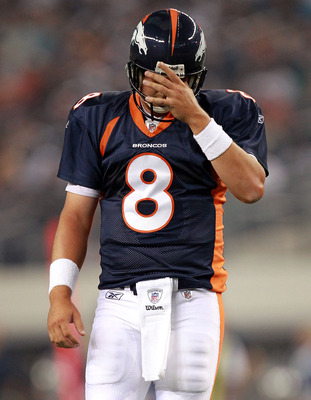 Ronald Martinez/Getty Images
Tim Tebow fans will get their fix on certain plays throughout the season, but Denver needs starter Kyle Orton to man the quarterback position all season if they want a chance at success. Orton, while not spectacular nor flaunted by the media, is a solid player who makes sound decisions.
Orton needs Denver to have an effective ground game. Knowshon Moreno has been good during his first two years, churning out 1,726 yards, but the acquisition of veteran Willis McGahee with save him a few hard hits around the goal-line especially.
Brandon Lloyd was one of a few wide receivers to come out of nowhere to star for their teams in 2010. He is Orton's favorite target, and also the most consistent.
John Fox was hired as the head coach this year to fix the defense. Von Miller and Raheem Moore, both drafted in the first and second rounds this year, will start at linebacker and free safety respectively.
Brodrick Bunkley was acquired in a trade to start at defensive tackle. Losing veteran Ty Warren to injury hurts the run defense, but graybeards Brian Dawkins and Champ Bailey will be there to clean up any mistakes.
The run defense has looked a bit better in preseason, but time will tell. Hall of Famer John Elway was brought in to rebuild. Hiring Fox was the first step, but progress might not be blatantly seen until 2012.
Keep Reading

San Diego Chargers: Like this team?