Tampa Bay Rays Must Sweep Boston Red Sox
September 8, 2011
Al Messerschmidt/Getty Images
The Tampa Bay Rays must sweep the Boston Red Sox or they can kiss any hopes, dreams and wishes of the wild card this year goodbye.
For Tampa Bay, the playoffs at times have been as close as first base. The problem is they know how to get to both but just can't seem to hit the ball consistently enough to make it.
Now they find themselves seven games back of the Red Sox in the wild-card race with 20 games remaining for both teams. It would appear to most that the window of opportunity has closed for Joe Maddon's team
The last chance at success lies in the seven head-to-head matchups remaining between the two teams.
Defeating the Red Sox in seven straight games is an impossible mission that the Rays have no choice but to accept. Boston will be without pitchers Clay Buchholz and Josh Beckett giving the Rays more favorable pitching matchups for Wade Davis, Jeremy Hellickson and James Shields.
Following an offseason filled with departures and bargain-basement additions, it is surprising that the Rays still have a chance to catch the Red Sox.
This season for Tampa has been surrounded by a cloud of negativity. It started with depressing ambitions after losing Carl Crawford among other stars. Throughout the season there has been a big pink polka-dot elephant in the room about the team's stadium situation and subpar attendance numbers. Now the season is coming to a close with continued cries about payroll, spending and lack of power hitters holding the team back from success.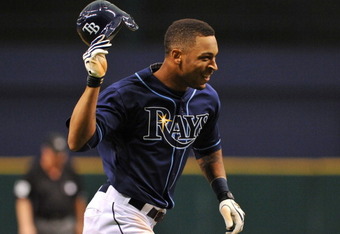 Al Messerschmidt/Getty Images
This team has their destiny in their own hands despite what the standings say—seven head-to-head matchups against the team they are seven games behind.
If the Rays lose a single game to the Red Sox, you can not only stick a fork in them, you can pour some gravy on them too because they will be done. Period.
No pressure.
Jamal Wilburg is a Featured Columnist for Bleacher Report.
Follow his thoughts, insights, and ramblings on Twitter @JWilburg