Detroit Lions: Key Matchups to Watch Against Tampa Bay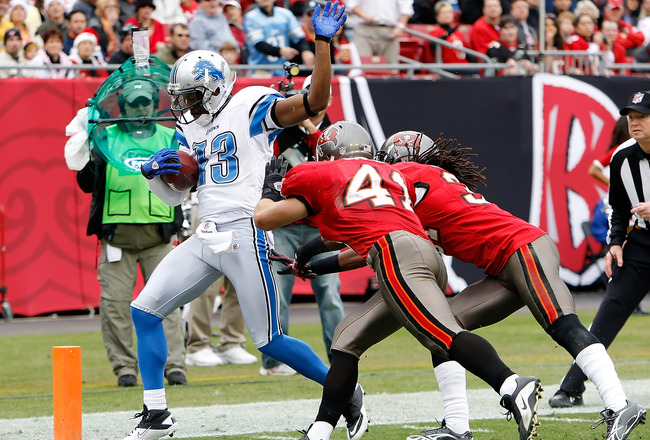 Burleson TD against Tampa Bay
J. Meric/Getty Images
Over the course of this regular season I will be targeting key matchups in every game. It's always nice to be able to start off on a positive note, which has become increasingly easy to do this year as a Detroit Lions fan. There are some very exciting matchups to watch for this season and Tampa Bay should prove to be an important one.
It will be the first time that everyone will be able to witness how well this Lions team plays in "real" time. Even though Detroit was impressive during the preseason, they would be the first to tell you that the next 16 games are the only ones that matter now.
Last year, the Lions beat the Buccaneers in a nail-biting overtime game on the road. It marked their first road win since 2007. It was also the second win in what would be a four-game win streak to end the season for Detroit and a Tampa Bay loss that would put them out of playoff contention.
In a recent Detroit Lions Blog, Calvin Johnson summed up his thoughts about that critical game in 2010 this way:
"We just wanted to go down there and get a win against a team that was pretty good at the time. We felt we matched up well against them. We still feel the same way about it this year."
You can bet that the Bucs will not want to repeat their loss to the Lions this year. However, the Bucs will be up against the first-string players and a much improved O-line and secondary this time. Last year, both teams were beat up by the second half of the season and were missing valuable players. That fact and the streak they have been on in the preseason will only help strengthen the resolve of the Lions this year.
It's early in the season but this game could end up being an ironic one. The Lions desperately needed a win last year, especially one on the road. That win against the Bucs shook one of the demons off the Lions backs. This year they start their season against the Bucs on the road. The Lions are no longer hoping to show that they can be a dangerous dark horse but that they are a legitimate force that should be taken seriously week after week, regardless of which team they play against.
This time this game is about making a different statement.
Not one about knocking a good team out of playoff contention but one of the Lions beginning a season that could lead them to the playoffs.
To make this statement the Lions will be looking for several key matchups. The kind that begin and end with being on the winning side.
For die-hard Lions fans, the saying that we drink a lot of Honolulu Blue Kool-Aid and eat a lot of corn bread can be said with a much lighter tone this year. Both of these references were euphemisms regarding the "blind optimism" that Lions fans start every season out with. We needed and chose to be optimistic even through the toughest of years.
This year feels different.
Tom "Killer" Kowlaski knew that too.
In what would be his last interview about the Lions, Killer stated, "I think they're going to be a good team... I think it's going to be one of the most fun teams to watch in years, because I think they're going to score a ton of points."
He was reserved about how well the Lions would do and predicted an 8-8 season. But I'll risk saying that Killer is probably feeling pretty great about the Lions where he's at now—eating a lot of cornbread and drinking a lot of Kool-Aid just because he can.
Killer knew this team was different. He, like the rest of us die-hard fans, have witnessed a change in Detroit.
So drink up the Kool-Aid and eat miles of cornbread, my friends, but do so out of love and respect for this team. We have waited a long time for this group to gather. All we can do now is cheer them on and watch it unfold.
Here are a few of the matchup areas to watch for on Sunday.
The Running Game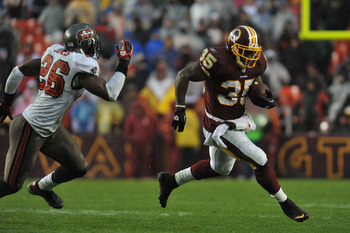 Keiland Williams vs. Tampa Bay (2010)
Larry French/Getty Images
The running game will likely be a key matchup in every game this season. The main reason for this is that the Lions have a good passing game but need their runners to step up and make critical gains on the field.
For the Lions, the issue of getting a running back who might be able to fill in for Mikel Leshoure became a priority as soon as it was confirmed that their rookie would be out the whole season. Head coach Jim Schwartz has never publicly stated any concern about the running game but watching the players come and go during the preseason told its own story.
The Lions brought in Mike Bell and Jerome Harrison. Mike Bell got cut and Harrison only began to show signs of getting some good runs in against the Buffalo Bills. Throughout the preseason, Harrison amassed 131 yards in 37 rushing attempts and four receptions for 49 yards.
Harrison made the 53-man roster but Schwartz still had his eye out for a runner who could compliment their system. Here is where fullback/running back Keiland Williams comes in. Harrison is 5'9" and weighs 205 lbs. Williams played fullback while with the Washington Redskins which generally means a bigger back and at 5'11", 230 lbs. that is certainly true.
Schwartz sounded confident about Williams in a Lions blog posted by Chrissie Wywrot.
"(Keiland Williams) was very productive in his role last year for the Redskins," said head coach Jim Schwartz of the second-year player out of LSU. "(He) scored some touchdowns, caught a lot of passes, played on third down—did a lot of different things that we liked when we saw him...I think we were very lucky to get him."
Though it is not yet known how much playing time Williams would actually get against Tampa, it would be tempting to use him in 3rd-and-goal or any short yardage situation. Harrison and Williams could each see time on the field this weekend. Harrison would seemingly have the edge in knowing more about Detroit's running plays but Williams could have the edge, because of his size, in specific packages.
The running game will be scrutinized regardless of who gets playing time. We didn't see a lot of production out of Jahvid Best this preseason however, the O-line began to shore up their role in opening lanes so we should see better production out of everyone.
There is a small bit of celebrating to do regarding the running game so far. During the 2010 preseason with a healthy Best and Maurice Morris, the Lions accumulated 487 rushing yards. This preseason, with Best having limited time on the field, jostling several running backs and Morris out with an injury, the Lions still posted 536 yards on the ground.
You can already see where this is going, can't you?
Offensive Line Must Create Running Lanes and Protect Stafford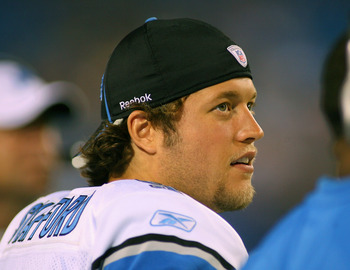 Rick Stewart/Getty Images
The offensive line had a few adjustments to make with left tackle Jeff Backus being out for the preseason. However, the line did well in protecting all four QBs allowing only three sacks and visibly began opening running routes for the backs.
The problem appeared to be that there wasn't great communication between the running backs and the rest of the line. The openings were there by the third preseason game but rarely did any of the backs use them. This will be one of the challenges for the young or new backs as they have to be able to trust the line to continue to open holes and protect the runner as well as the QB. No small task.
I'm not going to bite down hard on the bit about Stafford being "accident-prone." That entire issue has become more than just a little irritating. He's much stronger than he has been in years, his surgeries were successful, and the line is much better (even though they actually did a good job last year protecting the QBs, overall).
We know that Stafford needs to stay healthy and upright just as any starting QB needs to. The good news is that the Lions have shown they can win with their backups too, in case they are needed, so for the love of God can we please just let that go? Thank you.
Last year, Stafford didn't play in the game against Tampa so this will be a chance for him to show what he can do against a very good defense. The Bucs picked up defensive tackle Gerald McCoy in the 2010 draft and cornerback Aqib Talib, who did not play against the Lions last year, will both be healthy to play against them on Sunday.
Aqib Talib is reportedly looking forward to being matched up against Calvin Johnson.
When asked what will make Talib such a challenging opponent, Johnson replied, "I don't know. All I know is that we are going to go out there and execute our game plan. It's all about us.
"We're not worried about what they do. If we do what we do, it's going to be fine."
Suh and McCoy won't face each other in a matchup but that doesn't mean they aren't feeling competitive and both want their teams to come out with a win.
Suh is looking to make it two in a row.
"We feel that we can go into any place and come out with a win," he said.
McCoy feels just as convicted.
"We're looking toward the future and the things we've got to get done this year," he said. "Our first task is we beat the Detroit Lions."
Defensively, the Buccaneers also added Adrian Clayborn and Da'Quan Bowers to bolster their line and put more pressure on the QB. Rookie MLB Mason Foster was brought in to help improve Tampa's run stopping ability as they ranked 28th against the run last year.
All of the new faces on the Bucs defensive line bring challenges to both teams. Stafford appears to be approaching this game as he would any other. He respects what they bring but also knows that he has to positively command his team.
"I think we carry momentum from every win we get," said Stafford. "We ended the year with four, which is good for us. We've won four games in the preseason, whatever that's worth.
"But I think once the ball's snapped it's a new game—it's a new play every time."
"All of (the games I had to watch from the sideline) were tough—whether we won or lost," said Stafford. "(But) that's behind me now. I'm just going out there to play and try to lead this team."
As noted on the Lions' official homepage itself, the Lions and Bucs are "similar in many ways. Both are made up primarily of young players with experienced veterans sprinkled in; both are led by third-year quarterbacks and both have a stout defensive line."
Offensive coordinator Scott Linehan said the key for Stafford against Tampa Bay will be to avoid putting any extra pressure on himself.

"Matthew is way ahead of his time when it comes to his approach to the game, executing the offense," said Linehan. "He just has to understand, just like he does every game, that the way our team is built now, he doesn't have to do it all. There have been a lot of guys added that will be able to take the pressure off of him.

"He just needs to go out and enjoy the game, let the playmakers in the passing game do the work and hopefully our running game can take pressure off as well, so we can play well."
Defensive Line Has to Stop the Run and Be More Effective Against Freeman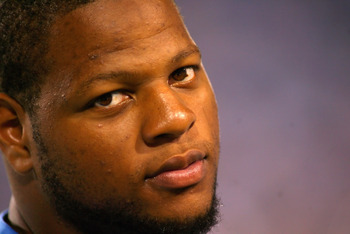 Rick Stewart/Getty Images
As intimidating as the defensive line is and plans on continuing to be, they have to be more effective at stopping the running game.
The D-line struggled a bit in the preseason to stop the run which is an issue that plagued them last year also. They are well aware that they need to get to the running back faster and shut the rushing game down which is why they brought in Stephen Tulloch and Justin Durant in the offseason.
Legarrette Blount is a credible and formidable target for Josh Freeman and someone that the Lions will have to be effective against. After rushing for 1,007 yards last year (an NFL rookie best), Blount has shown that he can best most defensive lines. The difference this year is that the Lions know what they are up against and will have a game plan to address both the running and passing game.
The defensive line also knows that they have to do a better job of getting to Bucs QB, Josh Freeman. Last year, the Lions sacked Freeman three times for a loss of 25 yards. Schwartz expects them to put more pressure on the passer this year.
"They have an outstanding quarterback," said Schwartz. "A very mobile quarterback that was difficult to get down. We rushed well last year, but we didn't get him on the ground enough.
The Lions have a great defensive line who showed this preseason that they have created a force predicted to be even better than last year.
The Bucs will put the Lions defense to the test. But I wouldn't expect Suh, or anyone else on the line, not to come out looking to end any questions about their ability to do whatever it takes to help the team win.
This matchup should be very exciting to watch.
Last but Not Least – Lions Cannot Shoot Themselves in the Foot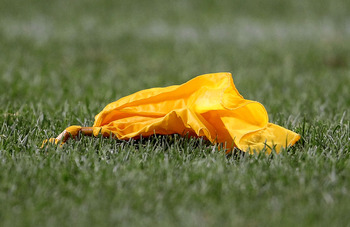 Jonathan Daniel/Getty Images
The Lions, above all else, need to keep their penalties at a minimum and their belief in who they are now at a maximum. They have to continue to see themselves as a winning franchise and no longer a losing one. They have see the light at the end of the tunnel and come out of it as the champions we all know they are.
There are always jitters during the first regular season game. But the Lions have to keep their penalties in check and keep playing with the quiet storm we saw at the end of last season and all throughout the preseason.
This team needs to show that they are just as good if not better than they appear to be on paper. They have to come out strong and finish strong.
Just as Stafford and Johnson alluded to, this game, as each one during the season, should be regarded in its own right. They need to play each game as if it is the only game that counts, regardless of their opponent.
This Detroit Lions team is better than any we have seen in decades. Now we have to allow the season to play out and keep the faith in who we know they are.
Keep Reading

Detroit Lions: Like this team?