Peyton Manning Injury Proves He Is NFL's MVP, Even If He Doesn't Play a Game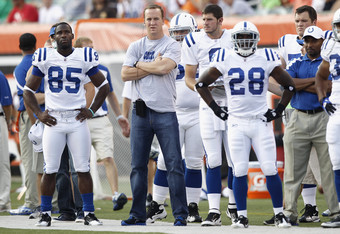 Joe Robbins/Getty Images
The day has finally come as the first report of the Indianapolis Colts' Peyton Manning being ruled out for the entire 2011 NFL season has emerged.
Should this report prove to be true and the future hall-of-fame quarterback doesn't play a down this year, then the NFL and its fans will finally realize that Peyton Manning is the most valuable player throughout the whole league.
Without Peyton Manning the Colts are likely to plummet to the bottom half of the NFL and potentially be a part of the Andrew Luck sweepstakes. However what many people are underestimating is just how important Manning is for the NFL as a whole.
Manning may not be the reigning MVP but he was the highest rated player currently still playing on NFL Network's Top 100 players of all time. Manning is the most celebrated player throughout the whole league as far as awards go with 11 Pro Bowls, five first team All-Pro selections, three second team All-Pro selections and one Super Bowl MVP as well as being named to the 2000's all decade team.
He also has a flurry of NFL records but what really makes Manning stand out is the fact that he is the only player in league history to win the MVP award four times.
One of the records that Manning holds is the most consecutive starts to open a career as he has started every single one of the 208 games in his 13 year career. The younger fanbase of the NFL probably cannot even remember a time when Manning wasn't in the league.
Manning in my mind is the most exciting player in the league. The idea that he will not be playing this season is devastating to me as a football fan. I'm not a Colts fan—I couldn't care one way or the other if the Colts win 16 or zero games this year.
However the idea that I won't get to see his surgical precision and chess like control of his offense every Sunday is much worse for the NFL as a whole compared to the last similar loss.
When Tom Brady tore his ACL in the opening game of the 2008 season his presence was missed throughout the league. However outside of New England there weren't that many people up in arms because while Brady is fun to watch, he is essentially just another accurate quarterback as far as style of play.
Brady doesn't dismantle and diagnose defenses in the way that Manning does. He doesn't act like his own coach on the field to the point that most people think that Jim Caldwell is just another consultant on the sidelines.
The fact is not a single quarterback in the league could run the offense that Manning runs in Indianapolis. Tom Brady and Aaron Rodgers may be stars who can excel to greater heights but neither of those two carried the weight that Manning carried for the Colts.
His accuracy and ability to anticipate defense's actions is obviously unbelievable but it is the complexity and awareness that makes it seem like you are watching the most exciting game of chess on the field every Sunday.
NFL fans won't realize how irreplaceable Manning is until he is gone.
Kerry Collins or Curtis Painter certainly cannot replicate the performances of Manning this year. With either of those players under center we will finally understand just how poor the Colts' offensive line is and how little they offer as a running team.
Manning to me is the face of the NFL. When I watch him play it is what most excites me about the whole notion of a professional athlete.
He is more talented than 99 percent of the quarterbacks in the league but he still works harder than anyone else. He studies the game and competes as if he were an undrafted rookie on every snap and you can see the frustration on his face whenever things don't go as planned.
Manning is also very selfless. He is the perfect teammate because he repeatedly works with his receivers in the offseason because he understands that this is a team game. He may look like a father scolding his child when things go wrong on Sundays but that just reflects the standards that he holds his team to.
He may have only won one Super Bowl but that can't all be laid at his feet. The fact is you can only be a perfect teammate and win in team sports with a great team, not a great player. Undoubtedly Peyton Manning is a great player.
There are plenty of players with passion in the NFL and in a similar way to when Ray Lewis retires, even those that despise him will respect him because they will understand what they have lost.
Tom Brady or Aaron Rodgers may continue to be elite all-pro players and ultimately land the MVP award come season's close, but I know what player will be the most valuable for this year. The scare of losing him has made me realize what we all have and don't fully appreciate.
The days of watching greatness from Peyton Manning may be over... Just think about that for a second.
Whether you are a Texans, Titans, Jaguars, Patriots or Chargers fan...or even a Steelers fan like me...at some point during the season you will sit down and realize that the NFL really isn't the same without Peyton Manning.
It's much much less valuable and enticing.
Chirping..I mean tweeting @Cianaf
This article is
What is the duplicate article?
Why is this article offensive?
Where is this article plagiarized from?
Why is this article poorly edited?

Indianapolis Colts: Like this team?