Adrian Peterson: What Chris Johnson's Extension Means for Minnesota Vikings' RB
September 8, 2011
Jim McIsaac/Getty Images
Chris Johnson may have made a statement with his lengthy holdout ending with $30 million guaranteed, but what does his extension mean for Adrian Peterson?
Peterson's $10.72 million contract is set to expire after the 2011 NFL season and the Vikings will have no other choice but to pay their franchise running back after this year.
But Chris Johnson's extension may have inadvertently set the tone for Peterson's pending contract talks.
Contract talks are still being discussed internally according to RotoWorld.com, but Peterson himself had confusing viewpoints on the matter. From 1500 ESPN:
"I don't think it helps me at all," Peterson said, clearly not enjoying the subject matter. "Chris Johnson is with the Titans and we're two different players in two different situations. I don't think it has anything to do with a deal getting done for me...

"I look at his contract as being his contract and the thing is they put (it) together for him. Whenever a deal gets done for me, then it's going to be my own separate deal. So I don't think it has anything to do with his."
On the one hand, we could assume that Johnson's holdout set a precedent: hold your ground, and you will get the money. But on the other hand, we don't exactly know if Peterson will take the same approach if the matter is still on the table.
Peterson will be a five-year back at the end of the season (entering his sixth year in 2012) which is surely to be factored into the decision process—no five-year back is worth $30 million guaranteed.
But Peterson could demand close to—if not more than—the type of money that Johnson received, especially if he has a banner year.
The question is again posed: What does Johnson's contract extension mean for Peterson?
Adrian Peterson is one of the elite backs in the NFL today, and he in fact does deserves a hefty pay raise from the Vikings organization, but I do not believe they will fork over the farm for a guy who has five years worth of wear on his tread.
Do the Vikings need to lock up Peterson? Absolutely. Is Peterson worth a hefty pay raise? Absolutely. Is he worth the type of money Johnson received? I'm not so sure.
It isn't a matter of the player in question, but rather a matter of age, business and economics.
The Vikings have to lock up their franchise player, no doubt. But they also have to err on the side of caution regarding the amount of money it will take to do so, simply due to his tour in the NFL.
Running backs have the shortest shelf life out of all the position players in the NFL, so when a team sits down to discuss a single contract with a running back with a ton of value, they still need to take into account how long the player is projected to last.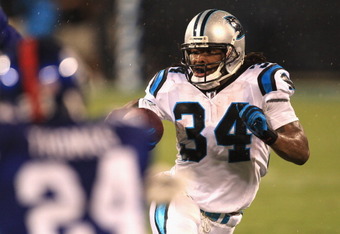 Streeter Lecka/Getty Images
Durability reigns supreme here, and running backs beyond their third year tend to lose significant durability.
Take, for instance, DeAngelo Williams who recently signed a five-year deal worth $43 million with $21 million guaranteed. Williams enters his sixth year, but has been on the decline since 2008. His age and wear really caught up with him in 2010 allowing him to compete in only six games.
Bad investment.
Or, how about Frank Gore? The 49ers recently agreed to terms with Gore on a three-year, $21 million deal with $13.5 million guaranteed, but Gore has been up and down since 2007. Gore, too, felt the ravages of age as he was shut down for five games in 2010.
Better investment; limited financial risk.
What's the point to all of this? The decline began AFTER their third year or so, with their sixth year finally catching up with them.
So what about Chris Johnson's contract?
Chris Johnson is a younger back who picked just the right time to hold out his hand. Johnson is at the peak of his career averaging 1,536.6 yards and 11.3 TDs a season, and even if he begins a decline in 2011, his numbers should still be just as good as the aforementioned backs—Peterson included.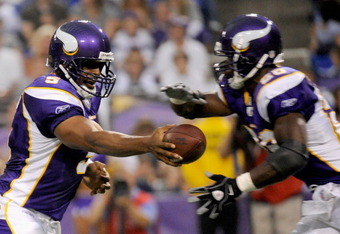 Hannah Foslien/Getty Images
But Peterson will be in a different position; one that could force him to say to himself, "I need a long-term deal more than I need an inflated paycheck."
Will he still get great money? Probably, but not quite as much as Johnson in my opinion.
Peterson has averaged 1,445.2 rushing yards and 13.5 touchdowns per season in his first four years in the league, and we can assume he will, at the very least, get close to achieving similar numbers in 2011.
After that, it's anybody's guess.
With everything considered, Chris Johnson's extension really does has very little to do with Adrian Peterson, despite all eyes now being on the Vikings and what they will do with him.
Johnson is Johnson, and Peterson is Peterson—plain and simple.
If anything, it simply puts more pressure on the organization to get a new contract hammered out.