Lions vs. Bucs Week 1 Preview: the Offense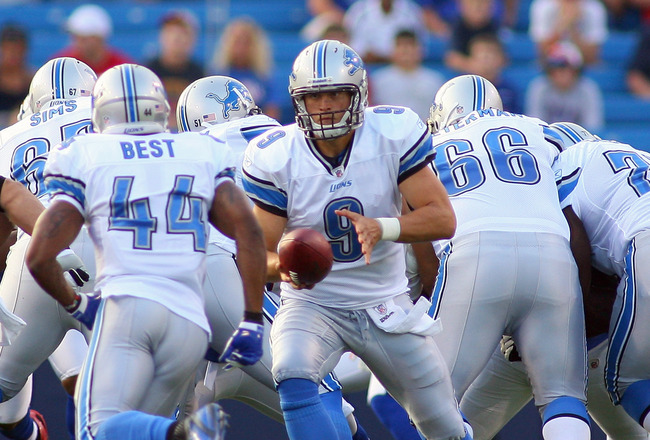 Rick Stewart/Getty Images
Much of what we need to know about the 2011 edition of the Detroit Lions will be learned this Sunday when the Lions open the season in Tampa Bay.
I've been around for awhile, but never have I seen such an overwhelming sense of excitement and anticipation for a season that has yet to unfold.
Heck, even the wives and girlfriends are excited.
"Baby doll, have you seen the sports section?" I hear a muffled voice coming back to me from the bathroom: "I'll be done with it soon."
See what I mean?
So, just what will we learn come Sunday? I'll break it all down for you here. First, let's preview the offense.
QB Matt Stafford Really Is Sensational
Leon Halip/Getty Images
The QB has been on a mission and is headed for a breakout season. Those preseason performances were no fluke folks, and Stafford will put up some dazzling, MVP-like numbers when the smoke clears.
We will no longer hear that tired old cliché about Stafford's health. The buzz around the league will be "How do you stop Stafford?"
Lions Wide Receivers Will Have a Field Day
J. Meric/Getty Images
The Bucs will be the first to learn the hard way that single coverage on WR Calvin Johnson is a fatal mistake. Tampa Bay is pinning its hopes on CB Aqib Talib as the remedy. Talib didn't play in last season's Lions' victory, where Johnson caught 10 balls from Drew Stanton for a whopping 152 yards.
Not to be outdone, Nate Burleson has returned to the form that threatened Randy Moss' starting job when both played for Minnesota. Nate looked like Stafford's favorite target in the preseason, and the two have this Zen-like connection that makes them fun to watch.
Add by subtraction that Derrick Williams and Bryant Johnson have been replaced by Maurice Stovall and rookie phenom Titus Young, and you have a deep, talented corps of targets for Lions QBs.
No Running Game? No Problem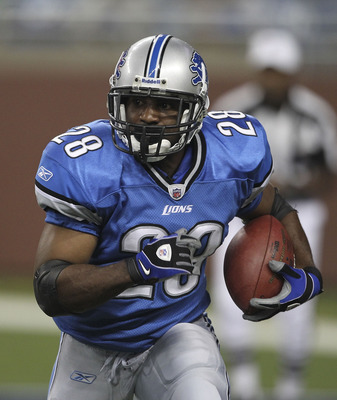 Leon Halip/Getty Images
In 2010, the Lions snapped the ball out of the shotgun 64 percent of the time, leading the NFL. Expect the Lions to continue the trend as they are a pass-first offense.
Fans are concerned about the lack of an effective running game. Jahvid Best and Jerome Harrison didn't exactly light it up in the preseason, did they? No, but both are home run threats in the passing game.
The Lions will add two new weapons to the running game this week. Maurice Morris, who gashed Tampa Bay for 109 yards on 15 carries including a 26-yard TD last year, returns to action after suffering a broken hand in training camp.
The newest weapon is free-agent Keiland Williams, the 5' 11", 230- pound bowling ball who is eager to play in a two-point stance again after being used as a fullback by the Redskins.
Has GM Martin Mayhew, the ultimate dumpster diver, found the answer to the convalescing Mikel LeShoure? We could have the answer Sunday afternoon.
Lions Tight Ends Finally Get Their Due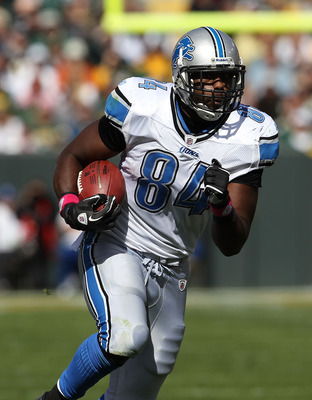 Jonathan Daniel/Getty Images
As if the Lions' passing game wasn't potent enough, Stafford loves to target Brandon Pettigrew and Tony Scheffler early and often. When the Lions use two TE sets, it's almost unfair to an opponent's defense.
The tandem of Pettigrew and Scheffler will finally gain national notoriety as an elite unit in 2011.
The Offensive Line of 2011 Will Be the Offensive Line of 2010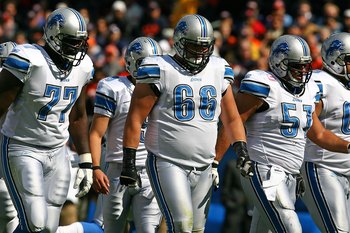 Jonathan Daniel/Getty Images
No surprises here. The O-line will be every bit as good in pass blocking as they are bad in run blocking. If this unit plays at the same level as it did last year, Lions fans will be the same mixed bag of kudos and cat calls.
Some things, after all, will never change.
The Bucs defense in 2011, however, is not the Bucs defense of 2010. DT Gerald McCoy is back, and the Bucs drafted well for their defense with the addition of DE Adrian Clayborn, DE Da'Quan Bowers and MLB Mason Foster.
Expect the Bucs to bring every blitz known to man, and then some, in an effort to mitigate Stafford's effectiveness. If the offensive line and running backs can give Stafford two seconds, the Bucs will pay a heavy price for their aggressiveness.
Which Offensive Coordinator Will Show Up?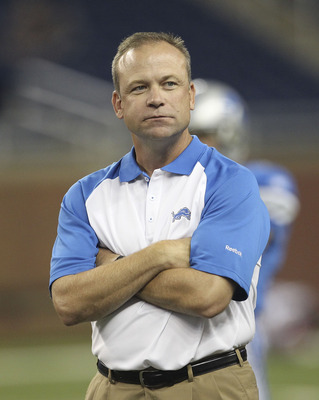 Leon Halip/Getty Images
Last year, OC Scott Linehan was uncharacteristically bland and conservative in his play-calling after QB Matt Stafford was injured.
Especially on the road.
It wasn't until he was comfortable with QBs Shaun Hill and Drew Stanton that he opened up the offense again.
The Lions are playing a big road game in Tampa. Will Linehan play it safe or will he be the swashbuckling play caller that we saw in the Patriots preseason game?
My money is on the latter, unless the Bucs ruin the Lions' coming out party with a superlative defensive effort.
Keep Reading

Detroit Lions: Like this team?