David Garrard Being Cut by the Jacksonville Jaguars Makes Him "Just Like Us"
September 7, 2011
Sam Greenwood/Getty Images
Yesterday, David Garrard was set to make $9 million for the 2011 Jacksonville Jaguars as the team's quarterback.
Today?
Exactly zero American dollars as one of the growing legions of this country's unemployed.
Truth be told and dramatics aside, a team will sign him. While Jack Del Rio did cite some issues with Garrard coming up to speed on the new playbook, we're still talking about a quarterback that finished 2010 with a 90.8 quarterback rating while tossing the ball to one of the most putrid receiving corps in the NFL.
Someone will be happy to have his services under center—just not to the tune of $9 million in cold, hard, cap-killing cash.
You do have to wonder if he ever thinks back to last season and the two picks he threw in the overtime loss to the Redskins, or his no-touchdown, one-pick game in a four-point loss to the Giants.
Without either of those less-than-stellar performances, the Jags may not have had the 8-8 draft position to grab Blaine Gabbert, and the Jaguars rebuilding process takes a path that involves David Garrard in 2011.
Regardless, the move was one of those ESPN BottomLine reminders of how brutal the business of NFL football can be. One minute you're slated to be a starting quarterback; the next, you're literally unemployed.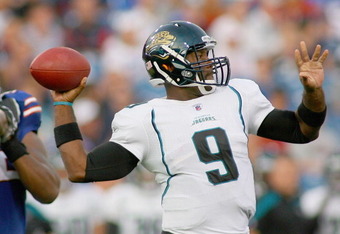 Rick Stewart/Getty Images
Is it fair?
That's the question that always plagues me. How is it fair that one moment a guy is set to be a multi-millionaire, and the next, he doesn't have a job. Or maybe "fair" is the wrong word. How about the word "normal" instead? In what other industry do people go from making millions to zilch over night? Not even CEO's have that problem; they always have a little golden parachute stowed away somewhere.
Perhaps, the closest are those legions of unemployed; those that had a job one day and lost it the next. The financials are, of course, extremely different. You'd hope that a guy like Garrard (who by all accounts is smart, extremely kind and family oriented) has squirreled away enough of his seven-figure salaries over the last few years to not have to worry about money ever again.
But the parallels in structure, between the NFL and a laid-off worker, still are strikingly similar. The NFL owners can cast off their commitments to players without much repercussion and leave these guys to completely fend for themselves, who are often without a college degree.
And like Garrard's sudden firing, workers can usually look back to their "games against the Redskins and the Giants" and ponder how what they could have done differently to save themselves—all while slowly facing the fact that they'll have to recalibrate how they exist in the job market, how they'll reinvent themselves with someone else.
So is Garrard's firing fair? Who knows. You'd have to settle your opinion and ethical outlooks on an employer's role in anyone's life first.
But, minus the dollar figures, Garrard's sudden firing does seem normal.
[Caleb says other stuff at www.twitter.com/calebgarling]