NFL Trade Speculation: Carson Palmer Could Solve Washington Redskins QB Issues
September 7, 2011
Andy Lyons/Getty Images
It's just plain silliness that the Washington Redskins have Rex Grossman as their starting quarterback, barely besting Josh Beck for the job.
Instead of having an underachieving good-and-bad Grossman, the 'Skins should go after disgruntled Cincinnati Bengals quarterback Carson Palmer.
As Bleacher Report's Andrea Hangst writes, there is no way Cincinnati fans will see Palmer suiting up in Bengal black and orange ever again.
Owner Mike Brown has incentive to trade Palmer, as he still has value for a team like Washington, who has Grossman (40 career touchdowns to 40 interceptions and 7,081 yards) and Beck (107 career pass attempts) to fill the quarterbacking void Donovan McNabb left.
Palmer does not like owner Mike Brown and refuses to play another game for the Bengals.
So, since the Cincy offense has practiced with inexperienced rookie Andy Dalton as the starter and the extremely marginal Bruce Gradkowski as the backup, Palmer clearly has lost any value he had on the team. 
Although Brown has steadfastly refused to trade Palmer (and still does as of September 2), Washington could easily take the disgruntled QB off Cincy's hands.
Cincinnati could get rid of Palmer to avoid distractions, save $50 million and maybe even get a draft pick in return.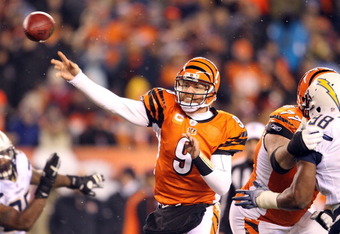 Andy Lyons/Getty Images
Palmer's albatross contract might make most teams shy away from trade talks, but the Redskins will not be daunted. With owner Daniel Snyder opening up his pocket books to sign anyone (i.e. McNabb), the Bengals could ask the 'Skins to eat up most or the rest of Palmer's contract.
That would be a win-win for Brown, who likes to pinch his pennies just a little bit.
Palmer is a more established passer whom head coach Mike Shanahan would love to use. The Redskins have some talented offensive pieces in Santana Moss, Jabar Gaffney, Chris Cooley and Tim Hightower that would attract someone of Palmer's caliber. His 154 career touchdowns and 22,684 passing yards are leaps and bounds ahead of Grossman and Beck's.
All of Palmer's shortcomings should not be blamed on him. Cincy is a quagmire of NFL disaster awaiting to happen. The team historically underachieves and signs criminally-prone athletes like Cedric Benson, Tank Johnson and Adam Jones who provide the team with distractions.
And who would blame him for not returning? His favorite targets, Chad Ochocinco and T.J. Houshmandzadeh, are long gone. Benson is facing legal trouble and the offensive line is porous.
Palmer would have a fresh start in Washington with weapons, good coaching and a loyal fanbase who would embrace him only if just to avoid seeing Sexy Rexy line up under center for every snap.
Bob Bajek is a freelance reporter and can be followed at Patch.com and Twitter.