Green Bay Packers: Why Aaron Rodgers Will Be the 2011 NFL MVP
Joe Robbins/Getty Images
The 2011 NFL season is just days away, and every football fan in America is getting hyped for a prime matchup Thursday evening, when the Green Bay Packers square off against the New Orleans Saints to ring a new NFL season.
This season should be just as exciting as the last, and plenty of story lines accompany this season. The Green Bay Packers are coming off a Super Bowl win in which quarterback Aaron Rodgers claimed the MVP award.
Does Rodgers have a chance of claiming the 2011 NFL MVP award as well? Of course.
Here is why Aaron Rodgers will have at least one more trophy on his mantle when the year is over.
Elite Talent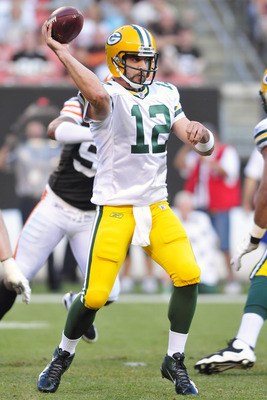 Jason Miller/Getty Images
No one can argue that the Green Bay Packers have an elite quarterback.
In 2010, Aaron Rodgers piled up nearly 4,000 yards passing to go with 28 touchdown passes and only 11 interceptions.
He also ranked second in rushing yards by quarterbacks, with 356 yards to go along with four touchdowns. He completed an astounding 65 percent of his passes in 2010.
Rodgers is without a doubt an elite talent.
He can throw the ball well on short and deep passes as well as beat opponents with his feet. He knows the Packers offense inside and out and makes smart decisions.
The Packers quarterback has all the tools of an MVP player. Rodgers has used those tools to put up great statistics and lead his team to victory on the biggest stage in football.
Lack of Reliable Run Game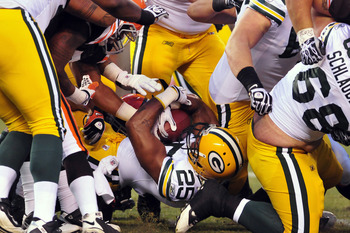 Jason Miller/Getty Images
The injuries sustained by key members of the Packers offense last season brought the running game to a halt.
Running back Ryan Grant was lost for the year in the first game, and the running game was scarcely effective.
Rookie James Starks came on in the playoffs and revived the rushing attack just in time for a Super Bowl run.
Although Grant is back and healthy this year, the Packers still may not be able to run the ball effectively.
Grant did not show much burst in the preseason and may never again be the player he once was. Meanwhile, James Starks is still an unproven talent. The running game could again stall in 2011.
If that were to happen, Rodgers will likely be asked to throw more often. This will only lead to better statistics and MVP-like numbers from the Packers quarterback.
Return of Jermichael Finley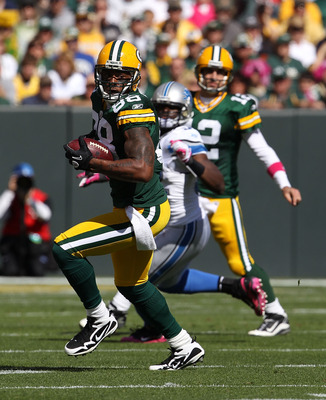 Jonathan Daniel/Getty Images
Green Bay was hit hard by injuries last year.
The number of Packers on injured reserve at the end of last season was in the double digits.
Tight end Jermichael Finley was one player the Packers played most of 2010 without.
When in the lineup for four games last season, Finley was a force. He was reeling in five catches per game, and Aaron Rodgers was locked in on him as the primary receiver.
Finley's athleticism makes him a dangerous weapon in the passing game. When he is in the Packers' lineup, the offense becomes a different animal.
The last thing opposing defenses want to see is Aaron Rodgers with one more weapon at his disposal.
A Full Arsenal
Scott Boehm/Getty Images
The Green Bay Packers have a gluttony of skilled position players on offense.
The front office has done a fine job of accumulating and retaining offensive weapons for its franchise quarterback.
The Packers' passing game was impressive as a whole last season. But there were also times when it bogged down and was inefficient. That should change this year.
The running game can't be much worse that last year, so that area should improve mildly. Rodgers also has a few more weapons this season than last.
Tight end Jermichael Finley returns to give Rodgers a field-stretching target who has the potential to be an elite player at his position.
The Packers also drafted receiver Randall Cobb out of Kentucky in the second round of this year's draft.
The receiving corps now includes Greg Jennings, James Jones, Jordy Nelson, Donald Driver and Randall Cobb. The Packers also have Finley and second-year player Andrew Quarless to utilize. They may have the deepest receiving corps in the NFL.
This offense could be the most explosive in the NFL in 2011.
Competitors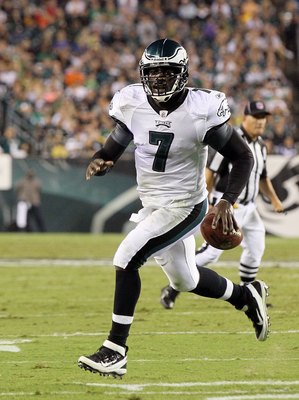 Jim McIsaac/Getty Images
The competition that Aaron Rodgers will face this season in his quest for the NFL's Most Valuable Player award is not as strong as in recent years.
The preseason front-runners are familiar faces: Peyton Manning, Michael Vick, Tom Brady and a few others.
Manning's chances of playing a full season and also of winning another MVP award are getting slimmer each day. His neck is not responding to treatment, and he has already been ruled out for Week 1.
Brady adds Chad Ochocinco to his list of weapons and seems like a good candidate for MVP. But his arsenal of weapons is not as good as Rodgers'.
Vick is another player who could win the award. He has dangerous players around him on offense and looked nearly unstoppable for stretches last season.
If he plays like he did last season, it's hard to deny his talent and ability. The only thing that is seemingly holding him back is his health. And that is more than a mild concern for Vick at this stage in his career.
I would say that Rodgers has as good a chance, if not better, than any player in the league at winning the 2011 NFL MVP award.
Keep Reading

Green Bay Packers: Like this team?