Fantasy Football Sleepers: 3 Players That Will Shock Your Opponents
September 6, 2011
Dilip Vishwanat/Getty Images
Your fantasy football league is a constant competition between you and your fellow owners. Not only are you competing with them on a week-to-week basis, you are competing with them for all the available players on the waiver wire.
To get one over on the other owners in your league, take a flier on these three deep sleepers.
WR Danario Alexander, St. Louis Rams
The St. Louis Rams are a team to watch in fantasy this year. Not only do they provide studs like Steven Jackson, they provide sleepers like Danario Alexander.
If the Rams didn't have designs on using Alexander this year, they wouldn't have kept him. They had other receivers on the roster, namely Mardy Gilyard and Donnie Avery, that would have made the team in many other years.
Quietly, Alexander was a big-play receiver for Sam Bradford last season. He only caught 20 passes, but his per-catch average was over 15 yards. If he stays healthier this season, it's easy to imagine his numbers making a huge jump.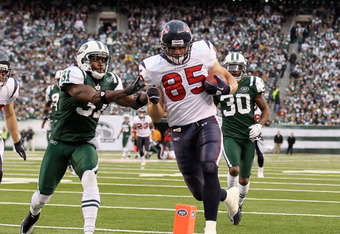 Jim McIsaac/Getty Images
TE Joel Dreessen, Houston Texans

The Texans are nothing short of a treasure trove of fantasy options. Their roster is littered with fantasy starters at nearly every skill position.
Tight end is definitely among them.
Dreessen isn't the starting tight end in Houston, but in their offense, he sees plenty of time. Last season, he caught 36 passes for 518 yards and four touchdowns. There are a litany of other receiving options on that roster, but Matt Schaub has plenty of passing yards to go around.
Don't overlook the fact that Owen Daniels, Houston's starting tight end, is somewhat injury prone. His injuries have led to a lot of Dreessen's playing time the last couple of years.
RB Anthony Dixon, San Francisco 49ers
The young running back has the unenviable position of backing up workhorse running back Frank Gore. That spot is similar to backing up Brett Favre for all those years. Gore gets such a high percentage of the carries in that offense that it's tough for anyone else to produce.
That will continue in 2011, but Gore is a major injury waiting to happen. He missed five games last season, but it has been a long while since he had the type of injury that costs a player an entire season.
It's anyone's guess when that will occur, but if you aren't in need of a running back that will play each week, go ahead and bet on that injury coming this year, and take Anthony Dixon.