Fantasy Football Draft Strategy: The Case for Ben Roethlisberger
September 5, 2011
Justin K. Aller/Getty Images
For a self-proclaimed "fantasy football addict," I'm only playing in two leagues this year. I usually only participate in one; I hate player conflicts, and get dizzy when my friends rattle off their rosters from the half-dozen leagues they commit to yearly.
Going into both of my drafts this year, I had a plan in mind for drafting a QB—both one-starter leagues, a 12-team and a 16-team. My strategy was to draft strictly running backs and wide receivers, until my target QB was the best available on my own personal rankings sheet. In both drafts, however, I had to decide between my target player and arguably the greatest QB off all-time, and this year's biggest draft dropper, Peyton Manning.
In both leagues, I went with the guy I wanted all along—Ben Roethlisberger. Considering how alarming the season outlook has become for Manning, I can't describe how happy I am with passing on him twice.
Having said that, Manning's health isn't the only reason I'm feeling optimistic about my choice in fantasy QB this season. Here are some reasons I feel Big Ben will lead me (and any other invested owners) to the promise land this season.
- One of the biggest influences for drafters, when looking at a prospective fantasy pick, is last season's stat line. It's why Arian Foster is a consensus first or second pick overall, and why Michael Vick is such a tempting option anywhere in Round 1, this year.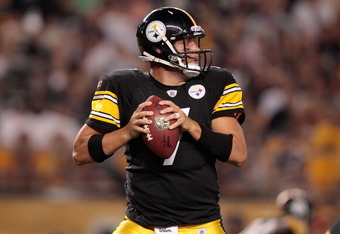 Jared Wickerham/Getty Images
For Roethlisberger, however, his suspension-shortened 2010 season produced an undesirable line (3,200 passing yards and 17 TD), to the blind eye at least. For anyone with the wisdom of statistical extrapolation, Roethlisberger was on a full-season pace of 4,266 passing yards and just under 23 passing TD, and was the sixth best fantasy QB on a per game basis last year.
While the TD total is low, Big Ben has a 32-TD season under his belt, and has dealt with the constraints of a run-first offense in Pittsburgh for years (a changing of the guard is coming, but we'll get to that later). Other notable stats from Big Ben last year include his always-impressive yards per attempt (8.1, third among QB) and his low interception total (five in 12 games).
- Furthermore, on Big Ben from an individual stats perspective, the seven-year QB has progressed his game on a year-to-year basis, especially when it comes to pass attempts and yardage. For a guy who used to average in the 200-225 range of passing yards per game over his first five seasons, Roethlisberger has averaged over 280 yards per game in his past two seasons, which places him among the league's elite. So just because Roethlisberger isn't perceived a as 4,000 yard guy, doesn't mean it's not what he's finally become at this stage in his career.
When you factor in his strong underlying career stats (63.1 completion percentage, 8.0 yards per attempt), and his annual contributions as a rushing QB (14 career TD on the ground), Roethlisberger is grossly underrated from a statistical perspective.
The best, in my opinion, is yet to come. There is another player known during the first half of his career as a better "real-life" than "fantasy" QB. He too had multiple Super Bowl rings on his resume, but always left more to be desired from a fantasy perspective. Heading into his eighth year, with career season highs of 28 TD and 4,110 passing yards, the player exploded for 50 TDs and 4,806 passing yards.
That player, of course, is Tom Brady. Similar to Brady, Roethlisberger is entering his eighth season, with the best receiving weapons of his career, and a greater offensive emphasis on the passing game. A career year is clearly in the cards for Big Ben.
- The "emphasis" I have hinted to on Pittsburgh's passing game has been a growing trend for years, evident by Big Ben's steady increase in pass attempts since his rookie season (he broke 500 attempts for the first time in '09, and was on pace to better that mark last season).  
The change for the traditionally run-first Steelers is not only a product of Roethlisberger's progression, but also relates to the present state of Pittsburgh's offensive line—one of the lowest graded groups in the league. RB Rashard Mendenhall, coming off a career-high 324 carry season, dipped down to 3.9 yards per rush (from 4.6 in '09), and the fact remains that with aging, slow (and oft-injured) offensive lines; run blocking is usually the first to go.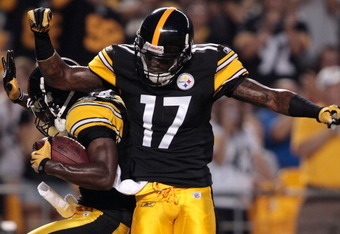 Jared Wickerham/Getty Images
Pass blocking is traditionally easier for a veteran line like Pittsburgh's, and when you add in Roesthlisberger's evasiveness out of the pocket, and difficulty to bring down, the Steelers project as a pass-heavy offense in 2011. It's easy to predict a lot of empty backfield, five-WR sets and plenty of blocking from the RBs and TEs, to feature the Steelers spread passing attack this season.
- A spread offense is only as good as its receiving weapons, and this year Roethlisberger has the strongest collection of his career. It starts with WR Mike Wallace, one of the league's emerging all-around talents at the position. Wallace was originally heralded for his prowess as a deep threat, however, over the second half of last season, he made great strides in his route running and "possession" game. Wallace tallied 38 receptions from Roethlisberger over their final eight games, and at no expense to his sterling yards per catch (still a monster 19.7 over that span).
The rest of the group is diverse in age and ability, and could really cause nightmares for opposing defenses when Pittsburgh goes five-wide. WR Hines Ward is the cagey veteran, who will run the tough routes underneath on his way to 1,000 career catches (he's currently 46 short).
WR Emmanuel Sanders is coming off a fractured foot that did little to slow him down during his return in the preseason finale (four catches for 60 yards), and is a lauded route-runner. WR Antonio Brown has been nothing short of explosive this preseason (nine catches, 230 yards, three TDs), and finally, WR Jerricho Cotchery is all you can ask for in a fifth option: great hands, great routes, "tough as nails" receiver.
Roethlisberger has had plenty of fun working out his options this preseason (361 passing yards, 4:0 TD:INT ratio, 67.7 completion percentage, 11.6 yards per attempt). The numbers are sterling, and if exhibition stats aren't enough to convince you that Big Ben is on the verge of an epic 2011 season, hopefully, all of the above is.